'Reflections on Peace in a Changed Ireland'
The Institute for the Study of Conflict Transformation and Social Justice and the Chief Executives' Club at Queen's were greatly honoured to have one of Ireland's most distinguished statesmen former Taoiseach Mr Bertie Ahern to close the 2016 Spring Festival by speaking on: 'Reflections on Peace in a Changed Ireland'
Mr Ahern was first elected to the Dáil in 1977. He served as Tánaiste (Deputy Prime Minister), as well as Minister for Arts, Culture and the Gaeltacht, Minister for Industry and Commerce and Minister for Finance. He was first elected Taoiseach in June 1997, re-elected in June 2002 and again in May 2007. In 1997, Bertie Ahern received widespread praise for his political skills in ensuring that this administration served its full five-year term and delivered on real political and economic progress for the Irish people. The defining moment of this period and a defining moment in Irish history was the successful negotiation by Bertie Ahern and Tony Blair of the Good Friday Agreement between the British and Irish Governments and the political parties in Northern Ireland in April 1998.
During his Presidency of the European Council from January to June 2004, Bertie Ahern oversaw the historic enlargement of the European Union to 27 member states, including eight countries from Eastern Europe. He encouraged Ireland to take leadership roles on key global issues, such as increasing aid to developing countries and tackling the spread of HIV AIDS. Bertie Ahern's achievements as a leader at home and abroad have been recognised internationally. He has received honorary degrees from several universities and is one of only five people to enjoy the great distinction of having been invited to address both the Houses of Parliament at Westminster and the Houses of Congress of the United States in Washington D.C.
Since leaving Government in 2008, Bertie Ahern has dedicated his time to Conflict Resolution and is actively involved with many groups around the world.
A question and answer session after the address was chaired by Jim Fitzpatrick, independent broadcaster and BBC journalist.
This event was held in partnership with the Chief Executives' Club at Queen's.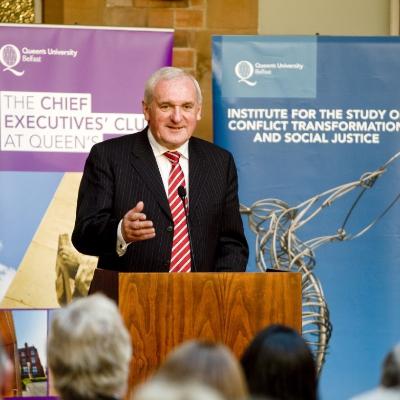 Mr Bertie Ahern, three times Irish Taoiseach, closed 2016 Spring Festival.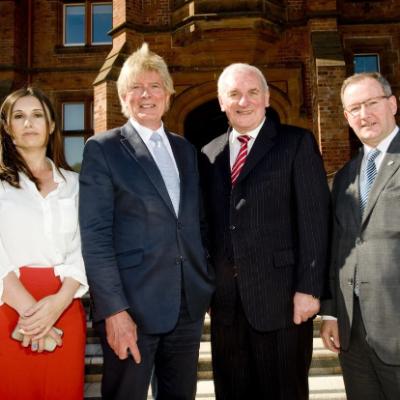 Mr Ahern alongside (L-R) Dr Joanne Murphy, Management School; Prof Hastings Donnan, Institute for the study of Conflict Transformation and Social Justice and Prof Patrick Johnston, Vice-Chancellor.