Chris Browne - 11/05/2016
"Leadership Lessons from the Travel Industry: Flying, Feminism, Fun and Freedom," Christine Browne, OBE‌
In association with Women in Business

A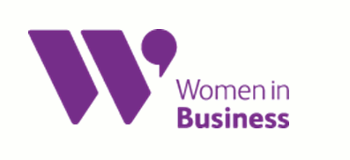 t an event hosted by the Chief Executives' Club at Queen's with Women in Business, guest speaker Chris Browne, recognised as a pioneer in the aviation travel industry, reflected on her career of over 25 years in senior roles in the aviation and travel industries, sharing some of the leadership lessons she had learned along the way. She has been responsible for fleets of 140 aircraft, a chain of 750 travel shops, 25 million passenger journeys, revenue of 4.1m euros and 8,700 staff.
Chris has headed up the airlines of TUI, Thomson or First Choice for many years and has recently joined the board of Easyjet plc as a non-executive director since stepping down as Chief Operating Officer with TUI Airlines. Chris is also a non-executive director with Bovis Homes Group plc.
Chris has achieved a number of significant 'firsts' throughout her career, including at an early stage being the youngest and first female general manager, UK and Ireland, with Iberia Airways. In 1999 she joined First Choice as Managing Director to establish Travel Choice Direct (online bookings), in addition to driving sales up in its 300 high street travel agencies. She went on to head up the group's airline, Air2000, with the brief to turn the airline around. She succeeded in doing this against a challenging backdrop in the wake of the 9/11 atrocities in the USA, ultimately re-branding the airline to First Choice Airways and returning the business to profit.
As part of TUI UK & Ireland, Chris led the merger of Thomsonfly and First Choice Airways into one airline. Another significant career achievement during her time as Managing Director with Thomson Airways was the introduction to the fleet in May 2013 of nine new Boeing 787 Dreamliner aircrafts – the first UK carriers to fly the new, luxury aircraft commercially.
Chris has received many accolades from the travel industry over the years, including Membership of the British Travel Industry Hall of Fame in 2014; several honorary degrees; and the award in 2013 of an OBE for her services to aviation.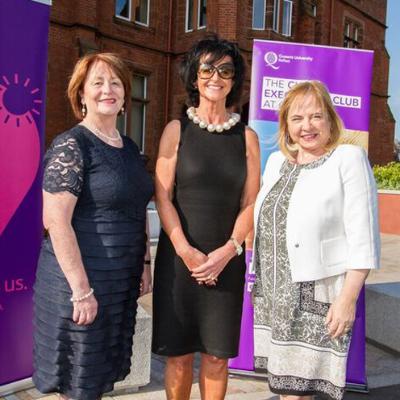 Pictured (L-R); Anne Clydesdale, Director of William J Clinton Leadership Institute, Chris Browne OBE, Keynote speaker and Imelda McMillan, Chair of Women in Business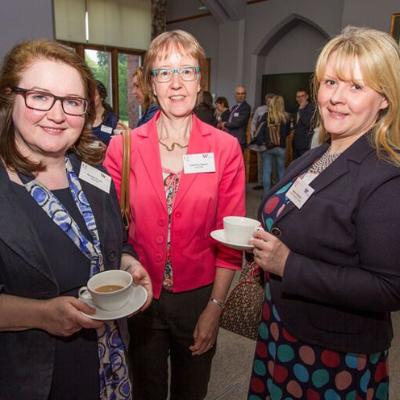 Networking opportunity at the event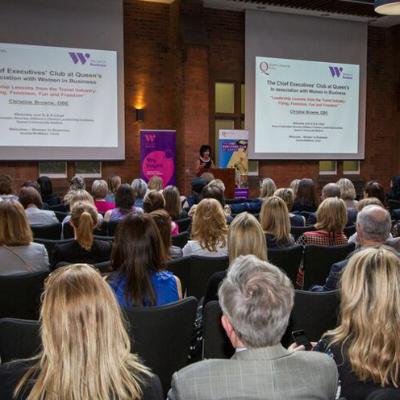 Attendees of the event listening to guest speaker Chris Browne OBE.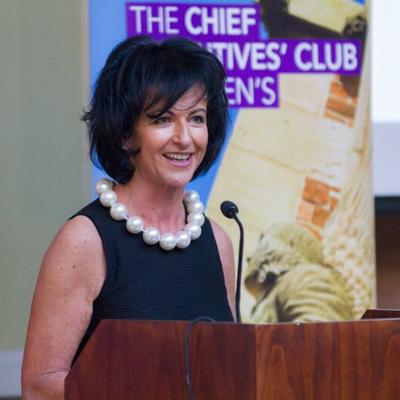 Chris Browne, OBE; Reflecting upon her career of over 25 years in senior roles in the aviation and travel industries