Harri Holkeiri 23/05/2016
"Women, Leadership and Peacebuilding."
The Institute was delighted to welcome First Minister Arlene Foster to deliver the 2016 Harri Holkeri Lecture: 'Women, Leadership and Peace-building'. As the first woman to lead her party and to become First Minister of Northern Ireland, Arlene Foster was uniquely placed to reflect on this theme.
Born in south east Fermanagh where she still lives, Arlene Foster was educated at Queen's University Belfast, where she took a degree in Law before setting up in practice as a solicitor in Enniskillen. It was at Queen's that she first became involved in politics, a passion that she brought with her on return to her native Fermanagh, a county for which she has always felt a deep sense of belonging and been a strong advocate.
Arlene Foster joined the Democratic Unionist Party in 2004 and has been a senior representative of the party since that time. She was Minister for the Environment following the 2007 Assembly elections and subsequently served as Minister for the Department of Enterprise, Trade and Investment and, more recently, as Minister for Finance and Personnel. On the retirement of Peter Robinson in December 2015, she was elected the party's first female leader.
It was with great pleasure that we welcomed the First Minister as our Harri Holkeri Lecturer for 2016. The Harri Holkeri lecture series established in 2013 celebrates the late Finnish Prime Minister Harri Holkeri's contribution to the Northern Ireland peace process. Holkeri's aim of transforming conflict and promoting social justice in Northern Ireland and across the globe is shared by the Institute. The Institute is thus honoured to have partnered with the Finnish Embassy in hosting this annual lecture series in recognition of Holkeri's contributions to peace.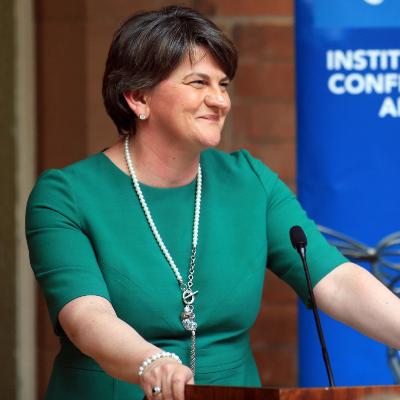 Image Gallery (676191)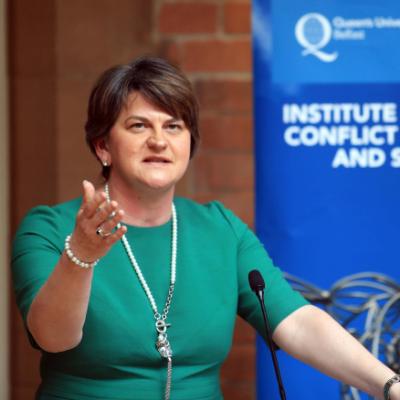 Image Gallery (676192)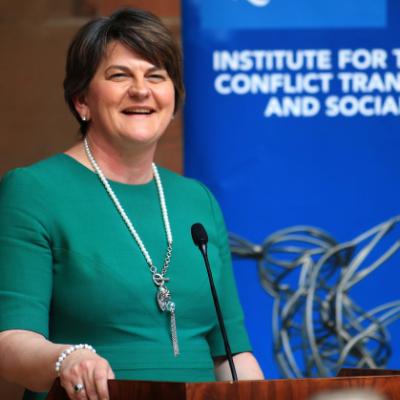 Image Gallery (676193)