InterTradeIreland All-Island Innovation Programme Prof J Sapsed
Almost 70 guests attended a breakfast lecture hosted by the All-Island Innovation Programme at Queen's University Belfast and InterTradeIreland on Monday 10th April, in Riddel Hall. Breakfast was served in the Courtyard, providing an excellent opportunity for networking and connecting with others.
Professor Nola Hewitt-Dundas, Head of Queen's Management School and Professor of Innovation Management and Policy welcomed the guests, giving an overview of the Innovation Programme, and introducing the keynote speaker.
Professor Jonathan Sapsed, Chair of Innovation and Entrepreneurship at Newcastle University Business then delivered a talk entitled "The Rise and Rise of the Freelancer Economy" in which he referred to the findings of the 'Brighton Fuse' report and addressed the role of the freelancer; including their economic performance, motivations, well beings and challenges. He concluded that they are on average prosperous; they enjoy income growth and good levels of wellbeing, and largely prefer freelancing, and identified some barriers they face which include money and skills.
Following the breakfast lecture, Professor Sapsed delivered a three-hour intensive masterclass for members of SMEs and other organisations, entitled "Researching and Driving Creative-Digital-IT Fusion". In this masterclass, attendees learned more about how to creative/digital incorporate innovation practices into their own businesses/organisations, and through discussion and networking shared best practices from across the sector. Participants also utilised the opportunity to engage with InterTradeIreland's EU Programmes Manager Kerry Curran, to discuss the implications of Brexit on their business, amongst other issues of importance to them
Throughout the day guests interacted enthusiastically on Twitter via #ITIInnovation – feel free to look up some comments and pictures from the day's events!
For more information about the Brighton Fuse Project, please visit: http://www.brightonfuse.com/wp-content/uploads/2013/10/The-Brighton-Fuse-Final-Report.pdf
For more information about InterTradeIreland, please visit: http://www.intertradeireland.com/all-island-innovation-programme/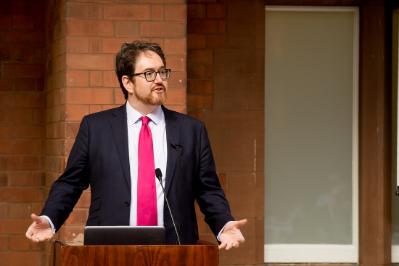 Prof Sapsed delivering his lecture on 'The Rise and Rise of the Freelancer Economy'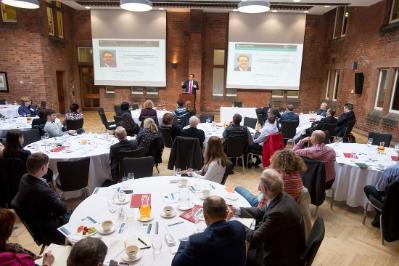 Almost 70 guests from SMEs, Government and Education attended an Innovation Lecture and Masterclass by Prof Sapsed in April as part of the InterTradeIreland All-Island Innovation Programme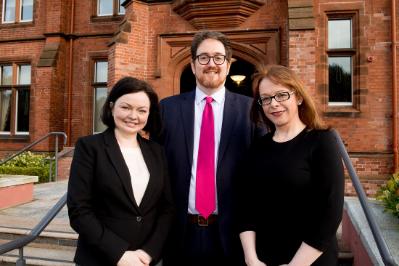 Kerry Curran (InterTradeIreland), Professor Jonathan Sapsed and Professor Nola Hewitt-Dundas (Head of Queen's Management School and Professor of Innovation Management and Policy)
Riddel Hall