John Turner Event - 08/09/2016
At the first Chief Executives' Club at Queen's event after the summer break, guest speaker, Professor John Turner, provided an overview of the major economic trends likely to influence the Northern Ireland, UK and global economies in the post-Brexit era. In particular, he asked whether low economic growth and secular stagnation is now the new normal. In doing so, Turner argued that what happens to China, inequality, the financial system, and innovation will ultimately determine the type of economy that our grandchildren will inherit.
John Turner has been a Professor of Finance and Financial History at Queen's University Belfast since 2005 and Head of School since 2014. He is also the founder and director of the Queen's University Centre for Economic History. John has held several distinguished visiting positions - he was the Houblon-Norman Fellow at the Bank of England in 2003 and the Alfred D. Chandler Fellow at the Harvard Business School in 2010.
Professor Turner's research focuses on the long-run evolution and development of banking, banking crises, bubbles, corporate law, and financial markets. He has spoken widely on financial issues at conferences around the world and his most recent book is 'Banking in Crisis', published in 2014 by Cambridge University Press. His research has been funded by the British Academy, Economic and Social Research Council, and the Leverhulme Trust.
Professor Turner is also an active blogger. In his blog, www.financelongrun.co.uk, he writes about the past, present, and future of the economy and financial system – for students and others with an interest in all things economic and financial.
In his prestentation Professor John Turner addresses the low growth and low real interest rates. He stated that main factors to future economy include: Boosting Productivity both in education and Innovation policy, Techno Options, Invention, Policies and Social Mobility.
Vice Chancellor, Professor Patrick Johnston welcomed all to the event.
Anne Clydesdale, Director, William J Clinton Leadership Institute, Queen's University Belfast chaired the Q&A.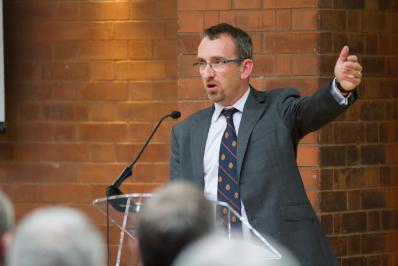 Professor John Turner, Head of Queen's Management School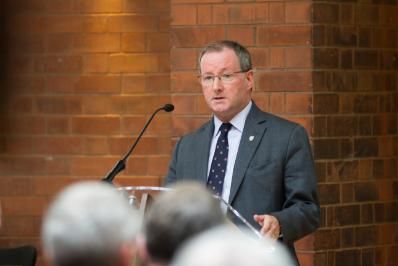 Vice-Chancellor of Queen's University Belfast, Professor Patrick Johnston, welcoming the audience to the event.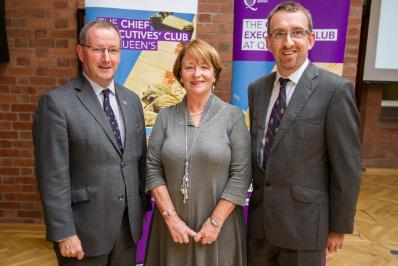 Pictured (L-R) Professor Patrick Johnston, Vice-Chancellor; Anne Clydesdale, Director of William J Clinton Leadership Institute; Professor John Turner, Head of Queen's Management School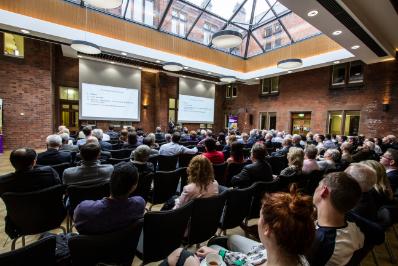 Audience at the Chief Executives' Club event during Professor John Turner's presentation