Russell Napier Event 2016
The last Chief Executives' Club at Queen's event of the year, hosted in partnership with the Queen's Management School, took place in Riddel Hall on Monday 5 December, to hear about 'The Future of Finance – Dealing with Excessive Debt'.
There was a full house for the keynote lecture by global financial strategist Russell Napier, an NI native and Queen's alumni.
Russell drew upon his latest research to provide an informed overview of the global debt picture and how it might be addressed. Russell began his incisive analysis of global financial trends by remarking that as he was on home ground and his accent would be understood, he could speak at his normal speed, thereby delivering more information than he usually could in the allotted time.
With an array of carefully explained graphs and data on debt trends and levels in the EU, the USA, UK and many other countries across the world – compiled from BIS data (Bank for International Settlements WWW.BIS.org), Russell explained the factors and politics behind each of the data sets. He plotted in each case the lines showing debt for: the total non-financial sector debt; the total general Government debt; and the total private non-financial sector debt.
Although the overview painted a rather gloomy picture, Russell carefully outlined the range of tools available to governments in addressing their debt and the likely scenarios that would result from the use of each. The solutions considered included: austerity, high growth, hyperinflation, and repression. Russell felt repression to be the tool most likely to achieve success – explaining that it involved letting inflation rise above interest rates.
A lively question and answer session followed the presentation.
Russell Napier, ASIP, is an independent strategist at and co-founder of ERIC, an online platform for the sale of high-quality individually priced investment research http://www.eri-c.com/
With over 25 years' experience as a consultant in the financial services sector, he is the author of The Solid Ground - a global macro report originally published by CLSA and now published independently – and the book Anatomy of the Bear: Lessons from Wall Street's Four Great Bottoms.
Mr Napier is a director of two UK listed companies, the Mid Wynd International Investment Trust and the Scottish Investment Trust and a member of the Investment Committee of the National Trust for Scotland. He developed and delivers a course in financial history ("A Practical History of Financial Markets") at Edinburgh Business School, aimed at professional investors and launched a new business and financial history library, the Library of Mistakes. The Library is a charitable venture and a first class financial history resource for anyone wishing to learn the lessons of the past as a guide to our financial future.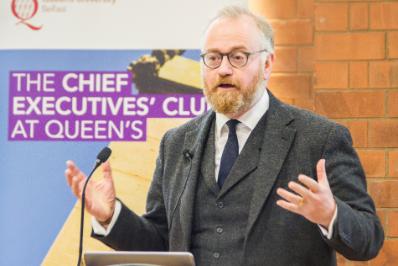 Russell Napier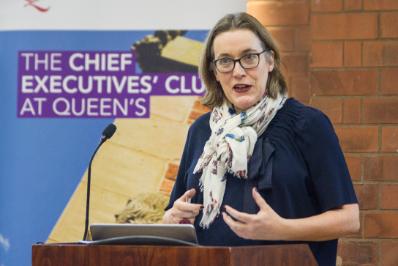 Professor Adrienne Scullion, Pro-Vice-Chancellor, Queen's University Belfast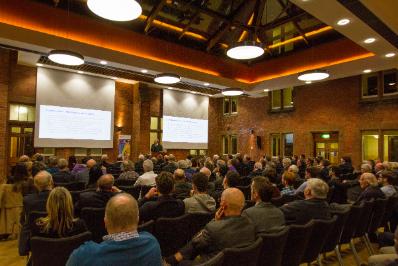 Room view of the Russell Napier Event 2016 in Riddel Hall, QUB.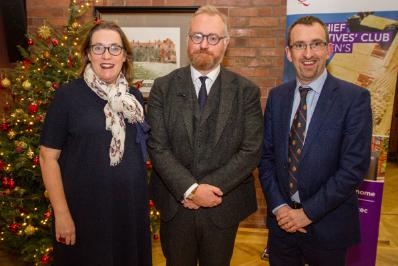 Professor Adrienne Scullion, Pro-Vice-Chancellor, Queen's University Belfast, Russell Napier & Professor John Turner, Head of Queen's Management School