Queen's University partnership wins Innovate UK's top KTP award
A partnership between Queen's University Belfast and Cirdan has been recognised by Innovate UK as the 'Best Knowledge Transfer Partnership' of 2022 out of 800 UK wide projects for its exceptional achievements and real-world impact.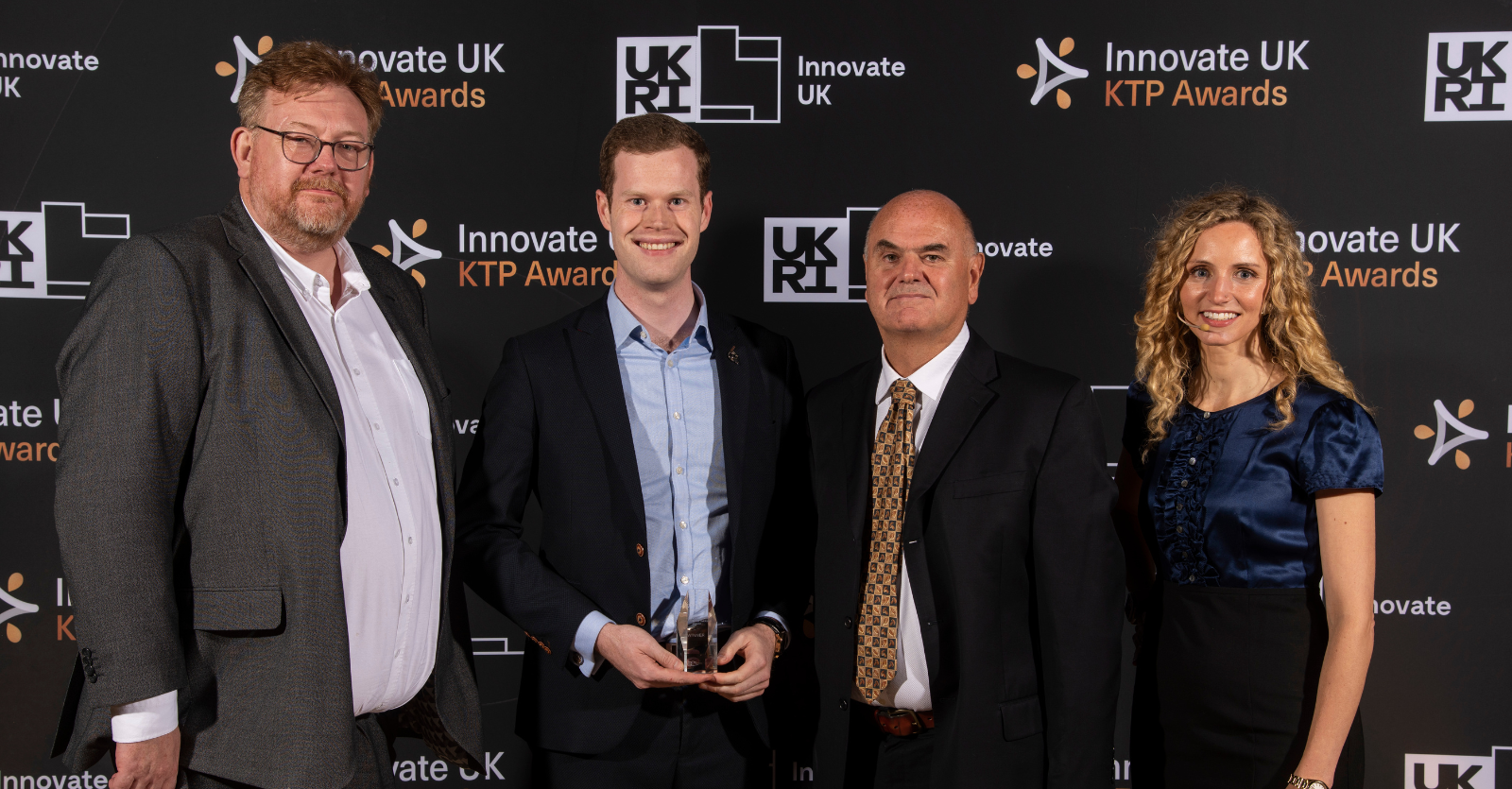 Queen's and Cirdan win prestigious 'Best Knowledge Transfer Partnership' award
The KTP Awards celebrate the UK's most innovative and successful KTP projects
Winners were revealed at a ceremony held in Liverpool on 12 October 2022
The prestigious award was presented at the national KTP Awards in Liverpool on 12 October and is reserved for the teams who demonstrate exceptional achievements across all three Partners: Business; Academic; and Associate.
Cirdan partnered with Queen's University Belfast in an effort to address the issues arising from a shortage of pathologists which is impacting negatively on patient outcomes across the world. The project set out to enhance medical pathology devices by utilising expert clinical intelligence in an embedded deep learning system.
Leading the project, KTP Associate and now, Senior AI Engineer at Cirdan, Jonathan Armstrong, successfully developed two AI products for Cirdan while working under the supervision of Queen's University Belfast academics, Dr Paul Miller and Dr Jesus Martinez del Rincon from the School of Electronics, Electrical Engineering and Computer Science,
The first was an AI algorithm for an x-ray product which expedites breast cancer diagnosis and the second was a cloud-based AI model for tumour detection in colon polyp whole slide images that has 95% accuracy. The latter was developed in collaboration with consultant pathologist Dr. Maurice Loughrey from the Royal Victoria Hospital Belfast.
Speaking about the achievements, KTP Associate, Jonathan Armstrong said:
It was a privilege to be involved in such a meaningful project in the application of AI in Healthcare, it wouldn't have been possible without the great team in Cirdan, Queen's and also the support of the Royal Victoria Hospital. This project is a testament to what KTP truly is, a partnership that makes a difference.
Cirdan CEO, Hugh Cormican commented on the partnership with Queen's:
We are delighted to have Queen's University Belfast, as our local academic partner. They are aligned with us on our journey to develop solutions that will revolutionise global healthcare. I would like to thank Paul Miller, Jesus Martinez del Rincon and the QUB KTP team for their great work.
Commenting on the real-world benefits of the project, Pro Vice Chancellor for Research and Enterprise at Queen's, Professor Emma Flynn said:
The algorithms developed in this project will expedite faster cancer detection and diagnosis on a global scale. This achievement is an outstanding example of the impact of the University's world-class academic research, combined with Cirdan's innovative laboratory imaging products. Congratulations to all involved.
Head of KTP and Business Networks at Queen's, Lorraine Marks is delighted with the success, adding;
Queen's is one of the UKs leading university partners for Knowledge Transfer Partnerships and I am delighted with the outcomes of this project and this Award. We are ready to collaborate with businesses of all sizes, and in all sectors, who need academic knowledge and expertise to grow. I would encourage people in those organisations to contact the University to explore how we can help.
Cirdan's fourth project is now underway with KTP at Queen's and we're excited to see what further growth can be achieved for the company.
Knowledge Transfer Partnerships (KTPs) aim to help businesses to improve their competitiveness and productivity through the better use of knowledge, technology and skills within the UK knowledge base. KTPs connect businesses that have an innovation idea with the expertise to help deliver it.

KTPs are funded by UKRI through Innovate UK with the support of co-funders, including the Scottish Funding Council, Welsh Government, Invest Northern Ireland, Defra and BEIS. Innovate UK manages the KTP programme and facilitates its delivery through a range of partners including the Knowledge Transfer Network (KTN), Knowledge Bases and Businesses. Each partner plays a specific role in the support and delivery of the programme.
If you have an innovative business idea and would like to see if a KTP could help take it forward, contact us at ktp@qub.ac.uk or visit KTP FOR BUSINESS
Media
For media enquiries contact: aoife.lynch@qub.ac.uk