Queen's Knowledge Transfer Partnership with Cirdan is awarded an 'Outstanding' grade
The collaborative project between Queen's School of Electronics, Electrical Engineering & Computer Science and Cirdan is awarded top grade of 'Outstanding' from Innovate UK for enhancing pathology medical device products.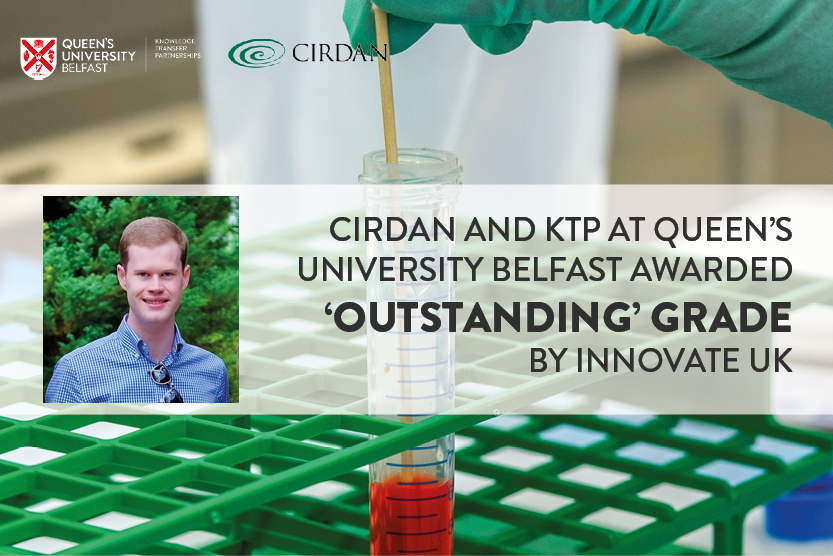 Cirdan is a leading provider of informatics and imaging solutions that enhance and speed up the diagnosis of patients. Headquartered in the UK, with offices in Canada and Australia, Cirdan is recognised as one of the leading suppliers of laboratory information systems worldwide.
The overall objective of the Knowledge Transfer Partnership (KTP) was to enhance pathology medical device products with clinical expert intelligence derived from an embedded deep learning system.
KTP Associate, Jonathan Armstrong joined the company in 2019 to lead the KTP project. With support and guidance from leading academics, Dr Paul Miller and Dr. Jesus Martinez del Rincon, company supervisors Hugh Cormican and Paul Kavanagh and KTN Advisor, Stephen McComb, Jonathan developed expert intelligence to capture knowledge from Cirdan products, making them more efficient and effective.
With a current shortage of pathologists in hospitals, delays in patient treatment has increased- using AI will allow clinicians to be more productive and it will provide important surveillance to reduce risks. Through this Knowledge Transfer Partnership, Cirdan has gained experience in deep learning and cloud base AI solutions giving them the ability to offer AI enabled products and software to their healthcare partners across the globe.
Lead Academic supervisor, Paul Miller said,
"The KTP has helped us greatly increase the impact of our research at both a project and strategic level. I would really encourage early career academics to engage with industry through programmes, such as KTP, as it can really help you understand the industrial context for your research and expose you to unforeseen challenges. Both of which are extremely useful for writing research proposals."
The models and demonstrations produced by Jonathan as part of the KTP are now used in sales support within Cirdan and as part of ongoing research to further investigate the value of extending the data analytics offering in the company.
KTN Advisor, Stephen McComb, commented,
"The KTP showcased what can be achieved when a strong graduate, ambitious company and academic expertise collaborate. The KTP will lead to lives being saved and company growth. Beyond the KTP we are likely to see a future leader for healthcare technology and further high impact research from QUB"
This Knowledge Transfer Partnership provided a transformational opportunity for Cirdan to research and develop a data analytics understanding with the support from leading academics and a motivated and dynamic KTP Associate.
Jonathan Armstrong, KTP Associate agrees the dedication and combined effort of the KTP team shaped the road to success,
"The positive outcome of the KTP was the result of an excellent project and great collaborative effort from all involved. It was a privilege to work with Cirdan and implement their motto to "Improve wellbeing through innovation" in such a cutting-edge field."
Cirdan's systems are currently helping to increase efficiency and streamline operations in clinical laboratories across six continents. A fourth project with KTP at Queen's is due to launch this year and we look forward to watching the company grow further.
KTPs are funded by UKRI through Innovate UK with the support of co-funders, including the Scottish Funding Council, Welsh Government, Invest Northern Ireland, Defra and BEIS. Innovate UK manages the KTP programme and facilitates its delivery through a range of partners including the Knowledge Transfer Network (KTN), Knowledge Bases and Businesses. Each partner plays a specific role in the support and delivery of the programme.
If you have an innovative business idea and would like to discuss if a KTP could help take it forward, contact us at ktp@qub.ac.uk or visit KTP FOR BUSINESS