Leona discusses her role in helping tackle Covid-19 and gives advice to upcoming graduates/postgrads
We caught up with Leona McGirr who recently completed her KTP Project with Fusion Antibodies. She tells us how she has been helping in the tackle against Covid-19 and gives some advice to recent and upcoming graduates / postgraduates.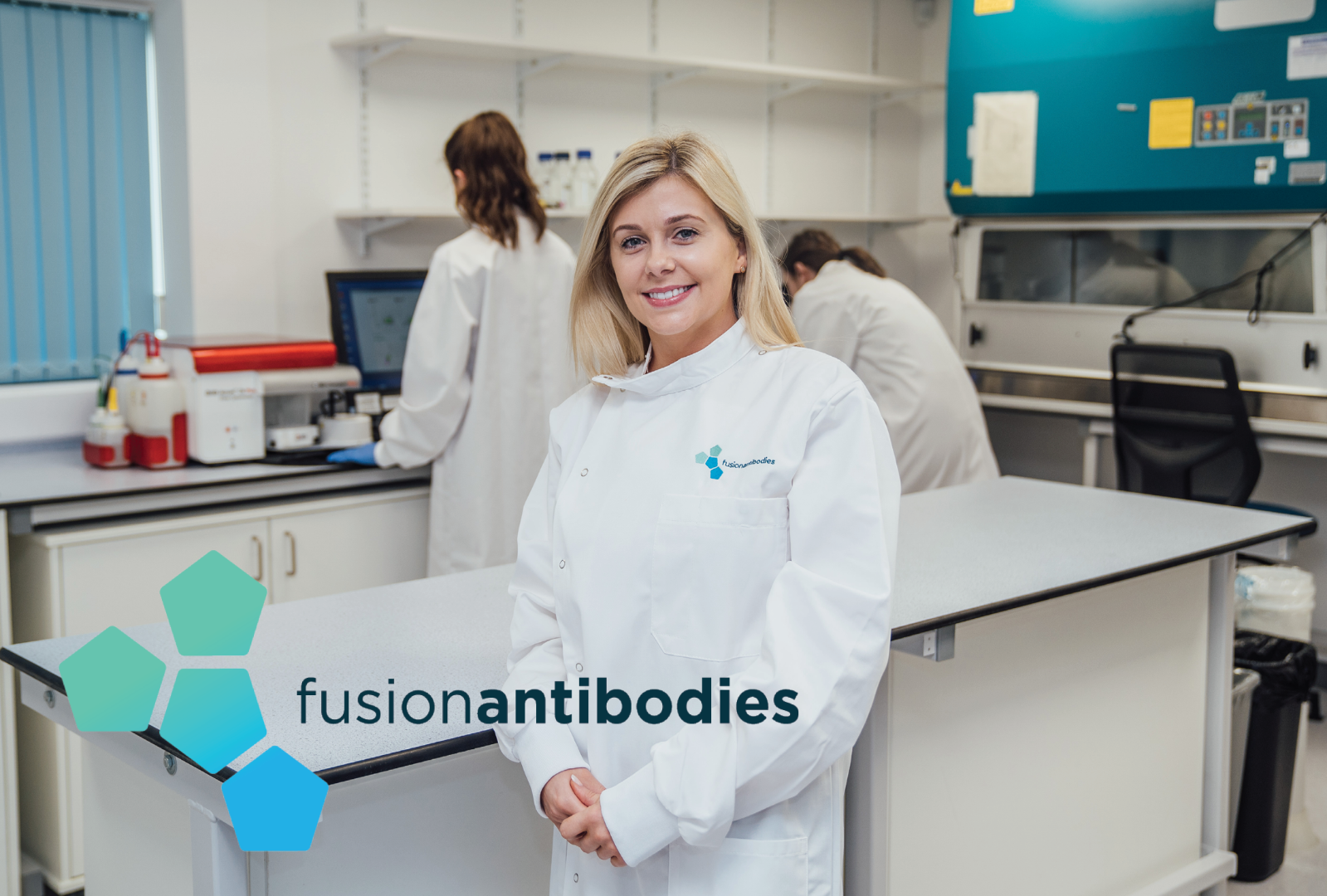 Leona McGirr discusses her KTP role and how this has given her the opportunity to assist in Fusion Antibodies efforts to support and tackle Covid-19 and gives advice to recent and upcoming graduates / postgraduates when we caught up with her for a short Q&A session.
What was your academic background in and what urged you to apply for the KTP with Fusion Antibodies?
I have a degree and a PhD in Chemistry from Queen's University Belfast. My PhD project was multi-disciplinary between the School of Chemistry and the Patrick G Johnson Cancer Centre. I knew this particular KTP project would allow me to build on my existing experience and gain additional antibody engineering skills.
What opportunities did the KTP programme provide for you?
The Knowledge Transfer Partnership programme at Queen's provided a training and development budget which I was able to use for travelling to many international conferences where I presented my results. I also completed training in areas related to my project, for a deeper understanding of these. I was given an opportunity to attend a course in project management (PRINCE) which was extremely helpful for me as I put into practise the skills developed from this course during my time as an associate.
Could you briefly describe what your project involved?
My project involved developing a novel mammalian antibody library that can be used by clients to select for lead antibodies.
Did you face any challenges during your project, and how did you overcome these?
As with all R&D projects there are always a few bumps along the way but thankfully there was nothing major. I had a lot of support from my supervisors and their teams -everyone at Fusion Antibodies and the Chris Scott group helped towards this project in some way.
Do you think the KTP programme helped better prepare you for industry?
Definitely, I had a lot of academia experience (PhD/postdoctoral research) but I only had 1 year industrial experience and the KTP programme allowed me to make a smooth transition from academia into industry, the support from Queen's academics, the KTP team and company supervisors was really helpful.
What does the future hold for you, now that you have completed your KTP project?
The KTP Programme has helped me progress in my career and I have the permanent position of Library Discovery Team Leader at Fusion Antibodies.
Where you exposed to any research / functions that Fusion Antibodies is working on to tackle the current Covid-19 situation during you KTP project?
Yes I have been involved in exciting Covid-19 meetings with Prof. Ultan Power (Professor of Molecular Biology QUB), Prof. Chris Scott (Director of the Patrick G Johnson Cancer Centre QUB) and Fusion Antibodies. Fusion Antibodies recently expanded the novel antibody library development program to include Covid-19 and work has already begun. It has been really rewarding being involved in this development and I feel very lucky that my KTP gave me this opportunity.
Would you recommend the KTP programme to other QUB graduates?
Yes I would definitely recommend the KTP programme as it provides you with more opportunities than what a 'normal' job would. It's fulfilling to see the tangible results at the end of the project and knowing that your project has benefited the company for the long term.
See here for our current and upcoming KTP roles or contact us at ktp@qub.ac.uk for more information.