Queen's KTP with Resistant Building Products Ltd is awarded an 'Outstanding Grade' from Innovate UK
The collaborative project between the School of Natural and Built Environment at Queen's and Resistant Building Products Ltd is awarded an 'Outstanding' grade from Innovate UK for developing effective R&D capabilities within the company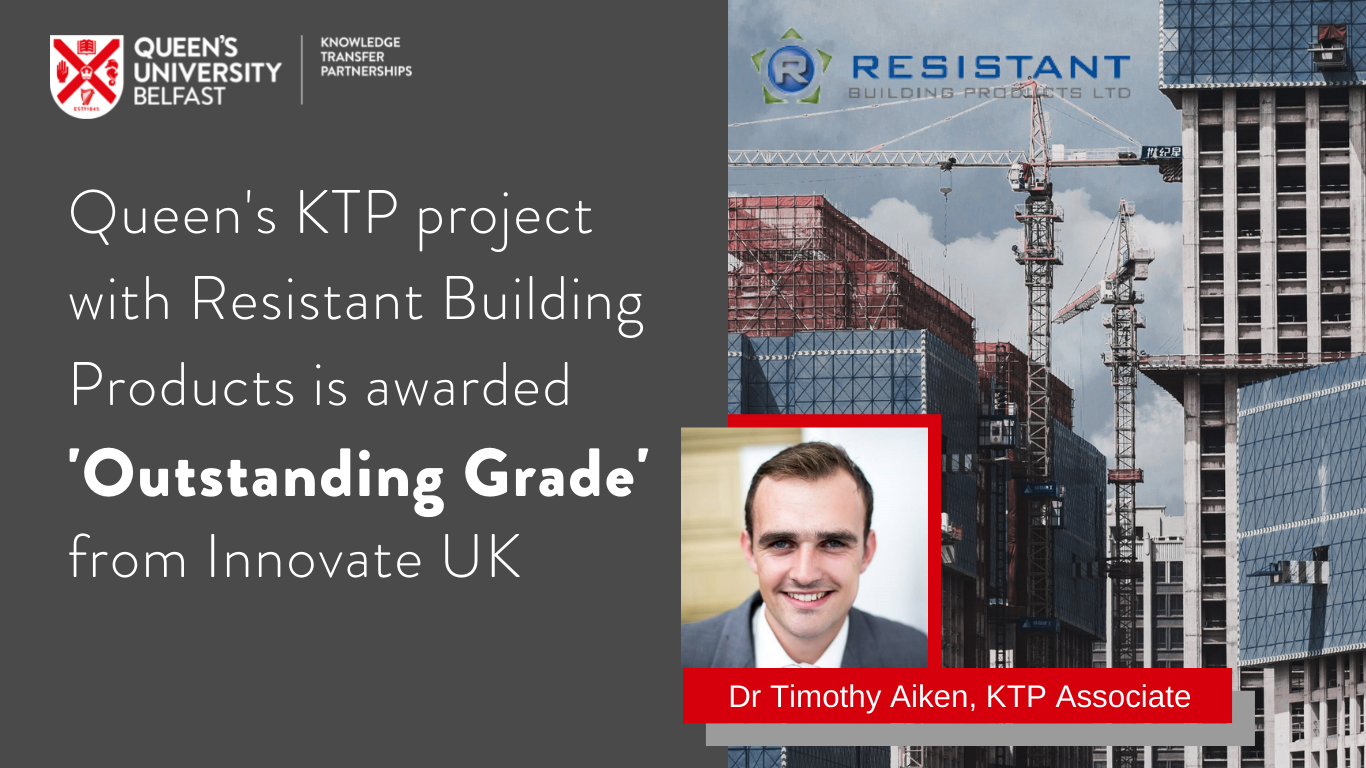 The overarching aim of the 36 month Knowledge Transfer Partnership was to develop and embed effective R&D capabilities within the company, and provide the UK construction market with the highest performing magnesium oxide board.
Based in Belfast in Northern Ireland, Resistant Building Products are the distributors of high-performance Magnesium Oxide (MgO) building boards throughout the UK and Ireland. Resistant was developed and nurtured by their sister company Tradewood & Co to provide an exceptional solution to an industry wide problem – the limitations of wood based construction products.
Dr Timothy Aiken joined the company in 2019 as a KTP Associate to lead the project. With support and guidance from leading Queen's Academic, Dr Danny McPolin, Research Technician Dr Mark Russell, KTN Advisor Ken Frame and company supervisors, Timothy's research transferred in depth knowledge of the materials and processes used to develop boards.
As a result of this KTP project, Resistant Building Products Ltd have been hailed as market leaders in the pursuit of how to manufacture the perfect Magnesium Oxide Board. The project exceeded all expectations- it has produced five journal publications which stemmed the publication of BSI PAS 670- a British Standards Institute publication on MgO boards, establishing Queen's University Belfast and Resistant as front-runners in MgO board knowledge.
All partners are now recognised as world leaders on the understanding of MgO boards and the publication of the BSI Publicly Available Specification (PAS 670) provides guidance on creation of durable MgO boards- this is vital for the continued use of such boards in the construction sector.
This project showcases the real world benefits that Knowledge Transfer Partnerships can have for a business from gaining knowledge from an institution such as Queen's.
Leo Bagnall, Managing Director of Resistant Building Products said,
' The KTP team I have worked with are professional, commercially aware individuals who are willing to share their vast knowledge in a bid to help your company in ways you could only imagine. It's a no brainer for businesses, give it a go. '
This project has delivered lasting, transformative change and embedded a culture of innovation in the business. KTP Associate, Dr Timothy Aiken commented on his experience in bridging the knowledge gap,
' This was a tremendous project to be involved in. It has allowed me to translate my scientific and engineering research into real world outcomes. It has also allowed me to make numerous new connections and engage with key stakeholders within the construction industry. '
This collaboration found opportunities beyond the scope of the KTP project, offering new challenges and prospects which require exploration over a longer period of time and the partnership is already exploring these by bringing in additional resources. KTP Academic Supervisor, Dr Danny McPolin said,
' The KTP has forged a strong collaborative partnership between Queen's University Belfast and Resistant Building Products Ltd. This has produced world leading research, recognized in BSI national documents and resulted in further pioneering research projects. '
This phenomenal project is a benchmark for KTP – expertise was embedded, new knowledge was generated and as a result, capability was expanded. The future is looking bright for our industry partner, Resistant Building Products Ltd and we look forward to continuing our partnership and fostering a culture of innovation within the business.
If you have an innovative idea for your business but do not have the in-house expertise, get in touch with us to discuss whether a KTP could help take it forward at ktp@qub.ac.uk