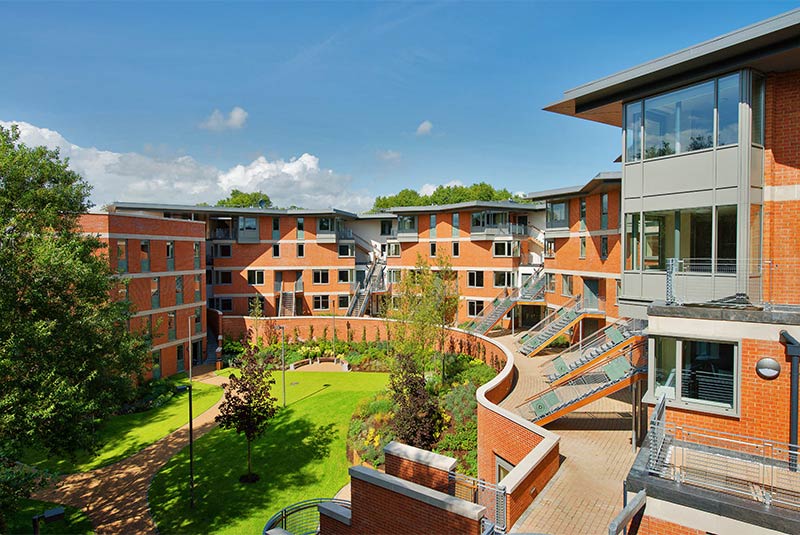 Erasmus programme
Accommodation at Queen's
If you are coming to study at Queen's, you will need to consider where you are going to live and what accommodation choices you will have. Residences are located within easy walking distance of the University in pleasant residential areas.
In 2020-21, Queen's had over 3,400 rooms available in its University-managed accommodation. All rooms are self-catered, which means that students share kitchen facilities and make their own meals. Rooms are either ensuite (with a private shower room) or standard (with a washbasin but students shared bathroom facilities). All rooms are single study bedrooms. Some accommodation blocks are for male students only, some are for female students and others are mixed.
A team of Residential Life Coordinators and Residential Assistants work to build a student community across all the accommodation locations. They organise a social programme which suits the tastes of all students to create opportunities to make friends and settle in quickly to university life.
| ACCOMMODATION COST | 2020-21 - (£ sterling) | 2021-22 - (£ sterling) |
| --- | --- | --- |
| Non-catered accommodation | 110 per week | To be confirmed |
| Non-catered accommodation with ensuite with bathroom | 124 per week | To be confirmed |
| Application fee/ Damage deposit | 300 | To be confirmed |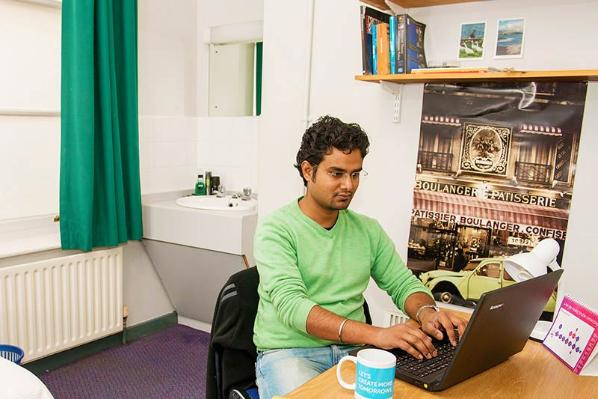 I lived in university accommodation which was really fabulous. Student accommodation provided by the University is really good. I met friends from different countries and we shared our cultures, food and had lots of fun. Milind Joshi
from
India
Study Abroad and Erasmus students can apply for a single semester contract or a full year contract. The contract dates for 2021-22 are to be confirmed. As a guide, the contract dates for 2020-21 are listed below:
Full Year: Monday 14 September 2020 - Saturday 12 June 2021
Semester 1: Monday 14 September 2020 - Monday 21 December 2020
Semester 2: Monday 11 January 2021- Saturday 12 June 2021

*Accommodation will be available from mid-September onwards, at an additional daily rate, for students attending the International Welcome and Orientation Programme who have a Full Year or Semester 1 contract.
There is a limited number of rooms available for students attending for just one semester, therefore, you are advised to submit your application as early as possible.
A room may only be reserved in university accommodation for a minimum of one full semester. Any student who accepts an offer of University accommodation will be required to pay fees for the full semester, even if the duration of the study placement is less than one semester or if the student decides to leave their accommodation early.
---
Accommodation for Married Students
University accommodation for married students, especially those with young families, is not always available. The University has a limited number of self-contained flats for international and postgraduate students, and demand for these can be high. Information about the properties can be found on the accommodation website.
Finding a suitable place to live can be particularly challenging if you are an international student travelling with a family. If you have a spouse or family, we advise that you arrive on your own in the first instance to arrange suitable accommodation before your spouse and family join you. The University will do its best to provide new students with a single room in University accommodation, while they are looking for appropriate family accommodation.
Please contact the accommodation team before you arrive to discuss your requirements for accommodation. They will be able to offer help and support. If it is not possible to place you in University-managed accommodation, then they will support you in finding alternative accommodation in the private rental sector close to the University.
Contact:
Elms BT9 Reception
78 Malone Road
Belfast BT9 5BW
Telephone +44-28-9097 4525
Fax +44-28-9097 4524
Email accommodation@qub.ac.uk
---
Private Rented Accommodation
If it is necessary for you to seek accommodation in the private sector, we recommend that you arrive several weeks before your course starts in order to do this.
A list of estate agents willing to let rooms to students is available through the Advice SU. The Students' Union also has an accommodation noticeboard, located on the second floor, where you can find details of rooms currently available in the University area.
Pices are competitive when compared to the rest of the UK. Click here for explanations of the different types of properties available in the UK (e.g. semi-detached houses, flat, etc.). Reputable estate agents in Northern Ireland include Templeton Robinson, Simon Brien, GOC and Morton Pinpoint among others. The following websites can also help you find properties to rent, or for sale, in your preferred area:
www.propertynews.com
www.propertypal.com
Housing Advice NI provide advice on things to consider before moving into a rented home, as well as on the buying process. Information on tenancy agreements and the Tenancy Deposit Scheme (protection of your rental deposit) can also be found on the NI Direct website.