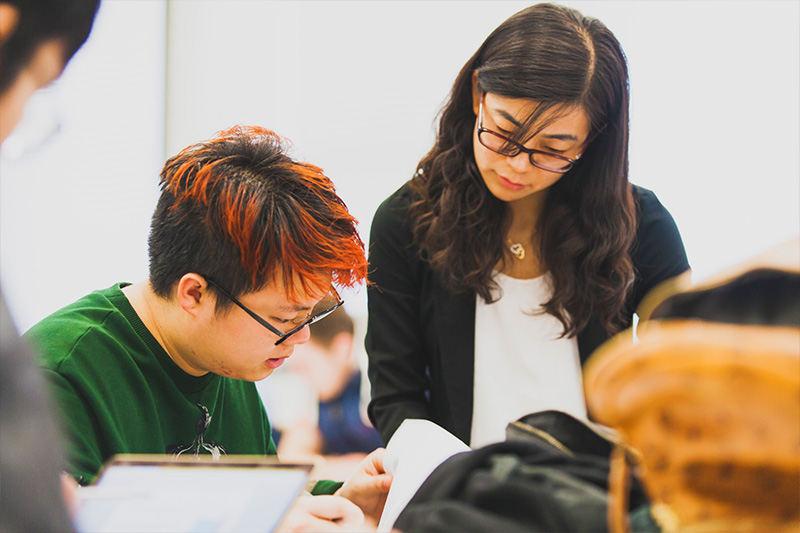 Erasmus programme
Course and Module information
This section explains how course content is delivered to students here at Queen's university. It contains information on modules, module codes and the teaching methods used by our academics.
Modules
At Queen's, courses are called modules. Most undergraduate (primary or first) degree courses at Queen's are composed of 18 modules, totalling 360 Units (also known as CATS points). Students studying full-time take modules totalling 120 Units per year so a degree will normally take three years to complete. A full-time workload is normally 6 modules (each worth 20 Units) per year, or 3 modules per semester. However, some subject areas also offer half modules (worth 10 Units) or double modules (worth 40 Units).
To convert Queen's Units (or CATS points) to ECTS points, you divide by two. For example, a full-time workload for one year is 120 Units, which is equal to 60 ECTS points. Most Queen's modules have a weighting of 20 Units, which is equal to 10 ECTS points.
Erasmus students are expected to enrol on a full-time basis and take 60 Units or 30 ECTS points (normally 3 modules) per semester. You may enrol for one or two semesters, depending on the terms of the bilateral agreement with your home university. Erasmus students are not permitted to enrol for a full degree programme.
An Erasmus student may take modules only in those subjects which have been included in the bilateral agreement with the student's home university. See the list of bilateral agreements and subject areas. Information on available modules should be requested from your Erasmus Programme Director at Queen's. This is the member of academic staff in your subject area who has responsibility for Erasmus Students. You can find the name and contact details of your Erasmus Programme Director here.
A full list of modules in each subject area, and the semester in which they are normally available, can be found in the Course Catalogue. Before you look at the Course Catalogue, read the useful information below about module levels and module codes.
---
Module Levels

Modules in any particular subject are offered at a number of different levels representing different degrees of academic effort and intellectual challenge and assuming different degrees of prior knowledge of the subject:
Level 1 - modules are normally taken in the first year
Level 2 - modules are normally taken in the second year and may require a knowledge of material covered in Level 1 modules
Level 3 - modules are normally taken in the third year and may require a knowledge of material covered in Level 1 and Level 2 modules
Level 4 - modules are offered only in certain cases of degrees lasting four years
---
Module Codes
Every module has a unique code which carries a range of information. The following is an example:
HIS1008
| HIS | 1 | 008 |
| --- | --- | --- |
| Subject | Level | Number |
| in this case | 1 = Level 1 | module |
| HIS = | 2 = Level 2 | identifier |
| History | 3 = Level 3 | |

All the modules offered in any academic year, and the semester in which they are normally available, are listed in the Course Catalogue.
---
Teaching Methods
The way in which a module will be taught will depend on the subject matter but typically the teaching of a module will be based on lectures, supported by tutorials or seminars . Depending on the subject, some modules may include practical sessions, for example, in the laboratory, or fieldwork. Students are also expected to supplement formal teaching with their own private study.
Lectures are formal talks given at set times according to a timetable published in advance, and normally last one hour. Depending on the subject and the module, the size of the class may vary from a few students to two hundred students. A lecture gives students the starting point for their work, brings them up to date with the results of recent research, and, in some cases, provides a view of the topic with which they may agree or disagree. Some lecturers allow time at the end for questions but lectures are not the place for discussion of the material covered. Many students take notes of the main points the lecturer makes or in some cases the lecturer may provide hand-outs summarising them.
A tutorial or seminar is a group discussion lasting one or two hours. Typically a tutorial group might contain ten students and will be led by a tutor. The exact aspect of the subject under discussion will be determined in advance and students will be expected to have prepared beforehand by reading. Students will be expected to contribute to the discussion, perhaps offering different perspectives or suggesting new approaches.
---
Practicals

Practicals take different forms depending on the subject. For language students, there may be sessions in a language laboratory. Students taking archaeology or geography may be required to attend field trips and expeditions. There are also laboratory based classes for students taking science subjects like chemistry or physics and maybe computer-aided design classes for engineering students.
Not all study takes the form of formal teaching: students are expected to do their own private study. Most lecturers will provide students with readings lists for their modules and thereafter it is up to the student to decide how much reading he or she wants to do. How much time is devoted to private study is a matter for the individual but students are expected to demonstrate a certain degree of maturity in their approach to private study.