Queen's University Belfast
INTERNATIONAL SUMMER SCHOOLS
Spend four weeks with us in Northern Ireland, immersing yourself in a unique academic and cultural experience, and pursue your interests in one of three tailored summer school programmes.

All of our Summer Schools programmes include:

• A unique immersive academic and cultural experience, with the opportunity to pursue your academic interests

• Guaranteed accommodation on campus for 27 nights

• Optional credit- bearing programme at Year 2 undergraduate equivalent, following assessment

• Opportunity to explore Northern Ireland with cultural and historical field trips

• A social programme including welcome reception, film nights, social events and 'Ceilidh' Night – traditional Irish music and dancing


Summer Schools Brochure 2020
Experience Northern Ireland
Northern Ireland is ripe for discovery with a remarkable past, an exhilarating present and an exciting future.
Study in the home of Belfast and the Causeway Coast, named by the Lonely Planet as the number one region in the world to visit!

Students will have the opportunity to see their learning in action with a range of field trips across Northern Ireland to sites of cultural and historical importance. As well as programme specific field trips, there are a range of joint cultural and historical field trips, previous field trips have included:

• UNESCO World Heritage site the Giant's Causeway

• The world's leading tourist attraction Titanic Belfast

• Historic walled city of Derry-Londonderry

• The home of Northern Ireland's government, Stormont Parliament Buildings

• Attend 'Orangefest' an Ulster Protestant celebration held on 12 July every year dating back to the 18th century

• Belfast Mural tour
Discover Northern Ireland
Choice of two Unique Programmes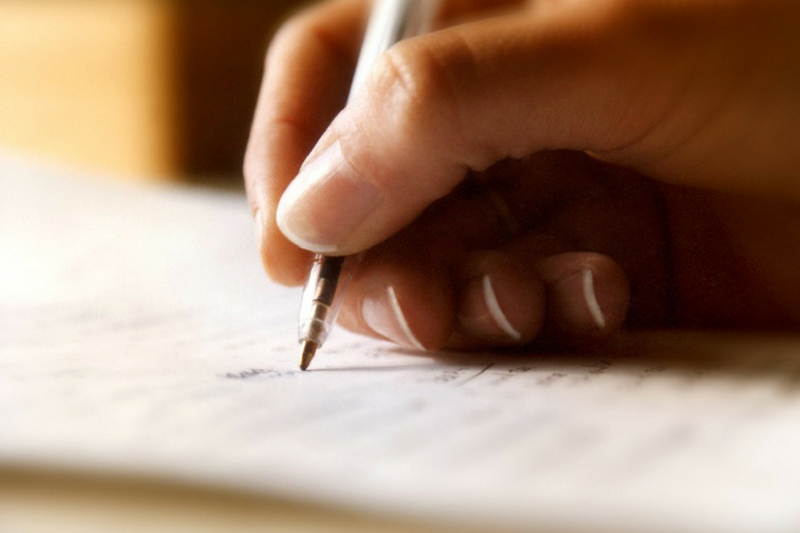 Assessment
CREDIT
You can choose if you wish to be assessed in order to receive credit. A student successfully completing one of our Summer Schools following satisfactory essay assessment will be awarded 20 CATS points at Year 2 undergraduate equivalent. Queen's recommends that this credit equates 10 ECTS credits or five – six US credits.
Please note: You must confirm with your home institution if you wish to transfer credit prior to application. It is at your home institutions discretion as to how credit is converted, according to its own expectations regarding student work and assessment loads. Your home institution can contact us at summerschools@qub.ac.uk if they require more information.
Assessment is not compulsory and students who do not wish to receive credit and undergo assessment will be issued with a certificate of participation on completion of the programme.
---
Queen's
ACCOMMODATION
If you select the accommodation option, your accommodation is provided for 27 nights in Queen's new student accommodation facility in Belfast City Centre. The new accommodation at BT1 and BT2 opened in Autumn 2018 and is located just 15 minutes' walk from Queen's main campus (0.9miles). You'll be neighbours with the vibrant city-centre nightlife, popular restaurants and local supermarkets. You will be nestled in the middle of a fantastic coffee culture featuring some of Belfast's most popular independent coffee shops.
Each apartment is comprised of a maximum of 6 en suite private bedrooms and a communal equipped kitchen and living room area with television and sofa. There is also a self-service laundry facility located within the accommodation (equipped with washing machines, dryers, irons and ironing boards)
If you select the accommodation option, your booking will include:
- 27 nights at Queen's student accommodation
- Private room
- Private en suite bathroom
- Thermostat control within private bedroom
- Utility bills
- WiFi Internet
- Bed linen and towels changed 3 times a week
- Cleaning service: Kitchen and communal area cleaned twice a week. Please note students are responsible for washing the dishes and cookware themselves
- Communal kitchen and common room with a TV and kitchen equipment
- 24-hour safety staff
- Reception
Check in and out times
Check in: Sunday before classes start
Check out: Saturday after classes end
If you are arriving or departing outside of these times on the arrival and departure dates please email us so we can arrange your check in! summerschools@qub.ac.uk
Please note it may not always be possible to facilitate such requests so when booking travel you should try to work around these times.
Booking extra nights
If you would like to stay additional nights at Queen's accommodation outside of the dates provided, you can book and pay for these as a separate booking by e-mailing summerschools@qub.ac.uk Please let the team know that you are staying as part of the Summer Schools.
Kitchen facilities
Your kitchen comes equipped with the following: Kettle, Fridge / Freezer, Oven / Hob, Microwave, Toaster, Crockery, Cutlery, Cooking utensils , Frying pans / Skillets, Saucepans, Baking trays / sheets, Chopping boards
Read more
Read less
---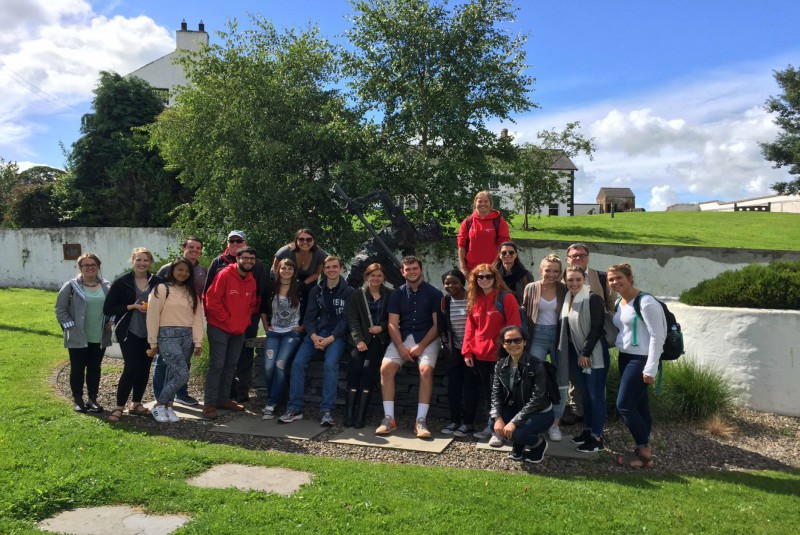 Application
FEE
Tuition and Accommodation £2900
- All tuition
- Course materials
- Field trips including transport
- Certificate / Transcript
- En Suite Accommodation
If for any reason you do not require accommodation please get in touch with us for a tuition only price at summerschools@qub.ac.uk
Places are first come, first served and all applicants must be aged 18 or over by arrival day.
It is recommended that students who wish to seek credit for their participation should have a recommended cumulative GPA of 3.0 on a 4.0 scale or equivalent. Additionally if English is not a credit seeking student's first language, you should have demonstrable proficiency with a recommended IELTS of 6.5 or equivalent.
Before you apply please make sure you have read and agreed to our terms and conditions.
Read more
Read less
---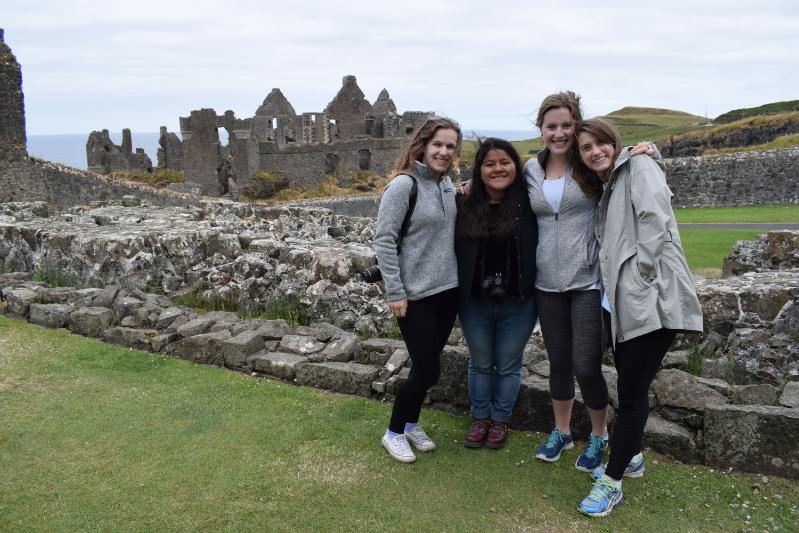 Rewarding achievement
SCHOLARSHIPS
We are delighted to work in partnership with the US-UK Fulbright Commission to offer a small number of scholarships to US students to attend our International Summer Schools at Queen's University Belfast. The Fulbright Commission look to receive student applications from a broad range of backgrounds, who have had little opportunity to immerse themselves in a different culture.
The Scholarship costs covered by the Fulbright Commission and Queen's University Belfast include:
Return US-UK airfare
Tuition and fees
All Fieldtrips
Accommodation
Certificate / Credit Transcript
Daily allowance for meals
Applications for 2021 will open this autumn, more information about the Fulbright Commission can be found
here.
---
Important
VISA
Please read our Short-term study visa guidance for information.
Students should begin to prepare as early as possible before they are required to begin their studies. This should allow them sufficient time to have everything in order for their arrival at Queen's.
If you are an international student, you will receive a Short-term study visa support letter from International Student Support (once payment of fees is received in full). Letters are usually posted in May.
If you have any further queries relating to visas, please contact International Student Support at immigration@qub.ac.uk. Please let them know that you will be attending the four week International Summer School and the name of the course/Summer School.
---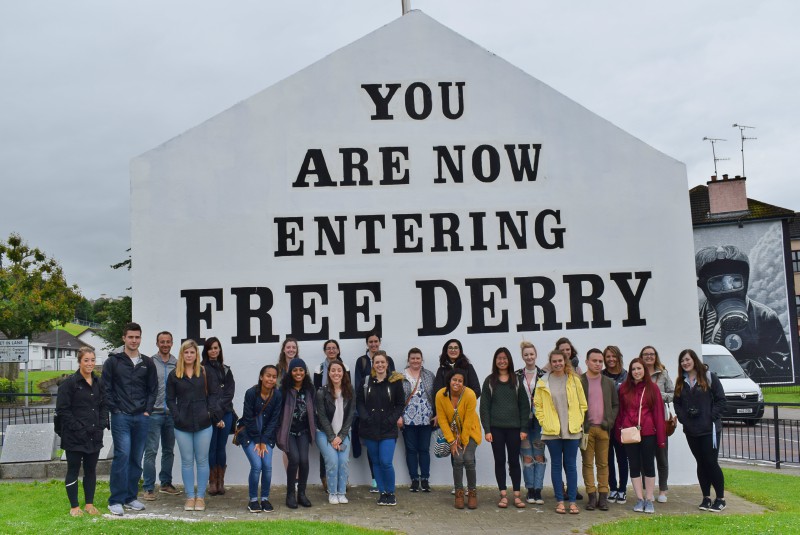 Individual Applications
TERMS AND CONDITIONS
Please ensure you read our Terms and Conditions prior to application. Our terms and conditions can be found below and include informatIon on:
- Cancellations and refunds
- Data protection
- Student Charter
You can also click HERE for QUB's general regulations including core values and student charter.
---
Institutions and Providers
GROUP APPLICATIONS
If you work with an institution or education provider, and wish to bring a group of students to the International Summer School at Queen's, we would be delighted to welcome you to our beautiful campus.
For full information or to ask any questions, please get in touch with us via summerschools@qub.ac.uk
---
IMPORTANT INFORMATION
Application and payment process
Applications open early November. Programmes can fill up quickly and therefore we run on a 'first come first serve' basis, we cannot hold or guarantee your place on this programme until full payment is made.

To secure your place you must complete the application form and make full payment, once we receive both we will send a letter of confirmation for your chosen programme.

Once you have completed your application form you will be advised of the payment process. However if you have a cumulative overall GPA of less than the programme's recommended 3.0 or equivilant, your application will have to be referred to the Programme's Academic Director for consideration, you may submit supporting evidence at this stage for example a short supporting statement.

Applications close in April 2021; if payment is not received prior to this date you will be automatically withdrawn.
Support Services
Additional student support
Queen's is committed to equality of opportunity for all students and will, therefore, strive to facilitate students with disabilities as an integral part of the Queen's community.

Support is provided to students with a wide range of needs. Support available varies and will be tailored to meet your individual requirements.

More information can be found via the link below or if you would like to talk to us regarding any additional support please email summerschools@qub.ac.uk
Student Guidance Centre