MEET WITH US
Dates of our visits will appear below throughout the year.
---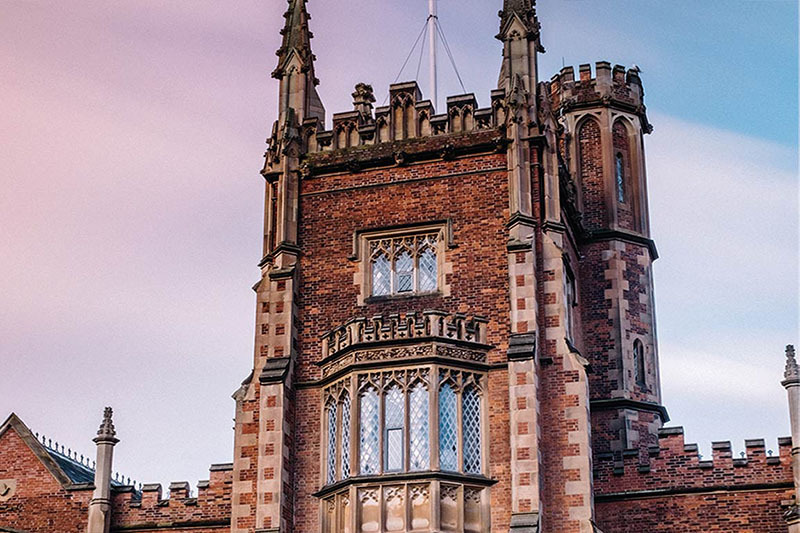 WHY CHOOSE QUEEN'S?
A world class institution
Queen's is ranked 8th in the UK for research intensity (REF 2014) and has seven subject areas ranked in the top ten including Accounting and Finance, Food Science, Pharmacology and Pharmacy plus further subjects in the top 20 in the UK, including Chemical Engineering, Electrical and Electronic Engineering and Physics.
Queen's is a member of the prestigious Russell Group along with 23 other top UK Universities.
We place an importance on high quality research, an outstanding teaching and learning experience and have unrivalled links with business and the public sector.
---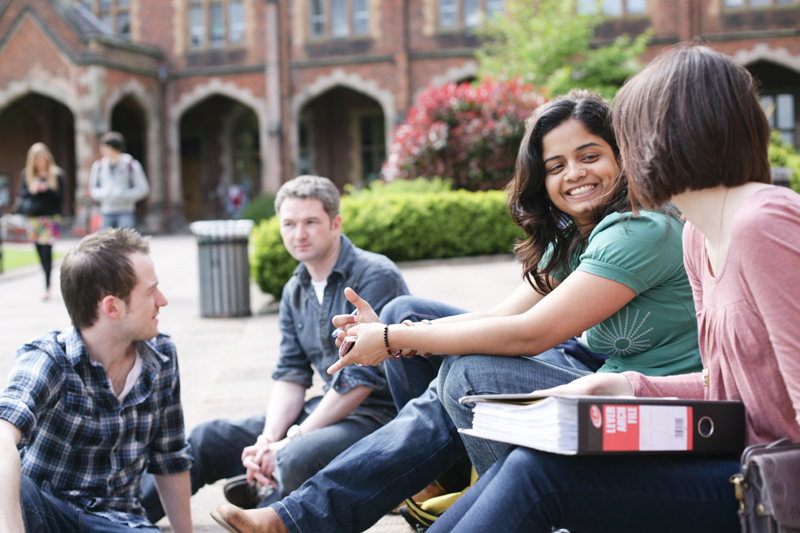 QUEEN'S INTERNATIONAL SCHOLARSHIPS
Over £1.5 million in international scholarships available
Queen's offers a range of undergraduate and postgraduate scholarships to help cover the cost of studying with us.
Learn more about Queen's International Scholarships.
Scholarships include:
International Office Undergraduate Scholarship
Vice-Chancellor's International Attainment Scholarship
Queen's Loyalty Scholarship
Queen's Family Scholarship
Early Bird Reward
Read more
Read less
---
INTERNATIONAL TUITION FEES
A world class education without sky high tuition fees
Queen's offers an incredible opportunity to its International students to experience an incredible education, under the guidance of world leading faculty members, but at a much more reasonable cost than the majority of other UK institutions.
---
QUEEN'S IS RANKED IN THE TOP 200 UNIVERSITIES IN THE WORLD
Times Higher Education World University Rankings 2021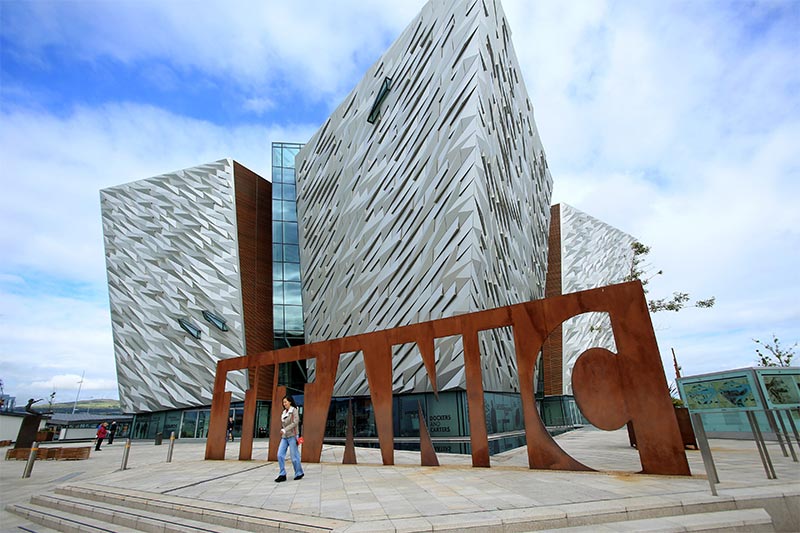 WELCOME TO BELFAST
NUMBER ONE REGION IN THE WORLD TO VISIT IN 2018
Belfast is one of Europe's most hip and vibrant capital cities, just ask the experts at Lonely Planet who lauded the city for its energy, lively atmosphere, and our 'dynamic young population that keeps the city on trend.'
The beauty is that it's all packed into a compact city that's easy and safe to explore.
---
Life in Belfast
Belfast is the safest region in the UK (British Crime Survey 2015/16)

Belfast has the lowest cost of living in the UK (Mercer, 2017)

Belfast and the Causeway Coast named the Number 1 region in the world to visit in 2018 (Lonely Planet, 2017)
WE'RE CLOSER THAN YOU THINK
Just one hour from London
Queen's is not just a launch pad for future careers, but also for adventure and travel. On the western edge of Europe, we're small but well connected.
Our city, Belfast, is compact but big on places to go and things to do. Belfast is within easy access of some of the most spectacular scenery in Ireland and less than an hours flight from London and Edinburgh and only two hours flight from Paris, Amsterdam and Brussels.
---
HOW TO APPLY
For details on the application process for both undergraduates and postgraduates, please visit the University's How to Apply section.
ENTRY
Undergraduate Entry Requirements
The following qualifications will be considered for direct entry to undergraduate programmes:
GCE A Levels (University of Cambridge International Exams) taken in Brunei.
Recognised Foundation courses taken in the UK, Australia and Canada
Between 30 and 36 points in the International Baccalaureate Diploma (IB). Information on required grades.
Higher National Diploma (3-year post O Level). The minimum entry requirements vary depending on the subject, but the following is a guideline:
GPA 3.0/4 for Year 1
GPA 3.5/4 for Year 2
B
Distinction Profile
The grades required will vary according to your chosen programme. Please check our Course Finder for detailed entry requirements.
Read more
Read less
---
ENTRY
Postgraduate Entry Requirements
Entry to graduate diploma or taught Masters programmes usually requires either a UK upper second-class (2:1) or a lower second-class (2:2) undergraduate degree. For most courses, your major subject or content of your Bachelor degree may also be considered. Please check our Course Finder for detailed entry requirements.
The comparable qualifications from Brunei are as follows:
UK Upper Second-Class Honours (2:1)
Bachelor (Honours) degree 2:1.
UK Lower Second-Class Honours (2:2)
Bachelor (Honours) degree 2:2.
Supporting Documentation
When submitting your application, please ensure that you upload copies of official transcripts for completed programmes as well as those currently in progress. Degree award certificates for programmes already complete should also be provided.
Borderline Cases
Sometimes, it may be possible to exercise flexibility in the case of applicants who have completed their degree with slightly lower grades than those outlined in their offer letter. In these cases, the decision will be at the discretion of the Academic Selector.
On completion of your degree, please forward a copy of your official transcript and award certificate to intl.student@qub.ac.uk to confirm the award of your qualification and the overall grade. Unfortunately, we cannot advise you further until we receive this documentation.
INTO Queen's Preparation Courses
If you are interested in Computing, Finance or Management courses, but do not meet the entry requirements, you may wish to consider a a pre-masters Graduate Diploma offered by INTO Queen's.
PhD Study
Students interested in undertaking a PhD at Queen's University need good grades in their Bachelor and Masters degree programmes awarded by a recognised university, in addition to a strong research proposal.
Read more
Read less
---
ENTRY
English language Requirements
Applicants will normally need to demonstrate a level of English equivalent to 6.5 IELTS or 90 TOEFL IBT (Internet based test). However, some degree programmes have higher or lower requirements (please check individual programme requirements in the relevant undergraduate or postgraduate University Coursefinder. View the full list of acceptable English Language qualifications.
---
ENTRY
INTO Queen's Pre-University Courses
INTO Queen's University Belfast is a partnership with Queen's University which offers academic courses and English language programmes designed specifically for international students. The courses help prepare students for entry to university in the UK and acclimatise students to living and studying in a university environment.
INTO Queen's academic programmes include:
International Foundation programme
Graduate Diploma programme
International Diploma programme
INTO Queen's English Language courses include:
English for Undergraduate Study
English for Postgraduate Study
Study Abroad with English
Pre-Sessional English
Summer School English
Insessional English
Read more
Read less
---
GET IN TOUCH
BEE LING CHEW
Student Recruitment Manager for Malaysia, Brunei and Taiwan
---
Video: Six essentials to pack for student life in Belfast
5 Things You Shouldn't Worry About if You're Moving to Belfast
What made Queen's my firm choice for international study