Welcome to Queen's University Belfast.
We are a member of the elite Russell Group (the UK's Ivy League) and are one of the oldest Universities in the UK and Ireland.
We are a global University – ranked in the top 200 worldwide- based in a leafy neighbourhood in Northern Ireland's capital city (Times Higher Education World University Rankings 2021).
Queen's offers students a vibrant educational experience on a multi-cultural campus. We have over 3,000 international students from 80+ countries worldwide and are proud to have an increasingly diverse student body. We welcome hundreds of students from America each year on study abroad, summer school and full degree programmes at bachelors, masters and doctoral level.
MEET OUR NORTH AMERICA TEAM

Anya O'Connor
SENIOR INTERNATIONAL OFFICER

Peter Brimstone
INTERNATIONAL OFFICER

Susan McCleary
INTERNATIONAL OFFICER
Claire Castles
PARTNERSHIPS AND EVENTS OFFICER
Questions?
Book an introduction session
If you have any questions or would like guidance about studying at Queen's, the team is here to help you.
We offer prospective students the chance to book a 1-1 information session with our team in which we can provide you with an introduction to the University and answer any questions you may have.
You can also join our mailing list to receive information directly related to your subject interests and details of any upcoming events for students in your area.
UPCOMING DIGITAL EVENTS
Due to the ongoing public health situation with COVID-19, the North America team are not currently travelling to the USA. We hope to be able to visit the US again in 2021.
We will be meeting with students at a range of digital events over the coming months and invite you to speak with us there. You will find information about our upcoming events below. You are also welcome to book an individual appointment with the team by booking a session through the link above.
QMS Graduate Webinar for Students from North America (January 20, 2021,

5:30PM

)

Date & Time

January 20, 2021,

5:30PM

Market / Region

North America

You will have the chance to learn more about studying in Northern Ireland, the unique benefits of graduate school at Queen's and the range of opportunities available upon graduation.

The webinar will last 45mins with time for Q&A at the end of the session. Register now and a member of the Queen's team will be in touch with you ahead of the event.
ENTRY REQUIREMENTS
Queen's has welcomed students from the USA for many years. The University admissions office is very familiar with the American education system and qualifications. Below you will find information on entrance requirements for students from the USA. If you have any questions, don't hesitate to contact the North America team.
Undergraduate entry requirements

We understand that due to the ongoing Covid-19 pandemic there has been severe disruption to schooling and exam schedules in the academic year 2020/21. If you have been negatively impacted by cancelled examinations, please reach out to the North America team – contact details are listed on this page. We will explore other avenues and work with colleagues in admissions and Schools to see if it is possible to evaluate applications where students are unable to submit test scores.

Please note that there is no requirement to have completed the necessary testing requirements at the point of application to study at Queen's. We operate a conditional offer system, meaning that you can apply before you have completed testing. This means that your offer letter would be conditional upon completing your exams at a later point.

The grades required for admission to our undergraduate Bachelor degree programmes will vary according to your chosen course of study. Please check our Course Finder for detailed entry requirements which are normally expressed in terms of three A-level grades. The comparable US qualifications and grade requirements are shown in the table below. Subject-specific requirements must be met.

An Honors/College level class or SAT I or ACT test may be accepted in place of one AP or SAT Subject test, where the A-level requirement for the course is AAB or lower:

| | | | |
| --- | --- | --- | --- |
| A-level Grade | A | B | C |
| Advanced Placement (AP) | 5 | 4 | 3 |
| SAT II Subject Test | 700 | 650 | 600 |
| SAT 1 | 1350 (min 700, 650) | 1290 (min 620, 650) | 1250 (min 620, 620) |
| ACT | 28 | 27 | 26 |
| Honors/College Course | A+ | B+ | C+ |

For example, if the requirement is BBB at A-level, the following combination is possible:

Two from

Advanced Placement Test with minimum Grade 4
SAT II Subject Test with minimum score of 650

Plus one from

Honors/College level course with minimum Grade B+
SAT I test with a minimum of 1290 (with a minimum of 620 in Mathematics, and 650 in Evidence-Based Reading and Writing section)
ACT test with a score of 27


Subjects cannot be counted twice, ie. if you are submitting an AP in US History, you cannot also submit a SAT Subject test or Honors course in US History.

If A-level Mathematics is a course requirement, Advanced Placement Calculus (AB or BC) at grade 4 of higher is required.

Please note that Queen's University Belfast has institutional codes for the following College Board Exams. You can send score reports directly to Queen's using the following codes:

ACT: 7799
SAT and AP: 7753

Applicants who have successfully completed an Associate Degree with an overall GPA of 3.0/4.0 awarded by a recognised US institution will be considered for admission to Stage 1 of an undergraduate degree programme. Any subject requirements must be met.
Applications are welcomed from applicants completing the International Baccalaureate Diploma (IBD). Scores of between 30 and 36 points overall are required depending on individual course requirements. Information on required grades.


Medicine and Dentistry

For Medicine and Dentistry, a High School Graduation Diploma with minimum GPA of 3.5/4.0 will be required, plus four AP tests with scores of 5,5 (Chemistry and Biology) 5,4. Mathematics is also required to GCSE standard, normally Grade 12 in High School. GCSE Physics or equivalent is also required for Medicine. SAT Subject tests are not accepted in lieu of AP tests.

A minimum of 36 points overall is required in the International Baccalaureate Diploma with grades 6,6,6 in Higher level subjects including Chemistry and Biology. Mathematics and English (and Physics for Medicine) is also required to Standard Level, or grade 11 (or GCSE Equivalent) if not taken as part of the IB. Points obtained for the Extended Essay and Theory of Knowledge can count towards the total.

Graduates may also be considered - a minimum of an Upper Second Class Honours degree or CGPA of 3.3 on scale of 4 (78%) would be required, and applicants must also have the appropriate background in the relevant science subjects to satisfy the course entry requirements.

Applicants for Medicine must also undertake the University Clinical Aptitude Test (UCAT) www.ucat.ac.uk and the University will normally interview international applicants. For Dentistry, shortlisted applicants will be interviewed via an online process.

Postgraduate entry requirements

Entry to graduate diploma or taught Masters programmes usually requires either a UK upper second-class (2:1) or a lower second-class (2:2) undergraduate degree. For most courses, your major subject or content of your Bachelor's degree may also be considered. Please visit our for detailed entry requirements.

The comparable US qualifications are as follows:

UK Upper Second-Class Honours (2:1)

Bachelor degree with a cumulative GPA of at least 3.2 .

UK Lower Second-Class Honours (2:2)

Bachelor degree with a cumulative GPA of at least 2.8.

Please note the following key differences between graduate studies in the US and a taught Masters degree at Queen's:

Master's degrees in the UK are normally one-year in duration.
There is no GRE or GMAT required for entry to Queen's.

A taught Master's refers to a program that combines academic instruction as well as the completion of a written dissertation. PhD degrees are three years in length and typically require you to have a Masters degree prior to applying and to prepare a research proposal.

Supporting Documentation

When submitting your application, please ensure that you upload copies of official transcripts for completed programmes as well as those currently in progress. Degree award certificates for programmes already complete should also be provided.

Borderline Cases

Sometimes, it may be possible to exercise flexibility in the case of applicants who have completed their degree with slightly lower grades than those outlined in their offer letter. In these cases, the decision will be at the discretion of the Academic Selector.

On completion of your degree, you should forward a copy of your official transcript and award certificate to intl.student@qub.ac.uk to confirm the award of your qualification and the overall grade. Unfortunately we cannot advise you further until we receive this documentation .

INTO Queen's Preparation Courses

For those interested in Computing, Finance and Management courses, but who do not meet the entry requirements, you may wish to consider a a pre-masters .

PhD Study

Students interested in undertaking a need good grades in their Bachelor and Masters degree programmes awarded by a recognised university, in addition to a strong research proposal.

English language requirements

Applicants whose first language is not English will normally need to demonstrate a level of English equivalent to 6.5 IELTS or 90 TOEFL IBT (Internet based test). However, some courses have higher or lower requirements (please check individual programme requirements in the relevant . View the full list of acceptable English Language qualifications.

INTO Queen's English Language Programmes

INTO Queen's University Belfast offers a wide range of English Language courses, which may assist students to meet the required standard of English language to be eligible for entry to degree programmes at the University. If you wish to apply for an INTO Queen's English course please contact into@qub.ac.uk or consult the INTO website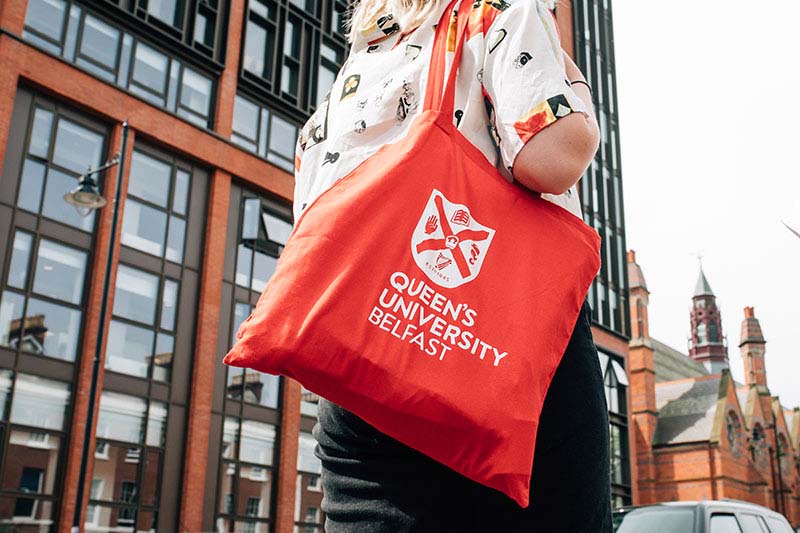 ---
STUDY ABROAD
Experience Queen's for a Summer, a semester or a full year with one of our study abroad programmes
Queen's offers three unique Summer schools as well as a study abroad programme which allows international students to join us for up to one full academic year in a number of courses.
---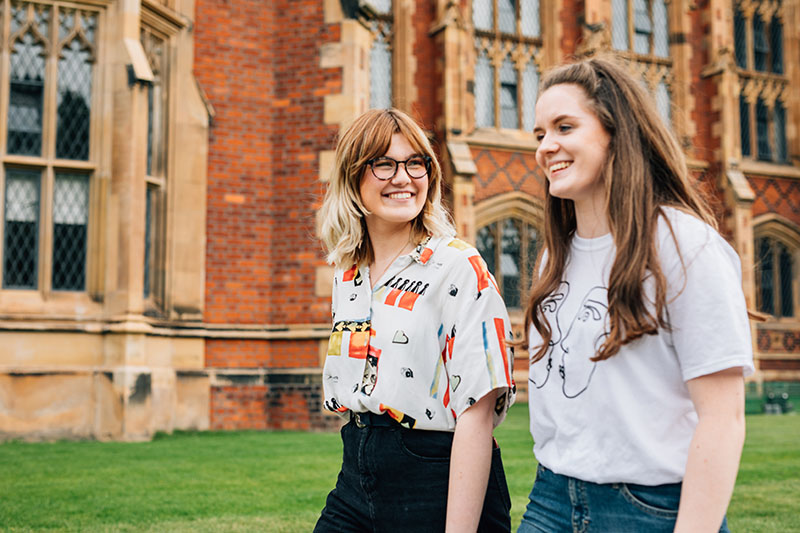 INTERNATIONAL SUMMER SCHOOLS
Spend four weeks with us in Northern Ireland.
Immerse yourself in a unique academic and cultural experience, and pursue your interests in one of three tailored summer school programmes:
Conflict Transformation
Education for Transformation
Find out more about our programmes
---
---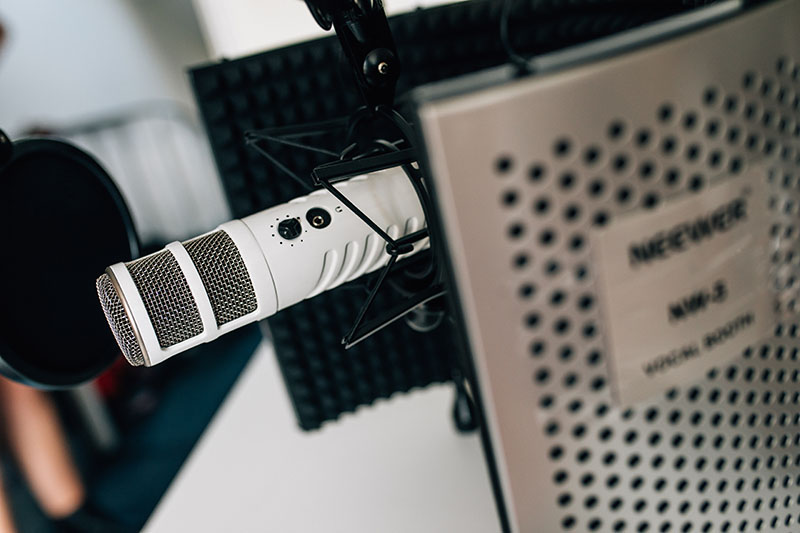 Queen's Podcast Series
Introducing Queen's academics and their research from schools across the university, available to listen via the below links as well as via Spotify and Apple Podcasts.
The podcasts include a wide-ranging set of brief talks by Queen's academics across many disciplines and subjects including:
Hear from our students
Our students are the best ambassadors for Queen's University. Hear from Grad student, Marissa and Bachelors student, Shea in the videos below to learn more about the Queen's experience.