Five students from Queen's University Belfast selected for prestigious Washington Ireland Program
13/06/2018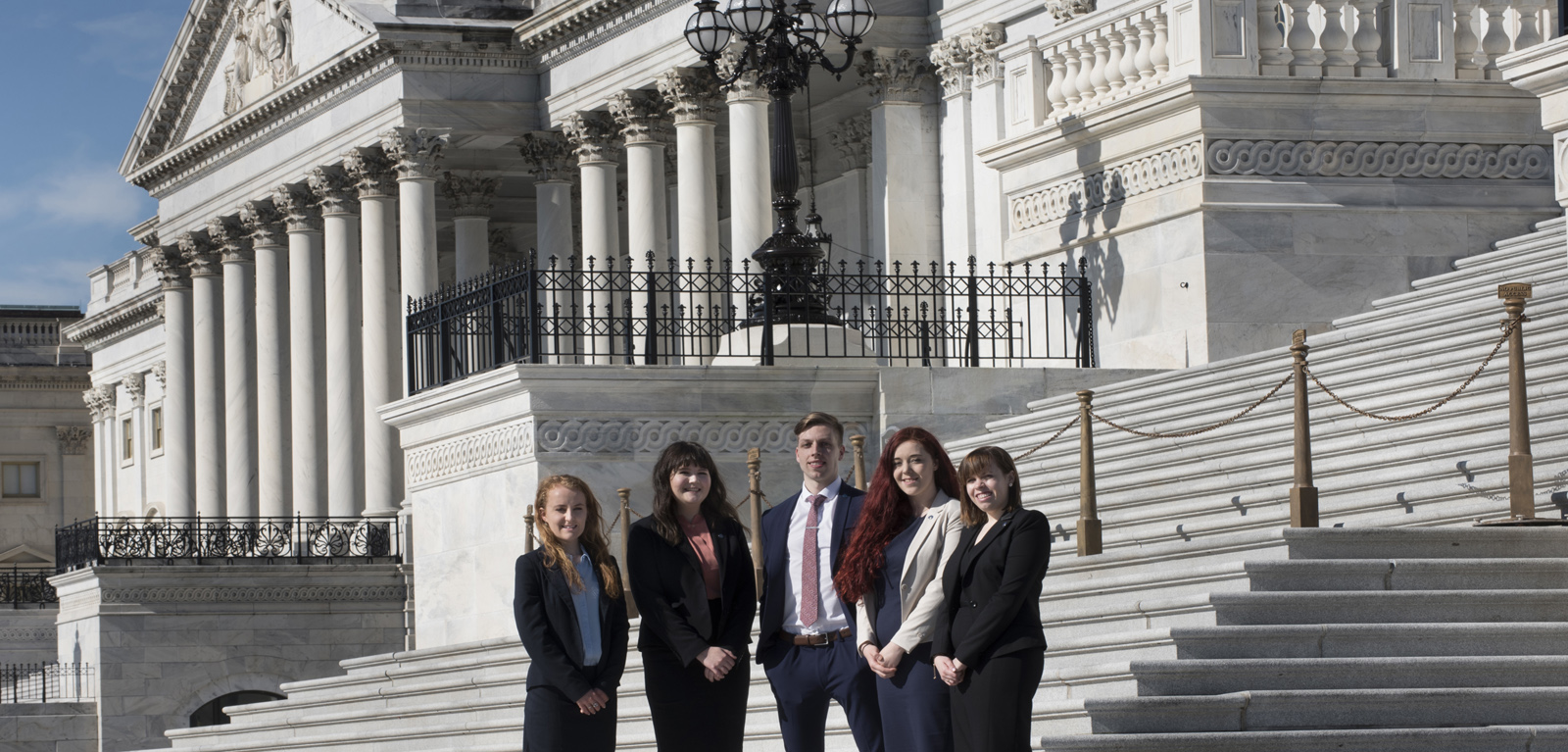 Five students from Queen's have been selected for the prestigious Washington Ireland Program (WIP) 2018, to build the next generation of leaders across Northern Ireland and Ireland.
Queen's students Courtney Allison and Robyn Dodds both from Banbridge; Billie-Jo McDowell from Lurgan; Donnchadh Tierney from Fermanagh; and Lisa-Claire Whitten from Belfast completed their Orientation Program in Northern Ireland and have arrived in the US for the start of the summer programme.
They are among thirty students selected from hundreds of applicants for the two month leadership programme which will, for the first time, see the students complete their summer placements in Washington D.C. and New York.
Their time in Washington D.C. and New York will include extensive opportunities for cultural exchange and personal development – including living in host families, working closely with their American peers and gaining real life exposure to the US democratic process.
Robyn Dodds, a final year BA Politics, Philosophy, and Economics student is delighted to have been selected for the programme. She said: "WIP offers a real chance to make a difference in this world, especially in our own society. I'm delighted to have been offered this opportunity and I am very much looking forward to learning new skills and putting them into practice once I am home."

Donnchadh Tierney, a Master's student studying Violence, Security and Terrorism added: "WIP offers students a brilliant opportunity to develop their leadership potential, whilst also contributing positively to communities at home and overseas. It is a privilege to be offered the chance to work in America during such an interesting political period, and I will be sure to make the most of it."

This year's class will be led by WIP's first ever all female program leadership team, including: Claire Rumpsa; Heather McCormick; Olivia MacDonald and Rachel Powell.

Speaking about the 2018 class, Claire Rumpsa, Director of Leadership Programs at WIP said: "We are delighted to be working with a group of such accomplished young people, who already have a proven track record of community service and have demonstrated their capacity for leading in their communities. They truly exemplify the high quality of our young people here in Northern Ireland and Ireland.

"The Washington Ireland Program will give them the opportunity to work alongside those who are leading on a global stage, and the entire experience will further hone their skills and help create a peaceful, stable and prosperous future for Northern Ireland and Ireland."
Previous WIP students have interned in the offices of the then U.S. Senators Barack Obama and Hillary Clinton.

Prominent alumni include members of the Irish Government, Northern Irish Executive and Northern Ireland Assembly, and WIP alumni from Queen's include former Justice Minister Claire Sugden and MP for South Belfast Emma Little Pengelly.

For more information about WIP, please visit: http://wiprogram.org/
Media inquiries
Media inquiries to Zara McBrearty at Queen's Communications Office on Tel: (028) 9097 3259 or email z.mcbrearty@qub.ac.uk
Latest News