New study gives early indication certain drugs might be repurposed to treat brain tumours
A new study has shown early indications that several existing FDA-approved drugs could be repurposed as possible treatments for brain tumours.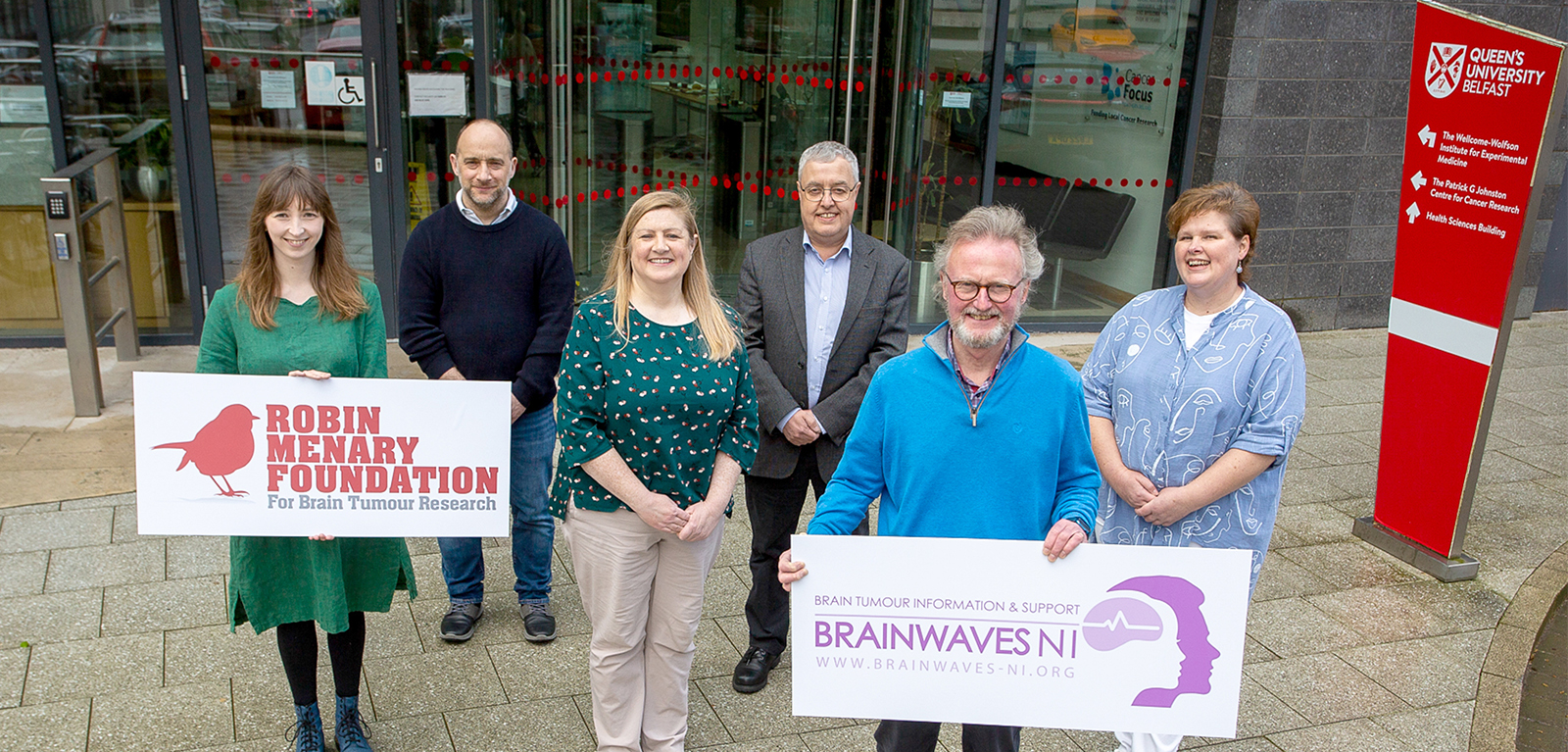 L to R: Dr Aideen Roddy (Queen's University Belfast), Dr J. Peter Stewart (Queen's University Belfast), Dr Caitríona McInerney (Queen's University Belfast), Professor Kevin Prise (Queen's University Belfast), Colin McMillan (Brainwaves NI Chairperson) and Kimberley Carvill (Brainwaves NI Committee Member)
After further testing of these drugs, results might show that some could benefit future generations of patients. The research also found how genes in brain tumours changed in their expression patterns as the cancer progressed and the patient relapsed following treatment.
The study has been published in the journal Biomedicines and was carried out by academics from the Patrick G Johnson Centre for Cancer Research (PGJCCR) at Queen's University Belfast as part of a Brain Tumour Research Consortium in collaboration with clinicians from the Belfast Health and Social Care Trust.
Brain tumours are the biggest cancer killer of children and adults under 40. In the UK 16,000 people are diagnosed each year with a brain tumour and incidence rates of brain tumours are significantly higher in Northern Ireland (NI) and Wales compared to the other UK countries. Brain tumour cases are projected to increase in NI by 36% by 2035.
Glioblastoma (GBM) are the most common and the most malignant adult brain tumours, accounting for ~70% of all new diagnoses. GBM also has the worst outcome for patients as they are resistant to therapy. Despite treatments, such as surgery, radiotherapy and chemotherapy, GBM tumours regrow leading to patient relapse and death after ~15 months.
Developing new drugs to treat resistant cancers such as GBM can take many years and a vast amount of money. Even then, only a tiny proportion of drugs are approved for safe use in humans. An alternative approach is to repurpose drugs that have already been approved for treatment in another disease. The advantage of drug repurposing is that the drug is already FDA-approved for use in humans and therefore is known to be clinically safe, with low toxicity and few side effects.
The study focused on patients from Northern Ireland and was initiated by Dr Tom Flannery, a Neurosurgeon from the Royal Victoria Hospital Belfast at the Belfast Health and Social Care Trust. Over several years, Dr Flannery collected biopsies of the patient's brain tumour at their first surgery and following relapse again at their second surgery to remove the tumour. The samples were archived at the Northern Ireland Biobank and were processed for their genetics at the Genomics Core Technology Unit at Queen's.
Using these samples, the team determined which genes changed in their cell activity and expression during brain tumour disease progression. The team further tested these genes in a connectivity mapping analysis using software developed at Queen's University (QUADrATiC). The researchers were able to predict the possibility that some FDA-approved drugs might be effective against GBM. These drugs are ready for testing in pre-clinical trials to determine their potential to be repurposed for GBM and following this, many years of rigorous trials are still required.
Commenting on the importance of these findings, Dr Flannery said: "The standard of care for glioblastoma is maximal safe resection followed by "Stupp protocol" chemoradiotherapy. This paper sheds new insights into potentially effective novel treatments for glioblastoma, not only in the recurrent setting (i.e., relapse) but also as an upfront treatment. Our findings provide the basis for future clinical trials and offer new hope to our patients suffering from this invariably fatal disease."
Professor Kevin Prise, Professor of Radiation Biology and the lead scientist at Queen's University Belfast, further added: "There are limited options for the treatment of brain tumours and especially for those patients that experience a relapse. By taking a multidisciplinary approach and working collaboratively with our colleagues in the NHS, we were able to highlight potential biologies and target compounds that can be tested in future studies to develop new treatment strategies to help people with brain cancer."
The study was funded through studentships for Dr Aideen Roddy (Cancer Research UK) and V. Janey Spence (Brainwaves NI and The Robin Menary Foundation) and a research fellowship to Dr Caitríona McInerney (Brainwaves NI).
Brainwaves NI is Northern Ireland's main volunteer led brain tumour research and support charity. Highlighting the impact of this study for people with a brain tumour and their families, Brainwaves NI Chair, Colin McMillan, said: "The charity welcomes the news that existing drugs could be repurposed to treat brain tumours. The fact they are already approved is a major advantage. Given brain cancer statistics and high mortality rates of under 40 year olds a new approach is vital. Brainwaves NI is proud to have provided funding and thanks all involved for their dedication and the work that has gone into producing this research paper."
The Robin Menary Foundation is also a volunteer led brain tumour charity based in Northern Ireland, set up by Robin's family following his death in 2011, aged just 38. Robin's sister Nikki Boyd added: "It is wonderful to see that real progress is beginning to be made in the search to find treatments for this dreadful disease. We are extremely proud to have been able to fund this vital research."
Media
Media inquiries to Sian Devlin at s.devlin@qub.ac.uk