£5m national supercomputer at Queen's set to revolutionise research
Predicting the potential of renewable wave energy and producing greener biofuels is faster and more accurate than ever before, thanks to a £5m state-of-the-art national supercomputer, which has been launched at Queen's University Belfast.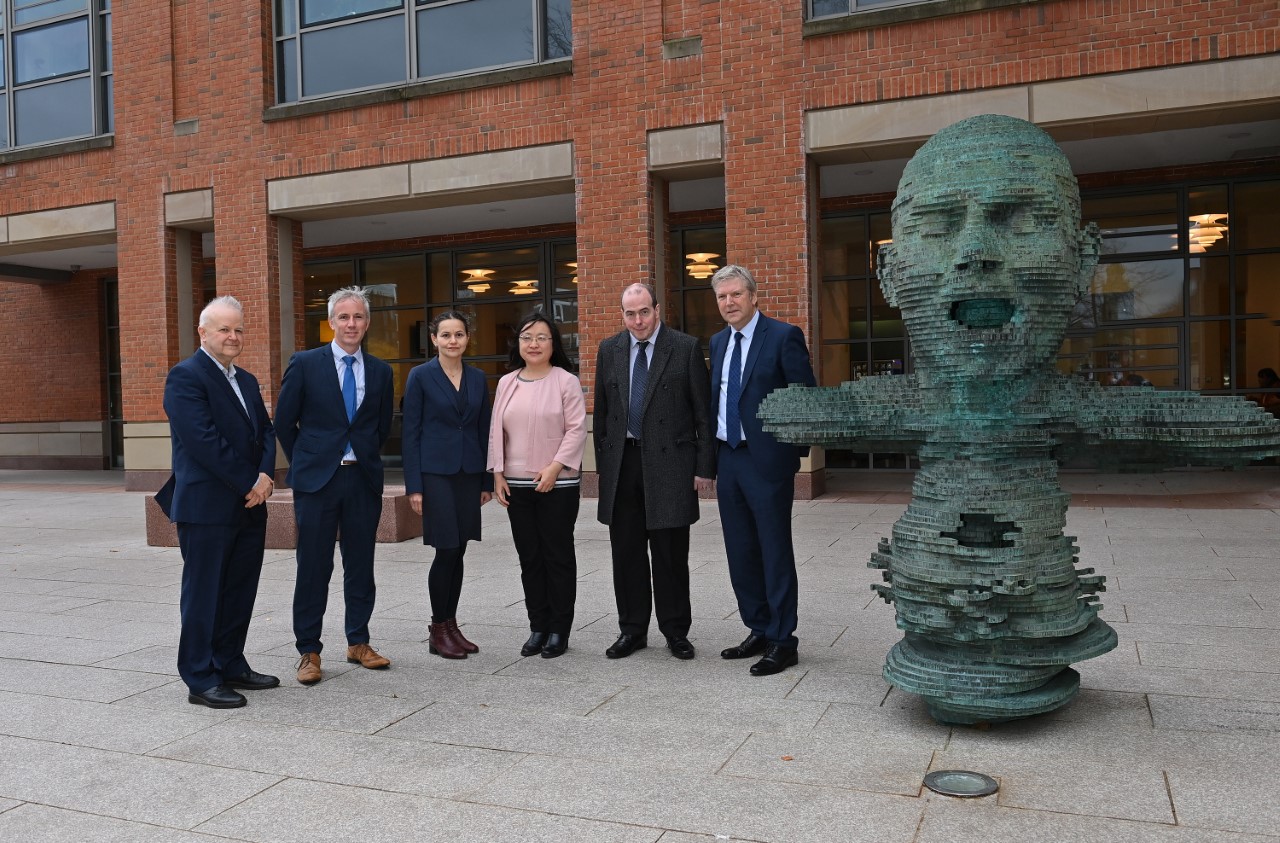 The Kelvin-2 Tier-2 High Performance Computing Facility (HPC), which is based at the McClay Library at Queen's, is the first national facility of its kind in Northern Ireland and is a collaboration between Queen's University and Ulster University.
The supercomputer is capable of analysing huge amounts of data and can deal with multiple requests at a time. This helps researchers to advance data, knowledge and science in a way that was not possible previously
Since 2019, the Engineering and Physical Sciences Research Council (EPSRC) has awarded £2.5m in funding for the HPC Facility. It is dedicated to researchers working on engineering simulations for marine renewable energy, neurotechnology and computational neuroscience, advanced chemistry, innovative drug delivery, precision medicine, metabolomics and hydrogen safety.
Professor Roger Woods from Queen's University is Principal Investigator for the project. He says: "The Facility is an invaluable resource for researchers. The supercomputer allows them to sift through huge volumes of data and undertake complex simulations in a very short space of time. It offers 10,000 computing cores and specialist graphical processing units with lots more processing. This means that programmes that would have taken months to run on a PC can now run in just a few hours.
"Using this cutting-edge computing technology, researchers can work in collaboration and access technology that will accelerates their research and improves accuracy. The HPC Facility will enable academics from Queen's, Ulster and other UK institutions to advance research discovery to an increasingly greater level of detail."
Damien Coyle, Professor of Neurotechnology and Ulster University's Principal Investigator for the NIHPC facility, says: "The collaboration between Ulster University and Queen's to establish this NIHPC facility is an excellent example of how our institutions can come together to develop infrastructure that is not only important for improving research quality and productivity within each institution, but also for developing HPC skillsets and capacity across Northern Ireland, as we increasingly engage in data intensive research and technology and product development."
Dr Meilan Huang from the School of Chemistry and Chemical Engineering at Queen's has been using the resource to design biocatalysts, which are then used to produce valuable products such as biofuels and pharmaceuticals.
She explains: "The supercomputer has made a huge difference to my research, which focuses on computational chemistry and biology.
"Using the supercomputer, we can run very complex simulations which helps us to design biocatalysts. These are then used to manufacture biofuels and pharmaceuticals using renewable resources such as plants or agricultural wastes."
She adds: "These jobs would usually take 24 hours on a normal personal workstation but they only take one hour on Kelvin-2. For simulation jobs on the complex chemical reactions, for example, in biological systems, the impact of the HPC is even more significant, reducing a typical job from six days down to one hour on Kelvin-2.
"The close collaboration with experimentalists from the Faculty of Medicine, Health and Life Sciences at Queen's and industry means we can now use our new biocatalysts, designed by computational modelling, to produce biofuels and pharmaceuticals in a greener and more sustainable way, using renewable resources from nature. This has a positive impact on circular economy."
Dr Pal Schmitt, an expert in marine renewable energy working collaboratively with experts in the School of Electrical and Electronic Engineering and Computer Science at Queen's, has been accurately recreating waves using the supercomputer. He explains: "Before using the supercomputer we had to rely solely on physical testing to try and recreate wave conditions. We have a state-of-the-art wave tank in our lab in Portaferry and we've been doing this for years but it's challenging to recreate field conditions accurately.
"Using the supercomputer, we're now able to work collaboratively with colleagues who are experts in numerical testing and machine learning. We've been making a lot of progress in combining physical testing with machine learning and are now producing data that is much more accurate, accelerating the design and development of marine renewable energy devices.
"This could have huge benefits for renewable energy, and we are excited to see what we can achieve using the supercomputer."
To find out more about the HPC NI Facility, please visit https://ni-hpc.ac.uk/