Big Clean Up hits Belfast streets
Queen's students have joined local residents and Belfast City Council out on the streets of Belfast as part of this year's Big Spring Clean.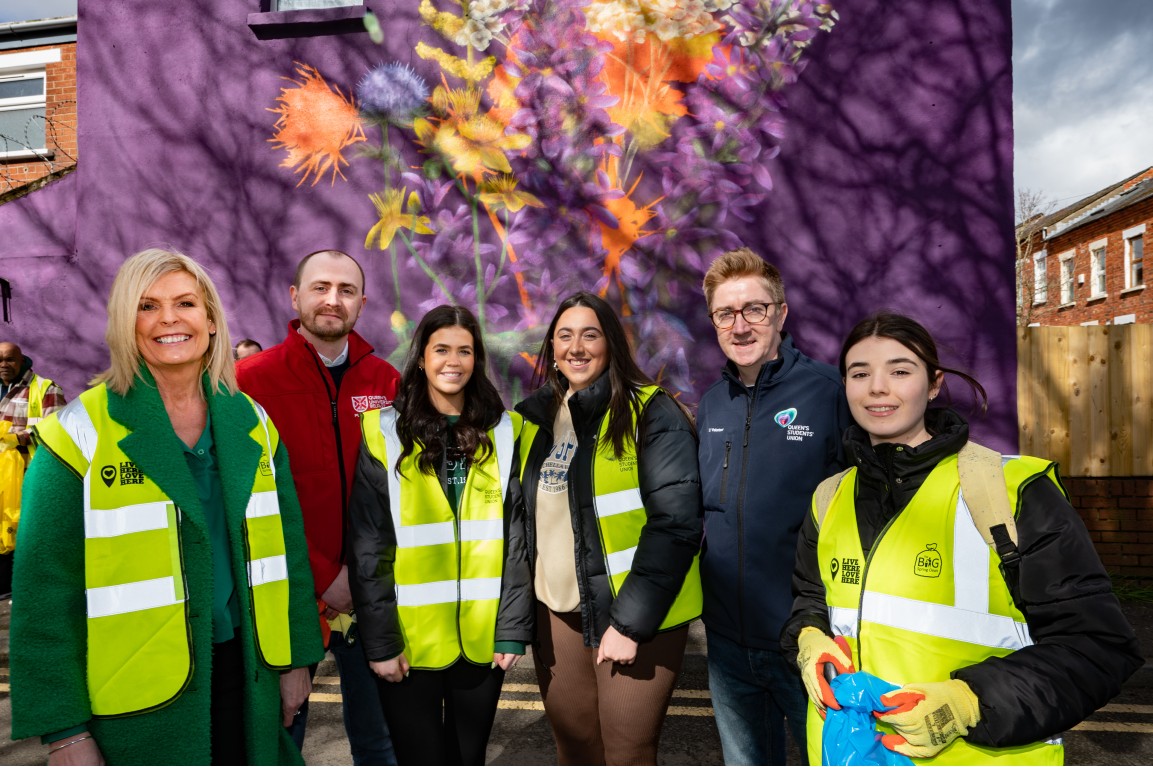 The March clean-up is part of the Live Here Love Here Big Spring Clean Campaign and dozens of Students' Union Handy Helper volunteers have hit the streets to gather litter in partnership with residents and the Council. The is the 10th year that students and staff have taken to the streets to support a cleaner environment, getting out again for the Autumn Clean up as part of European Week for Waste Reduction.
Speaking about the importance of the clean-up, Head of Sustainability at Queen's Sara Lynch, said: "The litter-pick events are important to our Queen's community, as it is a way for staff and students to give back to our local community, whilst having a positive impact on our local environment.
We are lucky to have staff, students and community members who want to get involved and act in any way they can to better our planet, which is very much in keeping with Queen's commitments to sustainability. And it's a great way for our community to combat their climate anxiety – getting people outside, chatting with like-minded people and acting for our planet. A win-win all round!"
Volunteer and Community Support Officer Jonny Baxter said: "This is just one of many volunteering activities that SU Volunteer offer to Queen's students through the Students' Union Handy Helpers programme. Students can choose from a wide range of one-off volunteering opportunities in the local community, such as community gardening, litter picks, painting projects and much more.
Handy Helpers allows our volunteers to get involved in activities that they are interested in, in a way that suits them whilst still focusing on their studies.
And it's great to see the impact such initiatives can have on both the local area, the residents and the students."
Queen's University volunteer, Handy Helper Sinead Hosain said: "Volunteering is a way for people of all ages and nationalities to get together and give their time towards doing something useful for themselves and others. As a student, it helps you reconnect with others around you and is a great initiative to be proud to be a part of.
Young people are constantly trying to make their voices heard and understood but as actions speak louder than words, carrying out small changes through sustainability projects such as community litter pick-ups and tree planting, can make a difference."
Media
For media inquiries please contact comms.office@qub.ac.uk