New partnership set to drive industrial transformation in Northern Ireland
A new partnership between Queen's University and the UK's High Value Manufacturing (HVM) Catapult will reinvigorate Northern Ireland's industrial potential through the £98m Belfast Region City Deal-funded Advanced Manufacturing Innovation Centre.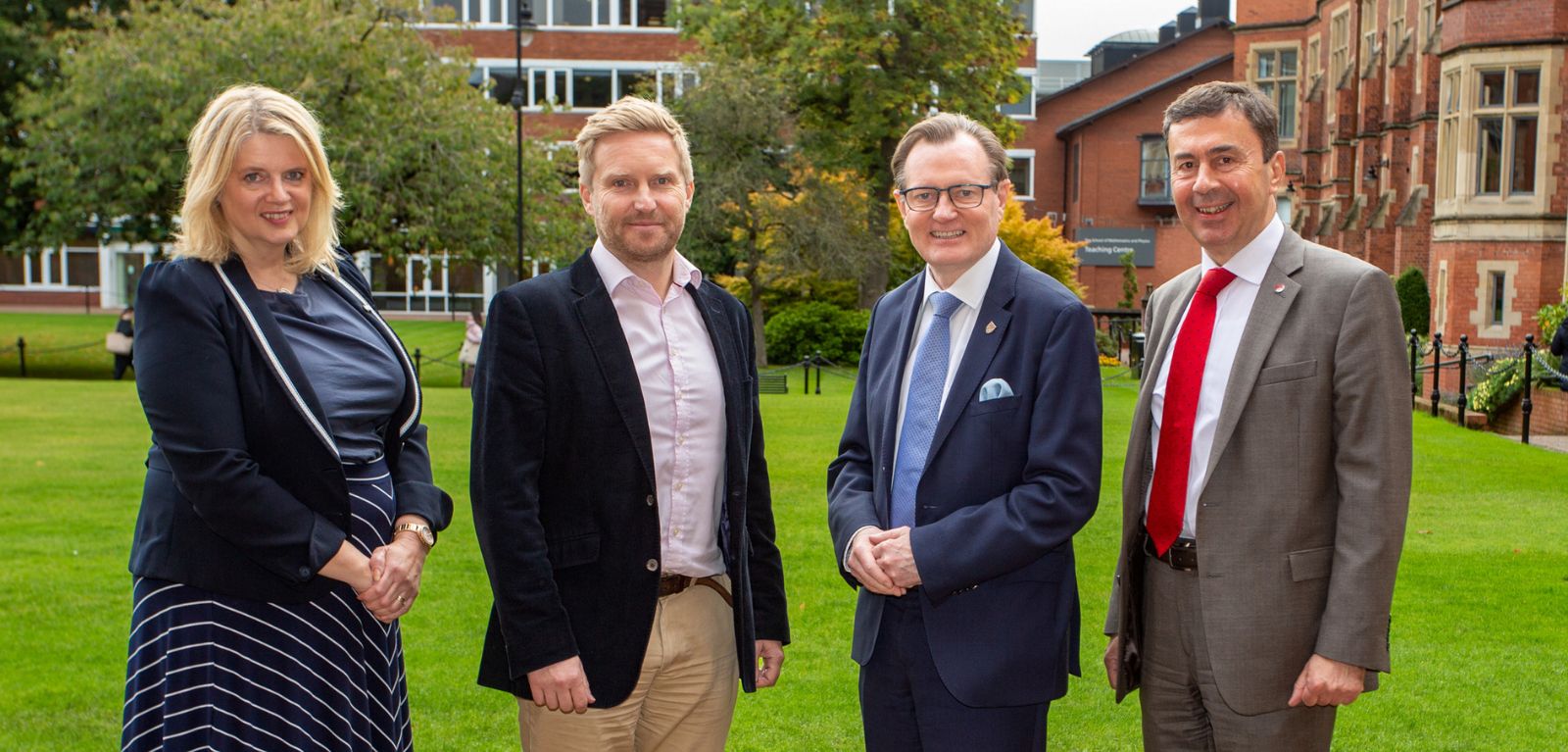 AMIC's flagship building, the 'Factory of the Future' - a 10,500m2 state-of-the-art facility - will open at Global Point in Newtownabbey in 2025.
Under the partnership, Sam Turner from HVM Catapult will be seconded to AMIC to drive forward plans to launch the project which will propel industrial transformation and address the future technology and skills challenges faced by the region's manufacturing sector.
Established by Innovate UK in 2011, HVM Catapult is a group of research, development and innovation centres transforming UK manufacturing. With cutting-edge facilities worth over £800m, its centres produced over 2,600 commercial projects and worked with more than 5,500 companies in the last year, giving them access to specialist equipment, expertise and collaboration.
While local manufacturing businesses will gain vital knowledge from HVM Catapult through the partnership to help drive inclusive economic growth, the organisation's members will also benefit from access to expertise in areas where Northern Ireland companies are leading the way.
AMIC is one of three Innovation projects being delivered by Queen's University Belfast in partnership with government and industry under the Belfast Region City Deal.
The Centre will build on 50 years of sustained innovation and industry support through the Northern Ireland Technology Centre (NITC), the Polymers Processing Research Centre (PPRC) and the more recent university-industry partnership, the NI Advanced Composites and Engineering (NIACE), consolidating and enhancing existing facilities in partnership with Ulster University and Antrim and Newtownabbey Borough Council.
The 12-month secondment of Mr Turner, who is currently Chief Technology Officer at HVM Catapult, builds on the Memorandum of Understanding for collaboration between AMIC and the Catapult, signed in 2020.
Vice-Chancellor of Queen's University Professor Ian Greer said: "Our partnerships with government and industry are key to the success of the Belfast Region City Deal-funded Innovation Centres.

"The new partnership with HVM Catapult will enable AMIC to link at scale into UK-wide networks, which means that industry in Northern Ireland will have increased access to national expertise, a factor that will be crucial for it to thrive in the next decade. The partnership also gives our businesses a platform to showcase their expertise on a national stage which we hope will lead to many mutually beneficial collaborations.

"We warmly welcome Sam's secondment as he brings extensive commercial experience to the leadership team to drive inclusive, innovation-led growth.

"It's a major milestone in the journey towards AMIC's launch after many years of excellent groundwork by the AMIC team.

"Building a centre that supports local businesses to meet the challenges they face and to take advantage of opportunities available as well as bringing research capability through more quickly from universities is central to AMIC's vision for the future."
Sam Turner, Chief Technology Officer at the High Value Manufacturing Catapult and incoming Advanced Manufacturing Innovation Centre CEO, said: "I'm really excited by this opportunity to join a great team at AMIC to help shape the future of Northern Ireland manufacturing by working with Queen's University Belfast and partners.
"There is significant potential to unleash industrial transformation in Northern Ireland and this important investment will ensure that is achieved. This industry-led collaboration drawing upon the excellent academic base through Queen's and Ulster University will position AMIC as a manufacturing innovation asset for the whole of the UK and beyond."
Katherine Bennett CBE, CEO of the High Value Manufacturing Catapult, said: "With support from Innovate UK, HVM Catapult has shown we can accelerate manufacturing innovation and productivity by sharing expertise and resources between business and academia.

"In much the same way, Sam's secondment to Queen's demonstrates the huge scale of opportunity there is for key players in UK manufacturing to support each other and boost our sector's growth. I wish Sam every success in launching AMIC at Queen's University and look forward to seeing Northern Irish manufacturing thrive."
Minister of State for Northern Ireland Steve Baker said: "Congratulations to Sam on his secondment to AMIC. This project is a great example of the fantastic opportunities that the Belfast Region City Deal will bring to Northern Ireland. I'm proud that the UK Government and partners are supporting this initiative, which aims to be a springboard for manufacturing within the region and provide NI companies with access to the latest manufacturing technologies."


Mel Chittock, Interim CEO of Invest Northern Ireland, said: "With over 20 years manufacturing experience in the aerospace and automotive sectors, Sam has extensive knowledge and capability to support the new centre.

"His experience as CTO at HVM Catapult and in the development of Factory 2050 at the AMRC will be invaluable for the progress and development of the AMIC Factory of the Future planned for Global Point."
Sir Michael Ryan, Chair of Makers Alliance, commented: "Manufacturers across Northern Ireland have much to gain from this exciting project, and Sam brings a wealth of expertise and experience to a crucial role.
"Makers Alliance looks forward to building a relationship with Sam and AMIC which will help achieve our vision of a positive and vibrant future for local manufacturers."
Media
For more information contact Andrea Kennedy, Belfast Region City Deal Communications Manager, a.j.kennedy@qub.ac.uk