Success for Queen's KTP Associate at Innovate UK's prestigious national awards
Queen's University KTP Associate and expert in civil engineering and materials science, Catherine Campbell, has been crowned a 'Future Leader' at the national KTP Awards.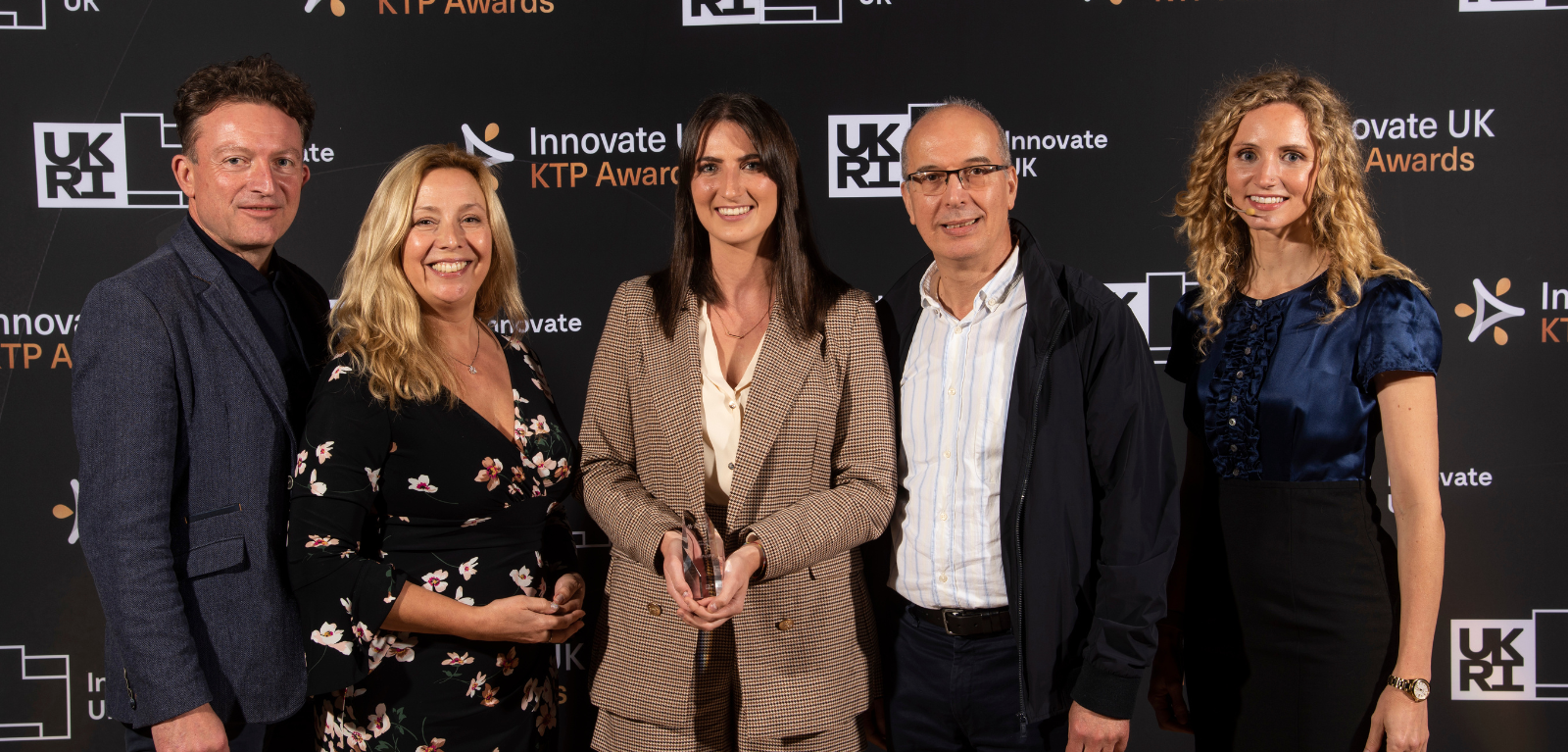 Queen's KTP Associate crowned 'Future Leader' at Innovate UK's national KTP awards
'Future Leader' awards are given to those with exceptional skills, above and beyond the normal expectations of a KTP Associate
The award was presented at a ceremony held in Liverpool on 12 October 2022.
A Knowledge Transfer Partnership (KTP) is a dynamic three-way collaboration between a company, graduate and academic. The purpose is to transfer research knowledge and expertise out of the university or research organisation, and to embed it within a business to help companies innovate and grow. The programme offers enhanced career prospects for the graduate who assists in leading a real life project to help solve an industry problem.
Acheson and Glover, a renowned and respected designer, developer, manufacturer and distributor of best-in-class walling, paving and facing brick, partnered with Queen's University for a KTP to develop a new range of concrete paving stones using surface treatments and additives to improve their performance.
Catherine, who graduated from Queen's with a Master's in Environmental Engineering in 2018, joined the company in 2019 to lead the project under the supervision of Queen's academics, Professor Su Taylor and Professor Mohammad Sonebi from the School of Natural and Built Environment.
Catherine's determination, advanced technical knowledge and abilities in fostering collaboration across multiple stakeholders led to the successful development and launch of a new premium flagstone product 'Fiamma' which was brought to market one year ahead of schedule.
Academic supervisor, Professor Su Taylor said: "Throughout her KTP, Catherine has proven herself a worthy winner of the Future Leader title. In addition to the new sustainable and durable premium products that she has developed, Catherine created a carbon calculator that is now used across the business to support the company's net zero strategy. She is an outstanding KTP Associate who has shown exceptional adaptability and leadership, and we are delighted that she has received this award."
Michael Davies, Technical Manager at Acheson and Glover, commented on the impact the KTP has had on the company and Catherine's contribution to this: "The key focus of the KTP was to develop a new product; thanks to Catherine we have surpassed this goal. Catherine's influence has been felt across the whole organisation. She is a strong ambassador for Acheson Glover, a role model for women in engineering, demonstrating the drive and ability to influence and motivate people to make positive change."
The innovative and critical thinking behind the product design was so impressive that Catherine was invited to present at the "4th International Conference on Bio-Based Building Materials" to over 250 engineering professionals with the findings then published in the "Construction Technologies and Architecture" journal.
Catherine is overwhelmed at winning the Future Leader award not just as a personal achievement but as recognition of the work of the entire KTP team: "I have achieved so much more than I could have expected as a result of participating in this KTP. Winning the Future Leader award is an incredible personal accomplishment for me and made possible by the expertise and support of both my academic and company supervisors. My confidence has grown significantly with the ability to take charge and lead projects."

Catherine encourages graduates to consider a KTP with Queen's to develop their career: "I would highly recommend the programme to anyone graduating or recently graduated and considering a career in industry. Through the KTP, I was able to widen my knowledge through the training and developmental budget, gaining a NEBOSH qualification which now allows me to branch into Health and Safety which I wouldn't have been able to do without the KTP."
Now fully employed at the company as Sustainability & Quality Engineer, Catherine is leading the Environmental section of the team, spearheading critical projects such as coordinating waste reduction activity and developing and driving the use of the carbon footprint calculator.
The highly respected 'Future Leader' title, reserved for Associates who have shown exceptional skills, above and beyond the normal expectations, was presented at the awards ceremony in Liverpool on 12 October where the people and partnerships behind the most innovative, impactful, and inspiring Knowledge Transfer Partnerships (KTPs) in the UK, were celebrated.
KTPs are funded by UKRI through Innovate UK with the support of co-funders, including the Scottish Funding Council, Welsh Government, Invest Northern Ireland, Defra and BEIS. Innovate UK manages the KTP programme and facilitates its delivery through a range of partners including the Knowledge Transfer Network (KTN), Knowledge Bases and Businesses. Each partner plays a specific role in the support and delivery of the programme.
If you have an innovative business idea and would like to see if a KTP could help take it forward, contact us at ktp@qub.ac.uk or visit KTP FOR BUSINESS.
Media
Media enquiries to Queen's Communications Office on email: comms.office@qub.ac.uk