Double joy for County Down siblings graduating together
It is double celebration for siblings Mary and Roy Elliott as they both graduate with degrees from the School of Natural and Built Environment at Queen's.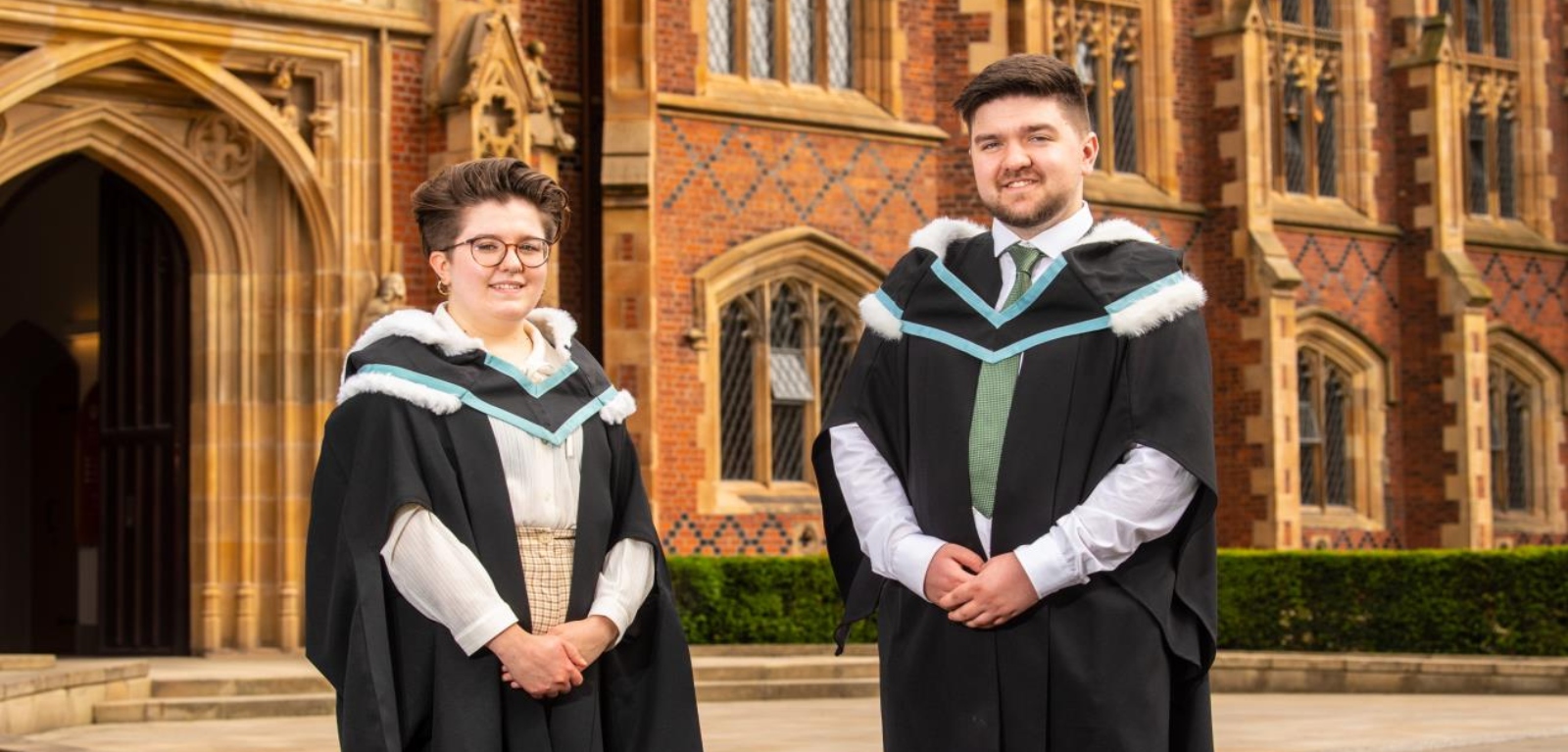 Mary is graduating with a First-Class honours in BA Archaeology and History and Roy is graduating with a 2:1 in BA Archaeology.
The pair say they are "delighted" to be able to celebrate their achievements together with family and friends.
Mary comments: "I was meant to graduate last year but ended up having to temporarily withdraw because my mental health declined during the initial Covid lockdowns. I've always struggled with anxiety, and I think that's something that really came to the forefront at different times during my degree.
She adds: "It's been a little bit of whirlwind, challenging at times but undoubtedly a positive experience I'll carry with me for the rest of my life. It feels like I came here as a kid and after four years I can take on the world a little better now.
"The people have been incredible, and I'm certain I've met people who will be in my life for a very long time."
Speaking about her studies, Mary says: "The archaeology department at Queen's has been such a good environment and amazing to be a part of. The faculty and staff go above and beyond for their students. I think it's very obvious how much the staff on my course love their topics and it's very nice to feel that passion as a student because it makes us excited too.
"Archaeology has been very hands on with so much opportunity to do extracurricular work and there were a lot of social history modules with very hands on source work which I really enjoyed. The course has been so wide ranging and it doesn't feel like I've just had my head in a book for three years, it feels like I'm leaving with experiences."
Roy also says he had a positive experience. He adds: "I enjoyed the opportunities for personal development that my time in the archaeology department gave me. I had the opportunity to get involved in the archaeology society and the peer mentorship programme within the department which allowed me to work on my self-esteem and be more actively engaged in my education than I had ever been during school."
Roy now plans on getting a full-time job in commercial archaeology and Mary is planning to take a year out before continuing her studies with a Master's.
Media
Media inquiries to comms.office@qub.ac.uk