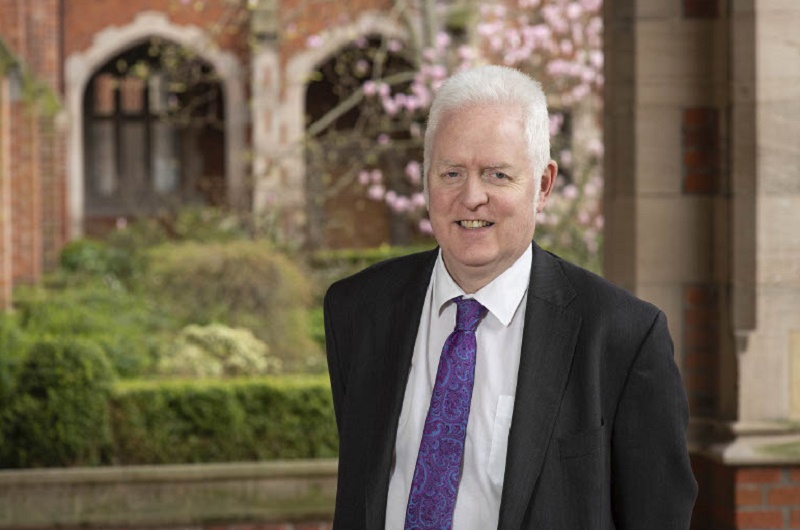 A Personalized Journey through Precision Cancer Control
On 13 May 2021, Professor Mark Lawler gave the inaugural talk as part of the QUB "30 Minutes with, International" event series on the topic "From James Joyce to Joe Biden - A Personalised Journey through Precision Cancer Control".
Professor Mark Lawler is Associate Pro-Vice-Chancellor, Professor of Digital Health, and Chair in Translational Cancer Genomics, Faculty of Medicine, Health and Life Sciences, Queen's University Belfast (QUB). Mark and other staff from Queen's were pleased to be joined by colleagues from Belmont University in Nashville for this special event.
TALK DETAILS
Mark's talk covered a rollercoaster ride of his personal experiences of driving cancer research and cancer control on the island of Ireland and globally, demonstrating how small countries can do big things, but emphasising the importance of partnership and cooperation, including significant partnerships with the US.
Professor Mark Lawler is an internationally renowned cancer expert with >200 papers, including key publications in the highest impact journals.
His work has been recognised by numerous national/ international awards, including The 2018 European Health Award, a prestigious award for partnerships that yield real health impact in Europe. He recently received the 2021 'Irish Association for Cancer Research Outstanding Contribution to Cancer Medicine and Research' Award, recognising his superlative contribution to cancer research and cancer care on the island of Ireland.

Mark has a strong commitment to patient-centred research and to addressing cancer inequalities. He was architect of the European Cancer Patient's Bill of Rights, which he launched with colleagues in the European Parliament on World Cancer Day 2014. His work on addressing inequalities and access issues in relation to cancer care formed the centrepiece in the development of the European Cancer Organisation's European Code of Cancer Practice, which Mark launched (virtually) with EU Health and Food Safety Commissioner Stella Kyriakides in Brussels in September 2020.

Mark's work on COVID-19 and its impact on cancer has received international attention. He co-chairs the European Cancer Organisation's Special Focussed Network on COVID-19 and cancer, launching its 7-Point Plan to mitigate the impact of COVID-19 on cancer services and cancer patients. Mark is leading the Lancet Oncology Groundshot Commission to provide the evidence base and road map for cancer research in Europe, with a particular focus on Central and Eastern Europe

In his spare time (if he has any!) Mark performs an acclaimed One Man Show on the Irish writer James Joyce, which he does to raise money for charity. You never know – it just might cross the virtual waves to America on Bloomsday, 16th June 2021
ABOUT "30 MINUTES WITH, INTERNATIONAL"
This talk is part of the Queen's University Belfast "30 Minutes With, International" event series. These bitesize lectures are delivered in collaboration with our valued international partners, to share and disseminate aspects of research and teaching which will be of interest to colleagues in North America and around the world.

We welcome 30 minute talk proposals from QUB and from our partners in North America. If you would like to be part of the "30 Minutes With" network, or deliver a future talk, please contact Dr Joe Duffy (joe.duffy@qub.ac.uk) or Professor Joanne Hughes (joanne.hughes@qub.ac.uk).