EIT Food Education Programmes at Queen's
FROM LEAF TO ROOT: Holistic Use of Vegetables
EIT Food – Education project
"From Leaf to Root: Holistic Use of Vegetables"
Description & Background:
Many vegetables including sweet corn, artichokes, potatoes and cabbages are not holistically used in food production although they are safe to consume (with or without further processing). In some cases, more than 50% of the nutritional valuable material is left in the fields or not further valorised. This is due to several reasons including harvesting procedures having been designed for conventional products, consumer unawareness, and a lack of holistic product concepts. The idea of "From Leaf to Root" is that student teams from 3 universities will tackle these challenges by developing prototypes/products based on plant parts that are to date not or only very infrequently utilised, thereby promoting both a more sustainable use of resources and healthier nutrition.
The students who will participate in the "From Leaf to Root project" will i) get a solid understanding about the primary production sector
(harvesting methods and requirements), ii) learn to create sustainable solutions that are convenient for consumers and feasible for retailers, iii) absorb the model of challenge-based problem solving, as well as concept, prototype and business case development, and iv) develop multidisciplinary and transdisciplinary working skills by tackling the challenges in teams of 5 students.
Goal of the project:
- Creation of new products, using the unutilised part of vegetables (sweet corn, artichokes, potato and cabbage);
- Elaboration of a complete business case, including costs of the total (logistic) chain and market potential of the new food product;
- Development of a marketing plan, with the focus on communication strategies towards the consumer;
- Presentation of the total food concept to a professional jury panel.
Consortium
The project is funded by EIT FOOD, a consortium representing the food industry within EIT, the European Institute for Innovation & Technology. Universities participating in From Leaf to Root: Queen's University Belfast (UK), University of Turin (Italy) and Hohenheim University (Germany). Companies involved in From Leaf to Root: DIL (Deutsches Institut for Lebensmitteltechnik), Colruyt Group, Grupo AN, Nestle and Agricolus.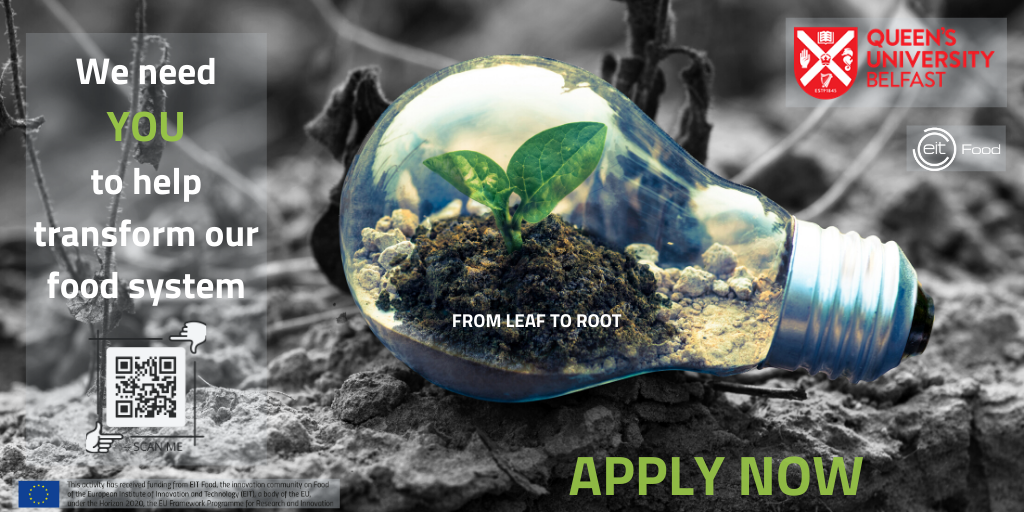 FROM WASTE TO WORTH - Food Solutions project