New partnership between STEMM and the arts takes root
Food-systems research and the literary arts will move closer together in a unique collaboration called earth, launched this week by IGFS, the School of Biological Science (SBS) and cultural organisation Quotidian.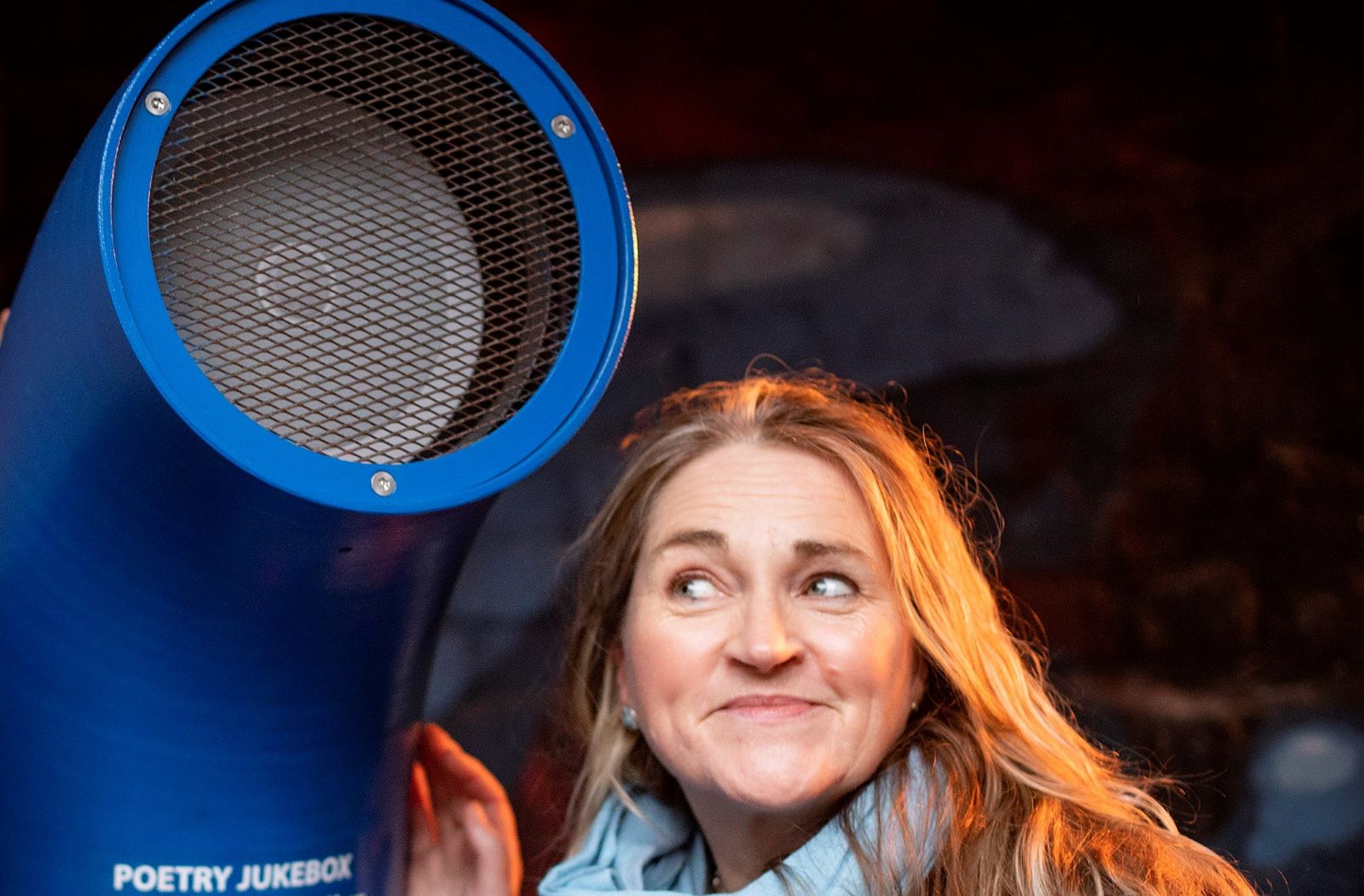 As part of the initiative, a 'poetry jukebox' has been installed in the Biological Sciences building – the first of such jukeboxes to be housed at a university in Northern Ireland and one of only seven on the island of Ireland.
At the touch of a button, staff and students from IGFS and SBS can listen to a poem from a curated collection of writings about nature, landscape, farming and food, climate change, human and planetary health – all key themes in IGFS & SBS research. The jukebox operates on a wind-up, dynamo technology so it will not be a drain on res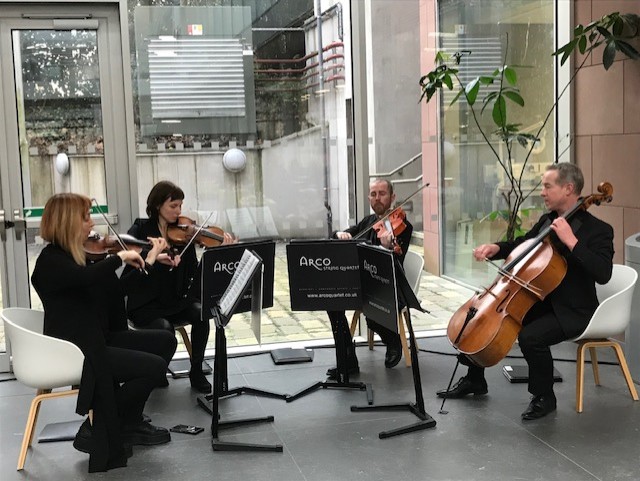 ources.
It is planned that earth will develop over the longer term to include new curations that map closely to IGFS & SBS research themes and enhance their public engagement and schools-outreach activities.
The launch event featured readings from three prominent, local poets, including Dr Stephen Sexton who, as well as being a published poet, is a lecturer within the Seamus Heaney Centre for Poetry and the School of Arts, English and Languages at Queen's. The two others readers were Belfast-based Maureen Boyle, who has won awards including the Strokestown International Poetry Competition; and the environmental writer, Dr Emma Must, who has just published her first, full-length poetry collection. Poems from all three will be available on the poetry jukebox.
The launch was also addressed by Maire Zepf, Northern Ireland's first ever Children's Writing Fellow, 2017-19, and a prominent Irish-language author. Based at the Seamus Heaney Centre at Queen's during her Fellowship, she is also an Artistic Director of Quotidian.
An open call for submissions for a new collection of poems was also announced at the launch. To be called FORAGE, it will be curated by Dr Must with IFGS as partner and is intended to extend the theme of human and planetary health through nutrition for optimal health, nature-friendly farming and responsible, environmental stewardship.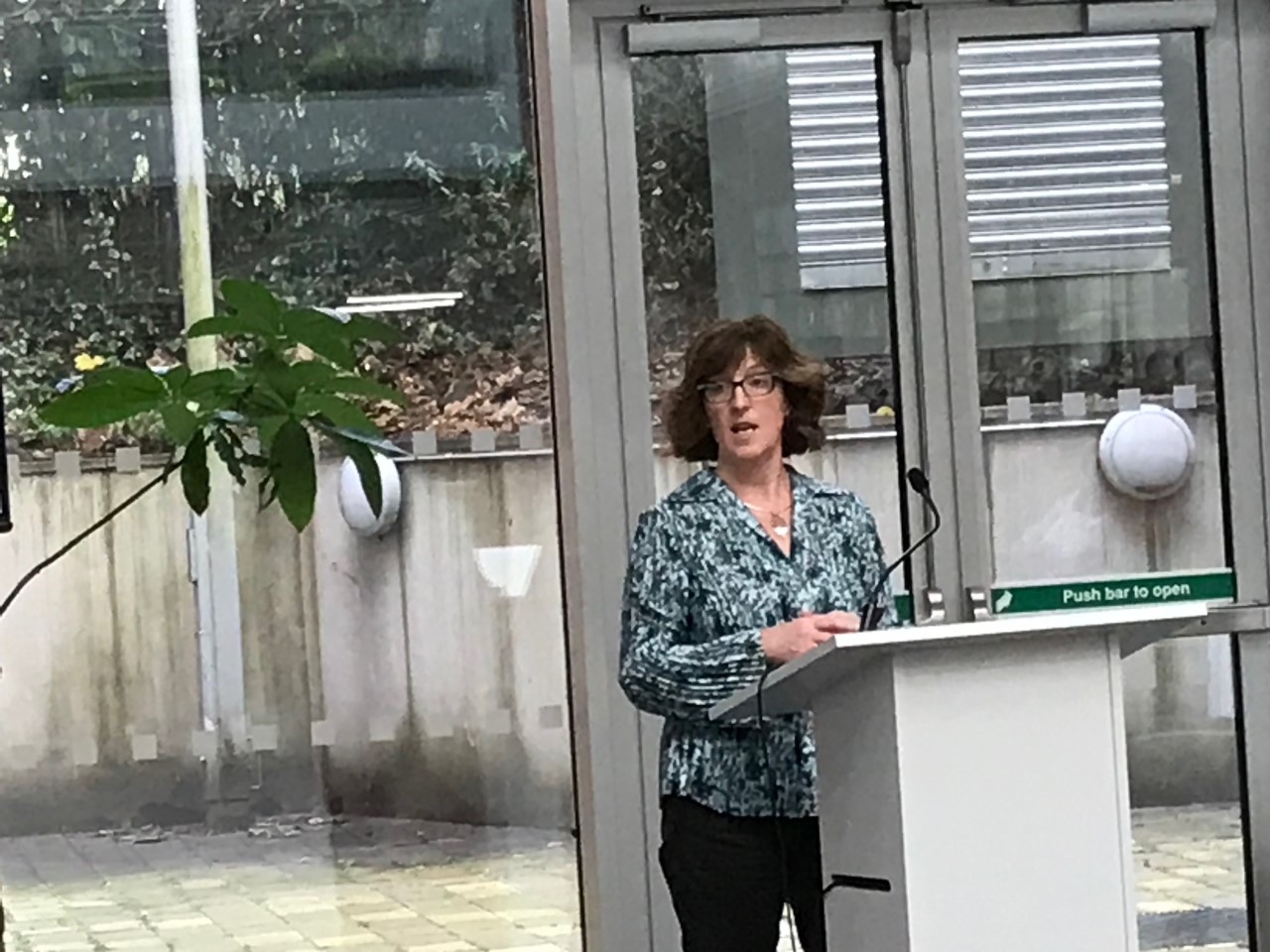 The launch event featured live music from the Arco String Quartet (pictured, above) and a series of digital installations around the building to showcase the extent of creative interventions possible with Quotidian, including dance and photography.
It was Professor Aedin Cassidy from IGFS (pictured, right) who had the idea originally to hook up with Quotidian to create a closer dialogue between science and the arts. She said: "Our plan is to use Poetry Jukebox to showcase the power of interdisciplinary research by integrating food-systems research (environment, agriculture, food, health) and art, using progressive and innovative art forms - creating innovative ways of using literature to disseminate the breadth and quality of our research and teaching."
Maria McManus, Artistic Director of Quotidian said this collaboration was very much a first – the first time her organisation had worked with a university in Northern Ireland, but also the first time it had worked with STEM professionals. She said: "The most exciting innovations occur at margins and interfaces between disciplines - that's where the synergies are, but it's also where things become a little more porous, and new potentials become evident. Hats off to IGFS; we are delighted to be collaborating with them."
Quotidian is funded by the Arts Council of Northern Ireland through National Lottery funds.
Media
For further information, please contact IGFS Communications Officer Una Bradley u.bradley@qub.ac.uk