Spring Festival of Conflict Transformation Programme 2017
Welcome to the Senator George J. Mitchell Institute's Spring Festival of events in Conflict Transformation which is now in its 5th year and is continuing to grow.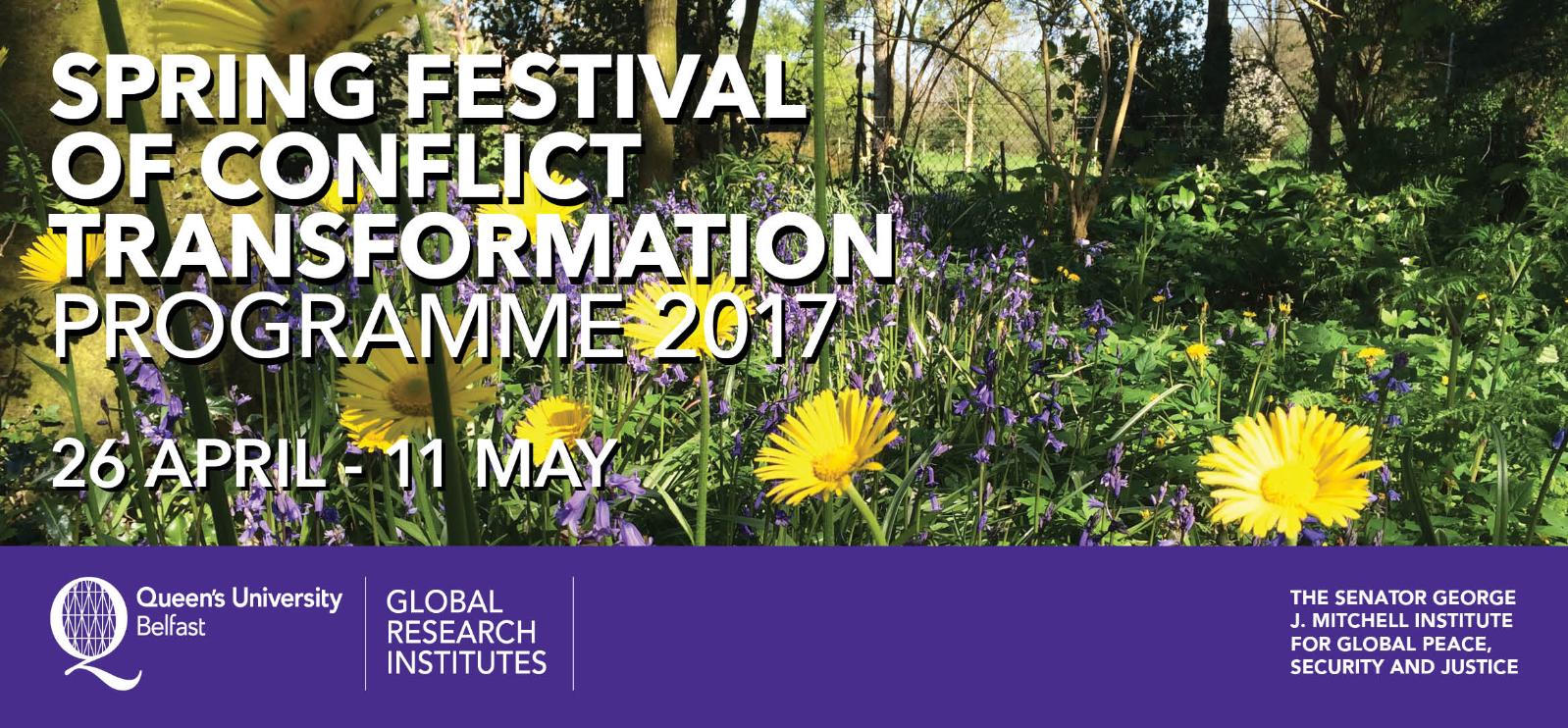 Please download the Spring Festival Programme 2017 (PDF)
‌
---

At a Glance
---
This year's programme includes a combination of politics, art, literature, film and documentary in formats ranging from debate and panel discussion to public lecture, conversation and workshop.

The Festival has never been averse to including challenging topics and this year is no exception. But perhaps more than ever before we invite debate around a series of timely, topical and testing issues.

Why do ordinary people kill? Does terrorism work? How do we respond to radicalisation in daily life? We also invite you inside 'Trump's White House' with Niall Stanage, political journalist and Associate Editor of The Hill, who offers an insider's insight into Donald Trump's Presidential campaign and the events and decisions that followed its success.
In conversation with ground-breaking artist Rita Duffy RUA, we learn how art can heal and pave the way for reconciliation, while elsewhere in the festival programme we look at how the power of the visual engages pressing current concerns around racism, populism and the migrant crisis. A strong theme underpinning our events this year focuses on diversity and the tensions between social inclusion and exclusion in a world that seems increasingly to veer towards the latter.

As our screening of a documentary on young people of diverse ethnic backgrounds in post-conflict Balkans puts it, 'Will you say hi to me on the bus?' Meanwhile, our examination of Muslim and Loyalist accounts of World War One shows how exploration of 'forgotten' pasts can sometimes reveal 'undiscovered' contexts of shared belonging.
As in previous years our Festival draws inspiration from the goals and aspirations for peace-building of the late Finnish Prime Minister, Harri Holkeri, whose contributions to arms decommissioning and the Irish peace process we mark each year by hosting a lecture in his honour.
Together with General John de Chastelain and Senator George J. Mitchell – who in June 2016 formally launched the Institute that now bears his name – Harri Holkeri brokered the talks that resulted in the Good Friday Agreement.

In 2017 we celebrate Holkeri's contribution by hosting President Tarja Halonen, who for twelve years was President of Finland and who, since retiring from this role in 2012, has worked ceaselessly to promote human rights, democracy and civil society. The Institute is delighted to have President Halonen deliver the fifth Harri Holkeri Lecture entitled, 'Reflections on Women and Peace-building'.
Whether you are a returning regular or attending the Festival for the first time, we greatly look forward to welcoming you to the events outlined above and described inside the programme.

A key purpose of the Festival is to generate debate and we hope that you will find something in Festival 2017 to interest, stimulate and engage.
Please download the Spring Festival Programme 2017 (PDF)