Troubles survivor and victim's campaigner graduates with PhD from Queen's
Dr Paul Gallagher graduated on 2 July 2022 from Queen's University with a PhD in Sociology from the School of Social Sciences, Education and Social Work.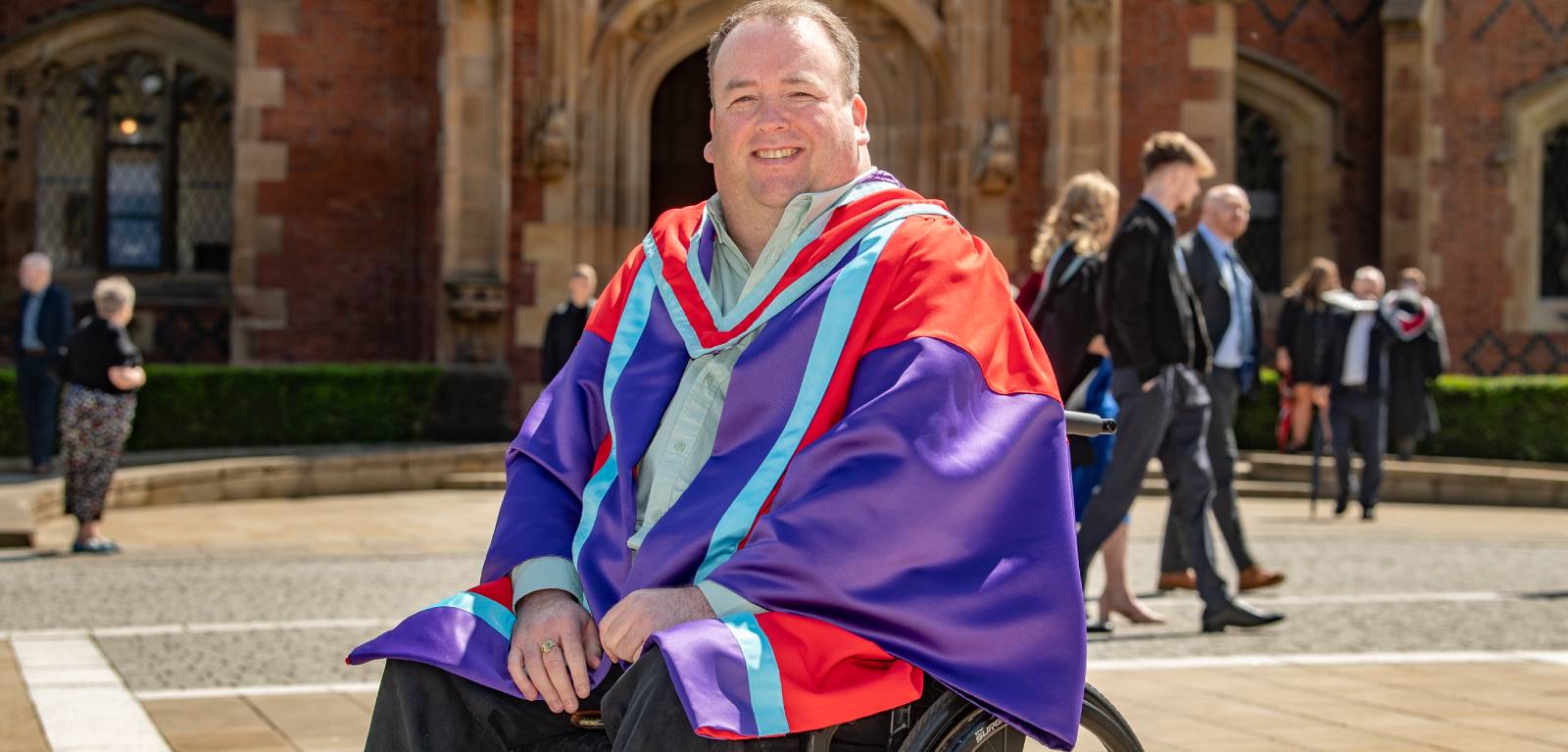 Paul is a survivor of the Troubles and was injured in a terrifying gun attack at his home in 1994 when he was just 21 years old. The gunmen held him and his family hostage.
Describing his attack, Paul said: "Their intended target, my neighbour, did not arrive home, so they decided to shoot me instead. I was hit six times and woke up a couple of days later in intensive care with a tube down my neck to help me breathe, not knowing that I was paralysed.

"It was about a week later when the doctors came in and told me I was paralysed. That was a big shock, and, in that instant, my life changed utterly."
Determined to continue with his studies and to understand more about the effects of trauma, Paul returned to Queen's in 2013, after having taken two modules through the Open University from 2010, and graduated with an Undergraduate degree in Trauma Studies and completed an MA degree in Conflict Transformation and Social Justice at the Senator George J. Mitchell Institute for Global Peace, Security and Justice.

Throughout his time at university, Paul has been involved with WAVE Trauma Centre in Northern Ireland, campaigning to introduce a pension for those injured during the Troubles.
On the importance of WAVE, Paul said: "You're meeting other people who have been through the same sort of thing as you. You can open up as well, and people understand what you went through.
"The campaign for a pension for Troubles victims started in 2008 and was finally successful. I'm pleased to see applicants have already started to receive payment, which will have such a positive impact on their lives."
Paul is currently working in WAVE as a Trauma Education Officer where he coordinates some of the modules on the Trauma Studies degree, as well as providing teaching. He is also a coordinator on WAVE's Postgraduate Diploma Trauma Studies course in collaboration with UCC.
Reflecting on his time at Queen's, Paul said: "Queen's has felt like my home for the past ten years. It feels great to have been part of a big family of students. From first signing up as an undergraduate, to having the opportunity to deliver lectures and tutorials, it has been a rollercoaster journey.

"I have learned so much about the topics I have studied, as well as learning about myself. Learning about trauma opened my eyes up to my own experiences as someone who was injured during the Troubles and helped me understand the impact of it all."
Following his graduation, Paul hopes to continue to use what he has learned to help other victims. He intends to stay with WAVE and deliver trauma education, combining his academic learning with his personal experience and practice.