Annual Postgraduate Research Conference 2022
CALL FOR PAPERS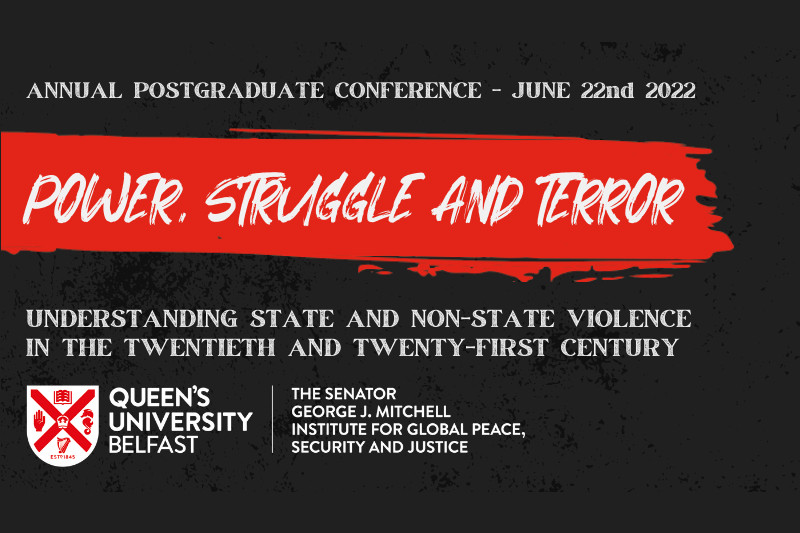 Power, Struggle and Terror:
Understanding State and Non-State violence in the Twentieth and Twenty-First Century
With the horrific recent events in Ukraine, the fall of Kabul, and the rise of populism, there are major questions to be asked surrounding state and non-state violence.
Are we entering a new era of global politics?
Can frameworks and theories further our understanding of state and non-state violence?
How can we enhance our understanding of political violence?
These are the kinds of questions we hope to discuss in our Postgraduate Research Conference this June.
This call for papers invites postgraduate researchers to share their research on state and non-state violence. We welcome PGR students of politics primarily but are open to applicants from other academic and interdisciplinary backgrounds, and welcome early career researchers and MA students.
The in-person conference will take place at Queen's University Belfast on 22 June 2022. There will be the chance to present a 15-minute research paper. The conference will feature Dr. Tim Wilson (University of St Andrews) as a keynote speaker.
Submissions might include, but are not limited to:

Terrorism and state terrorism
State responses to terrorism
Global power
Nationalism
Political Violence
Conflict Resolution
Keynote Speaker

Dr. Tim Wilson (University of St Andrews)
Submission of Abstracts

Please submit abstracts for 15-minute presentation to mitchellpgrconf22@qub.ac.uk by 13 May 2022 and include a presentation title, a maximum 250-word abstract and your full name.
Applicants will be informed of final decisions by 25 May 2022.
Any questions or queries can be sent to the organisers at the same email address.