Cults, Violence, and the Politics of Victimhood in Japan
Dr Rin Ushiyama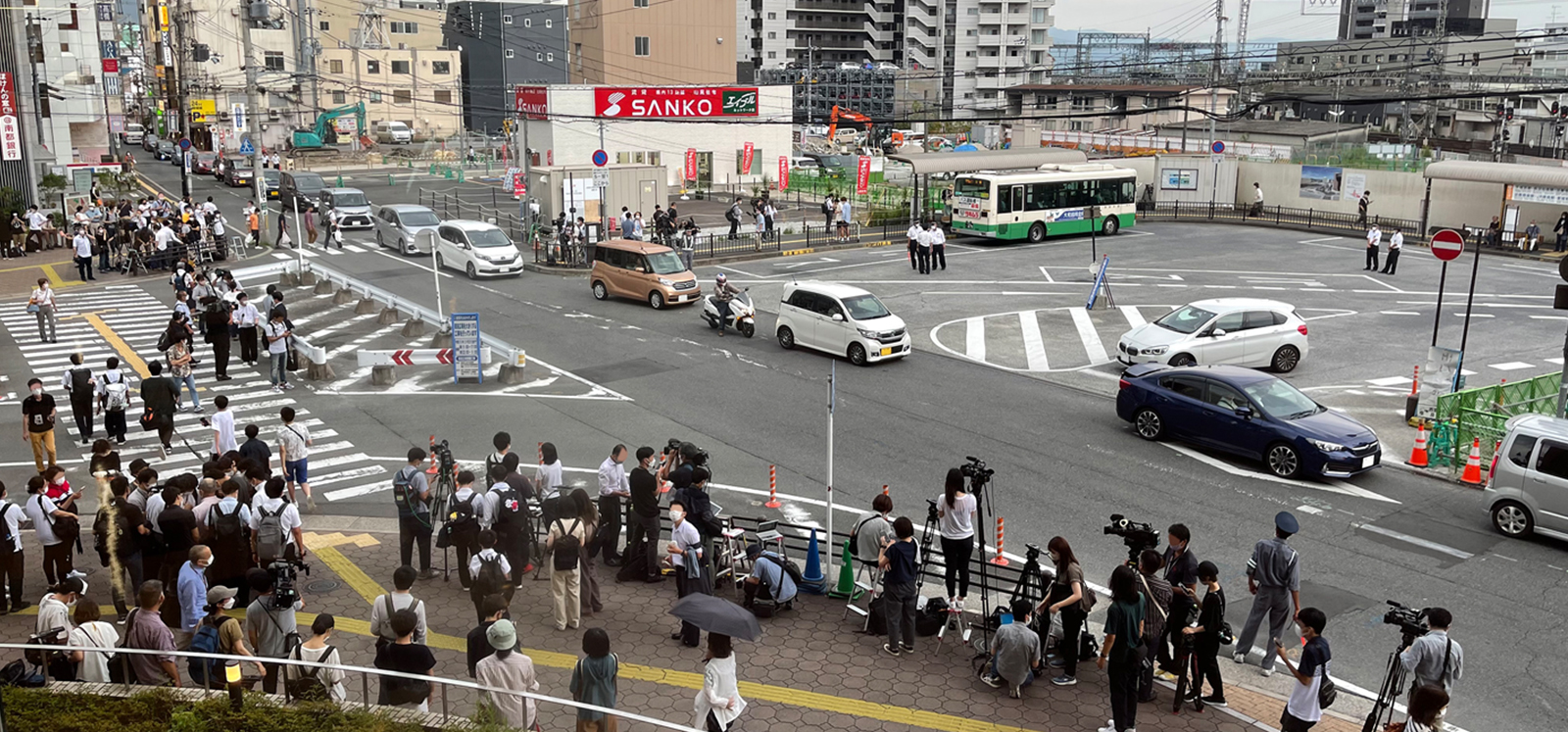 On 8 July 2022, Abe Shinzo, the former Prime Minister of Japan, was gunned down outside a train station whilst giving an election campaign speech. The assailant, Yamagami Tetsuya, a man in his forties, confessed that he had held a grudge against The Family Federation for World Peace and Unification (FFPWU, formerly the Unification Church and colloquially known as the 'Moonies'), a new religion originally founded in South Korea with a large membership in Japan.
According to Yamagami, his mother had joined the Unification Church when he was in high school, donating all of her assets and abandoning her children. Yamagami sought revenge, but, unable to approach the FFWPU leadership, he targeted Abe instead, whom he believed had close links to the political wing of the FFWPU.
Following these dramatic revelations, Japanese politics shifted in a direction that few could have imagined. As it became apparent that leading figures from the ruling Liberal Democratic Party (LDP) had for decades enjoyed political support from the FFPWU, public criticism quickly turned towards a perceived collusion between politicians and a controversial 'cult' which had amassed its wealth by allegedly 'brainwashing' and 'mind controlling' its members into donating large sums of cash.
While FFPWU representatives have denied any wrongdoing, at the time of writing, the government is preparing to revoke the group's 'religious corporation' status which provides religious organisations with preferential tax rates and a mark of respectability.
By contrast, the assassin has attracted sympathy as the media framed his as a 'victim' of a nefarious cult rather than as a 'perpetrator' of the murder of one of the most important figures in Japanese politics. Since the controversy came to light, his supporters have sent cash and gifts worth tens of thousands of pounds to the detention centre.
To understand the particular trajectory of the public discourses after Abe's assassination, we need to look at a longer history of 'cult controversies' and the politics of victimhood going back to a pivotal moment in modern Japanese history: the gassing of the Tokyo subway using sarin on 20 March 1995 by the religious group Aum Shinrikyō.
My new book Aum Shinrikyō and religious terrorism in Japanese collective memory (British Academy Monographs, Oxford University Press, 2022) reconstructs the social aftermaths of the sarin gassing, which killed thirteen and injured more than 6,000 commuters.
Aum Shinrikyō was a millenarian group which drew eclectically from Tibetan Buddhism, Christianity, and New Age spirituality. Its charismatic leader, Asahara Shōkō, claimed that he had achieved enlightenment in the Himalayan mountains, and called himself a messenger of Shiva and the second coming of Christ. In the early-1990s, Aum began developing chemical weapons in preparation for World War Three, which Asahara predicted to occur before 1999.
Asahara ordered a coordinated attack on Tokyo as the group came under police investigation. The assault on Tokyo, together with a plethora of violent crimes including an earlier terrorist attack in 1994, kidnapping, multiple murders, and attempted murders, came to be known together as the Aum Affair.
The Aum Affair changed many aspects of social life overnight. Security on public transport tightened, as transparent bins were installed and surveillance cameras introduced. New religious movements – already viewed by many with suspicion – found themselves tarred with the same brush as Aum, as universities began issuing warnings to students about joining so-called 'cults'. Through extensive public debates, the Aum Affair became a 'cultural trauma', an indelible moment in Japan's national identity and collective memory.
The two most significant social changes that occured as a result of the Aum Affair were arguably debates surrounding 'mind control' and and victims' rights.
Mind control is a concept originally invented by American anti-cult activists in the 1970s and '80s, which alleged that controversial religious groups employed manipulative methods such as controlling members' access to the media and cutting ties with family members to create obedient robot-like followers.
Although many controversial groups including Aum did indeed seek to train adherents to be unquestioningly loyal to their leaders, the efficacy of such techniques has been seriously questioned by religious scholars and sociologists of religion, and disproved in many court cases.
Even though the scientific legitimacy of mind control was already in question by the time it entered Japanese discourse, it quickly became a household term as anti-cult activists and commentators dominated the mass media. Religious scholars, many of whom were critical of the idea that Aum members were simply manipulated by Asahara, were sidelined in these debates when some were discovered to have made positive comments about Aum in the past. As a result, the orthodox narrative that formed shortly after the Tokyo attack was that Asahara had mind controlled his followers into committing violent crimes and terrorist attacks: an interpretation that some ex-members embraced upon renouncing their faith.
The reality, however, is much more complex. Whilst some former rank-and-file adherents subscribed to the mind control thesis, others – including some of the most senior members – have disagreed, describing their experiences as the result of misguided faith in the charismatic but deluded leader.
For instance, Hayashi Ikuo, one of the culprits in the Tokyo attack, recalled in his memoir the inner moral conflict between following the order and not wanting to kill innocent civilians:
"If I don't do it, Aum will be crushed … If I don't defend Aum, Truth will die out. I must do it. Even then, I don't want to kill women and children".
As these confessions suggest, far from acting as mindless robots, the culprits unleashed terror on Tokyo through a lucid decision-making process based on the belief that Asahara was an omniscient guru. Despite ample evidence that Aum's senior figures were not simply manipulated by Asahara, but actively aided him as co-conspirators to plan and execute increasingly violent schemes, many commentators have chosen to single out Asahara as a singular source of evil.
The Aum Affair also brought changes to the concept of victimhood in relation to 'cult' controversies. Before the Affair, people who stepped forward as 'victims' of cults were primarily family members of adherents who had suffered strained family relations and financial difficulties. The Aum Shinrikyō Victims' Society was founded by parents of worshippers who alleged that their children had been 'brainwashed' and 'mind controlled' by Asahara. The group was led by Nagaoka Hiroyuki, a parent who survived an assassination attempt by Aum using the deadly nerve agent VX. Following the Tokyo attack, the group renamed itself the Aum Shinrikyō Families' Society to reflect the fact that the parents were now seen to be linked to the 'perpatrators'.
In turn, a new victims' rights movement emerged under the leadership of Takahashi Shizue, who founded the Subway Sarin Incident Victims' Society. Takahashi, whose husband was a subway employee killed in the attack, launched a thirteen year long campaign for a state-funded compensation scheme for victims and survivors of Aum's murders and terrorist attacks. After tireless lobbying and testimony work, Takahashi's group secured the enactment of the Victims Relief Act of 2008, which provided survivors and bereaved families of victims with state compensation.
Nagaoka and Takahashi's personal experiences are very different, but their respective models of victimhood share an important characteristic: they are primarily oriented towards retributive justice. In such models, there is a fundamental gulf between 'perpetrators' and 'victims' that cannot be bridged: there is no possibility for reconciliation or forgiveness.
As my book discusses, there have been some limited attempts towards reconciliation through dialogue, such as by Mori Tatsuya, a documentary filmmaker, and Kōno Yoshiyuki, a survivor and widower of Aum's earlier sarin attack on Matsumoto in 1994. However, these attempts have remained isolated and underdeveloped in a culture where there is continued support for retribution, especially through the death penalty.
In 2018, Japan hanged thirteen convicts including Asahara for Aum's crimes and terror attacks, despite strong opposition by human rights organisations. Although the mass executions sparked a brief public debate on the morality of the death penalty as a form of retributive justice, there are currently no proposed changes to abolish the death penalty.
Fast forward to the present day, and we can see how the national trauma of the Aum Affair has shaped social responses to the new national trauma of Abe's assassination. The upsurge of anti-cult sentiment against the FFPWU did not appear out of nowhere: rather, it is a reiteration of earlier discourses which took shape after the Tokyo sarin attack. Much of the recent civic debate has centred around an evil 'cult' putting civil society under threat through nefarious means – this time, through alleged ethically dubious forms of fundraising attributed to 'mind control' and buying political influence through conservative politicians. To be sure, the social and psychological factors behind Abe's assassination are likely more complex than many media reports suggest.
Although political assassinations are virtually unheard of in Japan, the country has experienced numerous spree killings, and targeted attacks on public institutions and vulnerable people in recent years.
Almost without exception, the perpetrators have had similar and comparable backgrounds to Yamagami: men from low or precarious socio-economic backgrounds who have become socially isolated. They have come to be known colloquially as 'invincible people' (muteki no hito) because they have nothing to lose and do not fear the consequences of their actions.
These wider patterns of violent crimes can hardly be reduced to discussions about second and third generations of cult members who are struggling economically, as Yamagami was. Yet, the discourse around Abe's assassination has been primarily about the rebirth of a cultural trope in Japan which sees 'cults', if not 'religions' in general, as existing outside civil society as potential threats to (secular) liberal and democratic norms.
For various cultural and political reasons as discussed above, the Abe assassination does not seem to have influenced wider debates about attacks on democratic institutions and their representatives, as seen in other political assassinations such as the murders of Jo Cox and David Amess in the UK, nor about socially isolated men who are radicalised online and go on to commit violent crimes.
As scholars in peace and conflict studies know all too well, narratives of 'victims' and 'perpetrators' are useful, if not indispensable, for understanding the causes and consequences of violence.
At the same time, the ossification of these categories can obscure rather than clarify the complex realities of social life. Yamagami was certainly a 'victim' of parental neglect and economic hardship caused by the FFPWU, but this does not explain let alone justify his horrific assault on the democratic process.
The categorical opposition of victim and perpetrator, in both the Aum Affair and the Abe assassination, has prevented more nuanced analyses from emerging and has precluded opportunities for apology, redress, and reconciliation.
Part of the blame surely falls on the offending parties including Aum and the FFPWU, which have both been reluctant to admit fault or to offer redress to aggrieved parties; at the same time, perhaps as a result of deep-seated cultural norms, a willingness to forgive and reconcile seems to be in short supply in contemporary Japan.
Dr Rin Ushiyama is a Mitchell Institute Fellow: Legacy and Lecturer in the School of Social Sciences, Education and Social Work at Queen's University Belfast.
The featured image has been used courtesy of a Creative Commons license.