G' Day in Australia: Research Visit to the Alfred Deakin Institute for Citizenship and Globalisation
Dr Ulrike M. Vieten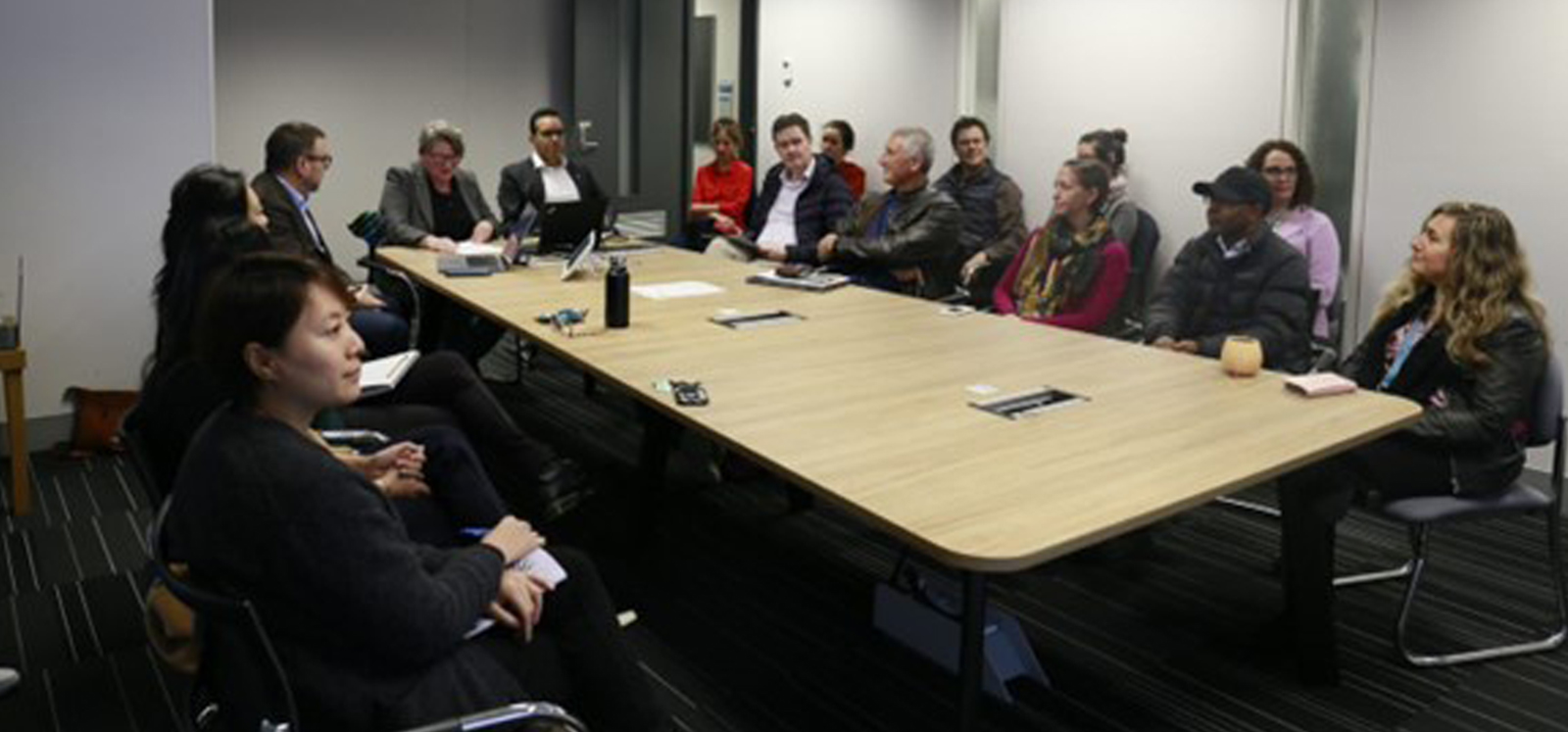 The Alfred Deakin Institute for Citizenship and Globalisation (ADI), Deakin University, Melbourne is one of the big global players in the field of citizenship studies and social inclusion. Its research responds to the complex challenges posed by the rise of extremism, continued patterns of intersectional exclusion, and rapid transformation of societies, internationally. As part of my sabbatical, starting end of January 2023, I had planned to go to Australia for a few months. I was fortunate that the ADI accepted me as Visiting Research Fellow for nearly three months at their Burwood Campus, Melbourne, between mid of April and beginning of July 2023.
Apart from exploring possibilities to deepen international research links between QUB and the ADI there were different scopes to my visit:
First, I was interested to share and discuss some insights of my latest monograph on 'Normalization of the Global Far Right: Pandemic Disruption?' published in autumn 2022, and co-authored with my Sydney based colleague, Prof Scott Poynting.
Second, I was on track to write some chapters for my new monograph 'Loss and Liquid Citizenship in Europe: The Post migration Condition in a Populist Age.' (Routledge, forthcoming in 2024). I anticipated that conversations with my Australian colleagues, based in an Institute focusing on citizenship and globalisation, would be very fruitful to the intellectual endeavour of the book.
On arrival in Melbourne, I was warmly welcomed by the Institute's director, Prof Fethi Mansouri, who is an internationally renowned and leading expert on interculturalism, migration studies and global Islamic politics, and Dr Vince Marotta. The latter was my initial contact for the stay in Melbourne. I do know Vince through our international sociological activities (ISA/ RC05), for years. Vince - among others - is Editor-in-Chief of the Journal of Intercultural Studies, with whom Scott and I published a very successful - widely read and cited- special issue on Contemporary Far Right Racism in Europe, in 2016.
All fell into place with my visit, and I was excited to learn that the ADI is home to quite a lot of colleagues researching far right populism with respect to racisms (including anti-Semitism and Islamophobia), the three C's (class, capitalism, and crisis) and the role of gender regimes impacting these discourses. The ADI colleagues were enthusiastic, too, about me joining them as a visiting researcher and attended, for example, the lunch time seminar in greater numbers when I presented arguments based on the second chapter of my book 'Global Far Right', 2022, book.
It was fantastic to get this high level of attention and positive feedback on my longstanding work on far-right normalization, gender, and racism.
The seminar was recorded and is available on YouTube.
The research environment is very welcoming to newcomers: weekly tea morning gatherings, allowed me to feel at home, very soon, and getting to know staff of the ADI, quickly. Further, other seminars I attended, for example those organised by Prof Greg Barton, allowed a deepening of interdisciplinary thinking.
This year is particularly important to more inclusive political agendas and anti-racist developments in Australia. In October there will be a referendum on a proposed law to alter the Constitution to recognise the First Peoples of Australia by establishing an Aboriginal and Torres Strait Islander Voice. The referendum will put the question to all citizens to recognise Aboriginal and Torres Strait Islander Voice while granting them a central role, constitutionally.
It was fascinating for me to learn about the different fractions and what their arguments are, reaching out across the race divide, and following closely media debates during my stay. Further, the discussion with Australian based colleagues provided valuable knowledge advancing my understanding of indigenous epistemologies, countering Eurocentric approaches in mainstream sociology.
Another formally important event was the ISA World Congress of Sociology, which took place in Melbourne, this year. (Image 2). As a long standing and active member (since 2003) of the Research Committee on Racism, Nationalism, Indigeneity and Ethnicity (RC05), I co-convened a session on the Normalization of the Global Far Right with Prof Scott Poynting (Image 3) - and gave a paper related to my current book project, on 'Liquid Citizenship and the post-migration condition', in another RC05 session.
Both sessions were very well attended with stimulating discussions. Following up on this, Scott and I are in communication with the chief editors of the Journal of Intercultural Studies and preparing a special section on the global far right panel contributions, which will be likely published next year, or early 2025.
After the congress, and in the beginning of July, my time in Melbourne and at the ADI, ended.
Looking back, it was an exceptionally exciting and intellectually inspiring stay, and I hope to be back, in a couple of years. My first, and very successful research stay at the ADI promises, too, future international research cooperations, deepening a shared research agenda on global trends in gendered far-right extremism.
Dr Ulrike Vieten is a Mitchell Institute Fellow: Religion, Arts and Peacebuilding, and Lecturer in Sociology in the School of Social Sciences, Education and Social Work (SSESW).