Research Exchange Visit in Belfast
Kyle Seasly, Visiting student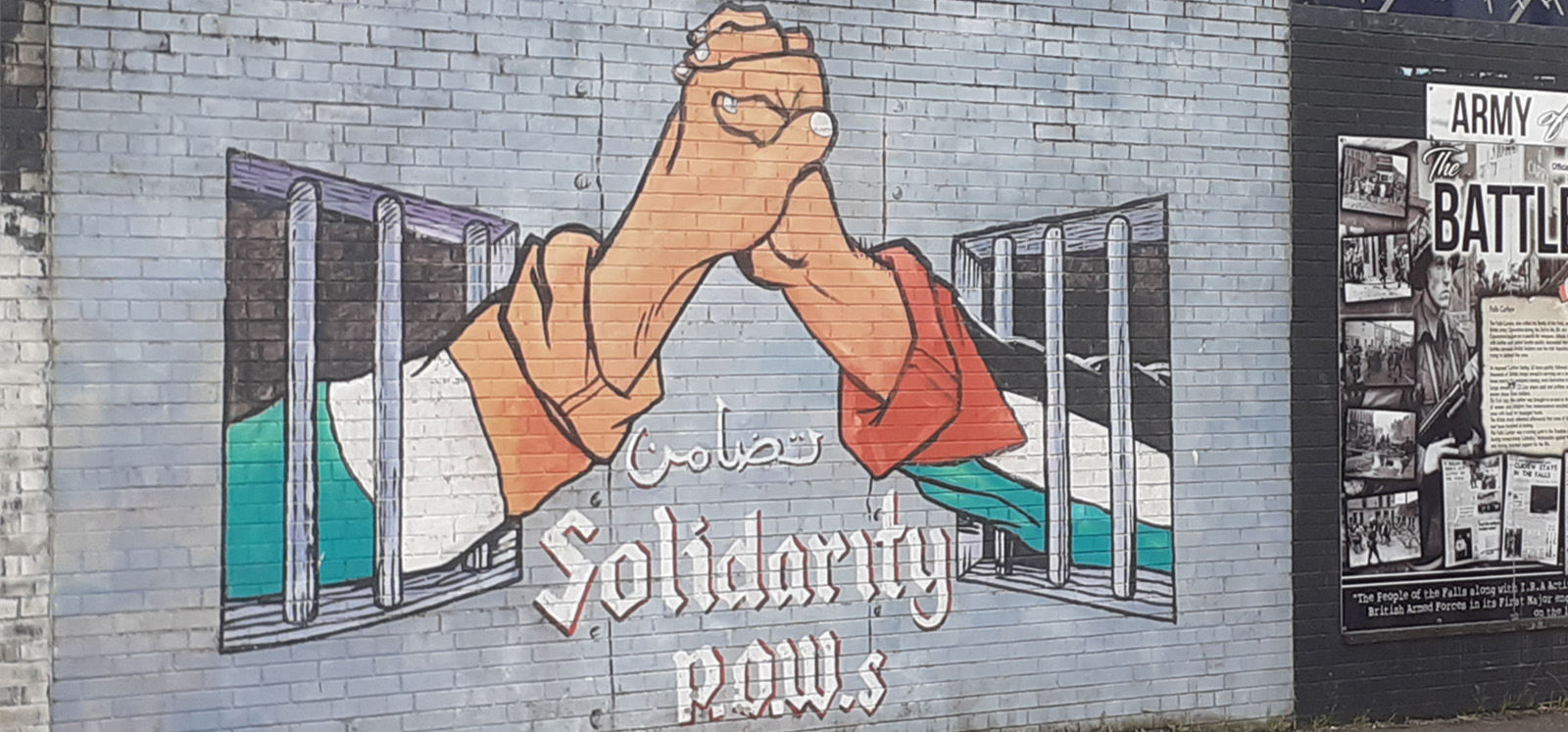 For four weeks this summer, I had the privilege of being part of a research exchange between Queens University Belfast and Notre Dame, sponsored by the Keough Naughton Institute. I was hosted by the Senator George J. Mitchell Institute for Global Peace, Security and Justice and supervised by Dr Peter McLoughlin, Mitchell Institute Fellow: Legacy and Senior Lecturer in the School of History, Anthropology, Philosophy and Politics.
The focus of my research for my exchange visit was The Republican Movement in Ireland (specifically looking at Sinn Fein), and its relationship to other international movements. Indeed, down the street from where I stayed during my visit at Mount Charles student housing, there was a Cuban restaurant and Palestinian café, which seemed to echo Sinn Fein's solidarity with Cuba and Palestine.
I visited the Solidarity Wall on my second day in Belfast, with my supervisor and Queens Exchange Co-ordinator, Dr Tristan Sturm, Mitchell institute Fellow: Religion, Arts and Peacebuilding and Senior Lecturer in the School of Natural and Built Environment. I saw images of Cuban freedom fighters, Nelson Mandela, Palestinian prisoners, and many others. These images, to the Republican movement, and the now very electorally successful Sinn Fein, represented the collective struggle that they participated in, and these were their allies. Additionally, when I took a day trip to Derry, the People's Gallery also clearly put these international relationships on display.
My research focus began to sharpen after I met with Dr Peter McLoughlin who helped me narrow my scope, given my relatively short time in Belfast.
My research questions evolved to focus on Republican Movement's relationship with the United States after the Good Friday agreement—specifically looking at archive press materials during the Bush administration from both Irish and American newspapers.
During the Bush administration, Sinn Fein was allowed to fundraise (for the most part) in the United States and bring back large hauls for their political coffers. Yet, support of Sinn Fein in the United States was a contradiction—Sinn Fein advocated for peace and supported a United Ireland, yes—but it also showed solidarity with other decolonizing or anti-imperial movements that the American public often identified as "terrorists" (whether properly or improperly).
Indeed, when President Bush identified the "Axis of Evil" in his State of the Union Speech, Gerry Adams, the leader of Sinn Fein, still managed to pull off a visit to Cuba and met with Fidel Castro. Sinn Fein leaders, in particular Adams, also spoke out against the Iraq War, continued advocating for Palestine, and opposed the use of the Shannon Airport for US military use.
Although there was some grumbling in the press about how Sinn Fein had fallen out of favor "this time", the moment of reckoning never came despite scandals in Ireland and contradicting US foreign policy goals.
New questions emerged for my research:
What gave Sinn Fein the "Teflon" characteristic in the United States?
Why could Americans accept Sinn Fein in the "You're either with us, or you're against us" environment that emerged after September 11th and were augmented by Bush's foreign policy?
Dr McLoughlin directed me to the Linen Hall Library, where I ended up doing most of my research. The Linen Hall Library has a wonderful café and very helpful staff who assisted me after I exhausted my online research, providing boxes of documents from the archives. I was going through a few boxes a day! There was so much material available. The Linen Hall Library is a very rich resource and a wonderful place to carry out research. I would recommend it to anyone doing historical (or any type of) research, really.
Another highlight of my time in Belfast was the Belfast Traditional Music Festival that took place during my time there. As a player in Notre Dame's Céilí band, I relished the experience of seeing top players in the "trad" scene play beautiful melodies *extremely* quickly and completely from memory.
Starting my final week, the Féile an Phobail – the West Belfast Festival – was on, with events about the history of Northern Ireland and Belfast through the ages. I went on a tour that highlighted James Connolly's time in Belfast, saw Gerry Adams speak, and went to the discussion and debate Jeremy Corbyn on The Choices for Ireland. On the final night of my stay in Belfast I went to see a concert featuring the group Kneecap whose most famous song was "Get Ya Brits Out," where the performers were taunting the DUP member who had criticized them on Twitter.
Overall, it was a fitting ending for an immersive four weeks—and the materials that I had obtained at the Linen Library are waiting for me to analyze further after this semester is over.
Kyle Seasly is a post-graduate student currently in his second year of the Master of Global Affairs programme at the Keogh School for Global Affairs, University of Notre Dame.
The Strategic Partnership with Notre Dame is a programme driven and funded by Queen's University Belfast to create international research and education linkages and collaboration. Each year one PGT student from the University of Notre Dame is invited to work with an academic staff member at QUB. This exchange has many benefits, including the study of Northern Ireland, increased visibility and cooperation, and exchange capacity of both institutions. Work is currently underway for a reciprocal exchange for a QUB student to visit Notre Dame.