Many congratulations to Dickson Ajisafe on the successful completion of his PhD
Dickson was a Visiting Student at the Institute from 2018 until the end of 2021. He was the recipient of two prestigious awards for his studies.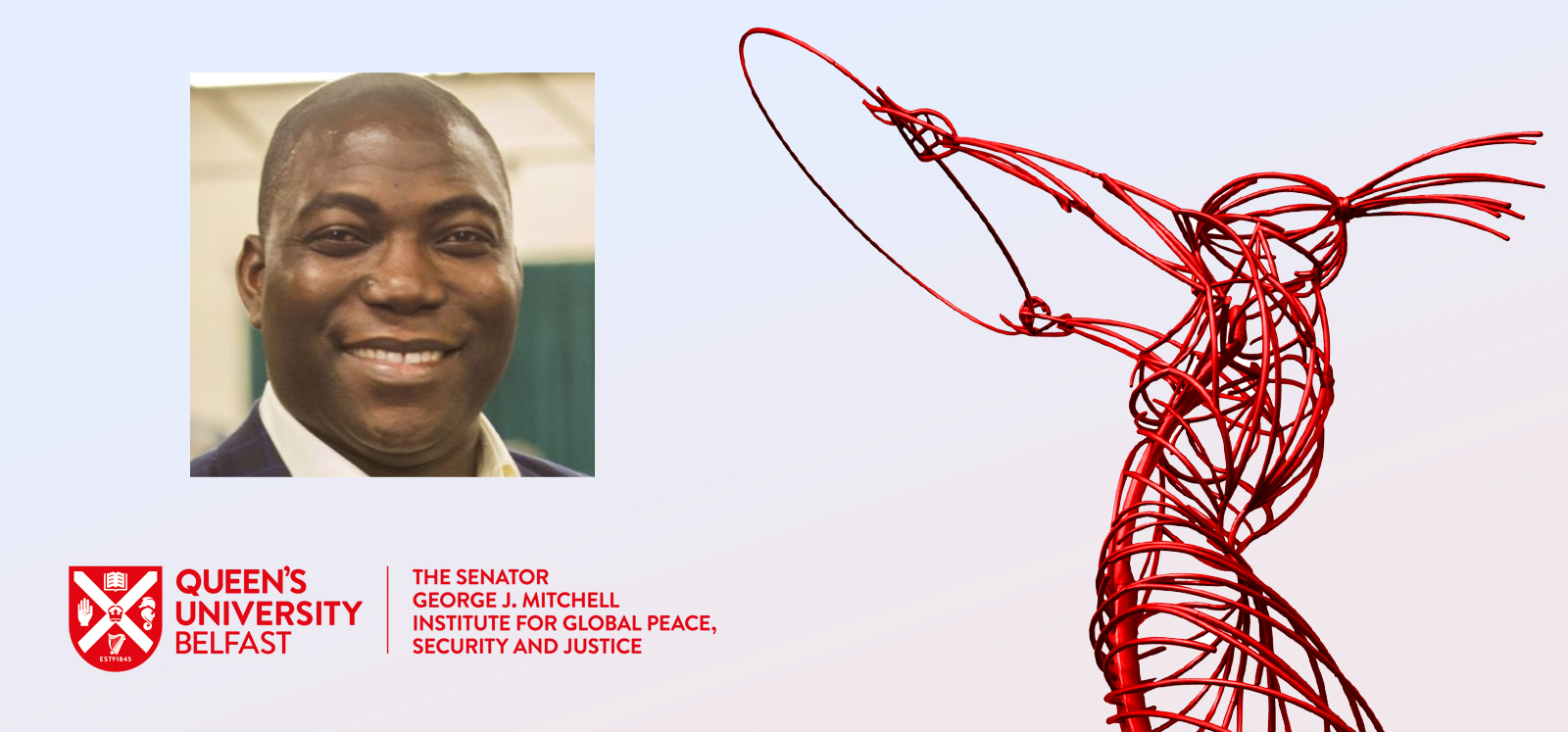 Congratulations to Dickson Ajisafe on obtaining his PhD in International Relations and an Academic Honorary Colours Award from the University of Pretoria, South Africa, in May. He was the recipient of two prestigious awards - a Commonwealth Scholarship and Global Digital Fellowship by the World Society Foundation, Switzerland and Council for European Studies, Columbia University, New York (WSF-CES) - to undertake his studies.
Dickson was a Visiting Student at the Institute from 2018 until the end of 2021.
In this Q&A, Dickson reflects on his success and challenges, the contribution of the scholarships to his development, his experience of undertaking part of his studies at Queen's University Belfast and the Institute, and his plans for the future.
You won 2 prestigious awards to complete your studies. What did they involve and how did they contribute to your learning and development?
Commonwealth Scholarship
The Commonwealth Scholarship that I won was a rigorous and highly competitive one. However, it is one thing to win a scholarship; it is another thing altogether to leverage it to develop your skills, build networks, maximize opportunities at your disposal and achieve higher accomplishments during and after the scholarship. In other words, the continued success of a commonwealth scholar critically depends on his or her ability to maintain undivided focus and excellent commitment to his goals, challenges notwithstanding.
Generally, the Commonwealth Scholarships create an avenue for selected scholars/fellows to develop their research ideas, enhance their professional skills and gather more knowledge that are capable of transforming lives and environments for the better, whether at local, national, and international level.
For me, the Commonwealth Scholarship provided me with the environment to achieve the following:
to advance, enhance and finetune my knowledge production skills;
expand my impact capacity;
add value to the body of knowledge;
and make a significant and original contribution to one of the badly-needed areas of our modern time with reference to sustainable peace, security and capacity development.
Significantly, my research success story could not have been possible without the Commonwealth Scholarship support.
The Commonwealth Scholarships Commission priority areas include peace, security and capacity development. In this context, my research examined and explored the phenomenon of radicalisation and violent extremism within prisons in the United Kingdom (UK). Specifically, my research interrogated and analysed the causes, patterns, and trajectories of radicalization and violent extremism in prisons in the UK and their implications on community cohesion in the country and global security.
The study responded to the puzzle of why and how prison environments in the United Kingdom have been leveraged by Islamist radicals for recruitment of vulnerable prisoners and other purposes that are injurious to the peace and security of the state. In addition, my study revealed the factors responsible for ineffectiveness of the UK deradicalisation programmes and articulated lessons for other hemispheres in this regard.
The study brought to bear the missing links in the UK government's responses to combat Islamist radicalism and the impacts of these responses on global security and social cohesion in the United Kingdom.
Considering the analytical weight of my study, the flow of its narratives as well as the quality of its presentation, there are no misgivings that researchers, teachers, and students as well as practitioners who engage in the study of terrorism, counter-terrorism, radicalisation, de-radicalisation and prison studies in the 21st century, would immensely glean from its analytical style and logical arguments; while policy makers and security experts, in any parts of the world, would also draw valuable lessons from the insights discussed.
Global Digital Award
Even though I had won several international awards over the years, the 2020 CES Transcontinental Travel Award of ($473.50) confirmed to me that I should never stop competing!
This award was a global Conference Award allocated for a PhD student worldwide. Competing with over 200 applications from students all over the world, there was only one award for one student and I got it!
The second award was The CES-WSF Digital Fellowship Award (valued at $100). It is initially meant for Early Career Researchers from the Global South to attend the 2021 CES Conference in Iceland. But due to the pandemic, the coordinators converted it to a research writing hub, which was an innovative initiative. The CES-WSF Digital Fellowship Writing Hub assisted me to attend research writing training along with other colleagues selected from the Global South. Via that platform, I was able to meet and network with other professionals from the Global South with whom we could develop and collaborate on international research project and share similar research interests in the future. Thanks to Council for European Studies for the initiative.
We were 12 in number who were selected, but some of us needed to pull out from that cohort due to uncolleagial coordination challenges. Unfortunately, this happened when I needed more time to concentrate on my research study.
How did being at Queen's University Belfast and the Mitchell Institute help you in your studies?
I am very grateful to QUB for hosting me as a Visiting Research Student situated at the Senator George J Mitchell Institute for Global Peace, Security and Justice and at the School of Social Sciences, Education and Social Work. Certainly, my coming to QUB has evidently contributed to my research innovative acumen, trans-displinary knowledge productivity, professional development as well as boosting of my professional networking at higher dimension. I believe that every QUB staff I was able to connect with had added to my success and progress and without their contributions (whether directly or otherwise), it would have been difficult, if not impossible, for me to continue and complete my PhD studies successfully.
In my opinion, at QUB, the Mitchell Institute, SSSESW and the Graduate School are all platforms to learn, grow, mature and make impacts with reference to academic study, research development, knowledge acquisition and dissemination as well as professional development. Even though these possibilities are available and obtainable, yet only those who are goal-getters would be able to maximize them. Hence, finding myself inside the square (QUB, the Mitchell Institute, SSSESW and the Graduate School), I did not leave any stone unturned, but took advantage of every possible opportunity to learn, grow and develop myself as an upcoming scholar and a professional.
I attended relevant seminars, featured in conferences, networked with colleagues, participated in the leadership development training coordinated by QUB Graduate School. I took the opportunity to meet and connect with high ranking academics such as Professors Donnan Hastings, Richard English, Shadd Maruna, Michael Semple, Michelle Butler, Dina Belluigi, QUB Afroscholars' coordinators as well as QUB Vice Chancellor, Prof Ian Greer and two other Professors (whom I met in a community meeting while I was analysing 'The Mathematical Theory of Attitude' and its significance in day to day human relationship and engagement).
SSESW
My points of contacts at SSSESW were Dr Michelle Butler, Professor Shadd Maruna. As an advisor, she is a good listener, caring, and always ensures her students are okay. She came to welcome at the airport and ensured I was well-settled in my accommodation and while she was on maternity leave, she handed me over to Prof Shadd Maruna-who did an excellent job as a host advisor. Prof Maruna is an international scholar of repute! While he was covering for Dr Butler, He used to schedule weekly meetings with me, supplied me with books, provided me with helpful guidance on my work and introduced me to many of my research respondents. Prof Maruna was the one who gave me the opportunity to visit and speak to young offenders during the 2019 Learning Together Course Completion event held at Hydebank Wood College, Belfast. As reported by the organizers, the Learning Together programme was initiated by the School of Social Sciences, Education and Social Works, Queen's University Belfast, in partnership with Northern Ireland Prison Service. The event gave me the platform to motivate and encourage the Hydebank Wood College students to maximise their learning opportunity as a value-adding platform, culminating for them a hope-filled tomorrow and brighter future. It was a moving moment to listen to the testimony of each of the College students talking about what they had benefited from this QUB's programme and what they also envisioned to accomplish with those benefits in the future.
Mitchell Institute
Dr Michelle Butler: Dr Michelle Butler happened to be the first member of Mitchell Institute with whom I was priviledged to connect. Dr Butler actually came to welcome me at George Best Belfast City Airport and drove me straight to my residence and ensured that I was well settled as a new comer in Belfast.
Prof Donnan Hastings and the Institute's admin staff were my points of contact. Prof Hastings is a good man and his administrative staff treated me well. I cannot thank them enough for their kind treatment. Few days after my arrival at QUB, Prof Hastings invited me to his office and gave me salient advice that could assist me to judiciously maximize my time and network with relevant individuals within the University. Meeting him did open many doors while I was at QUB.
Prof Richard English: I first met Prof Richard English when he was serving as QUB Prof in charge of internationalization. We had a coffee meeting at some points and he was instrumental to connect me with one of my research respondents-whose insights were value-adding to my research work.
Prof Michael Semple: I was privileged to have a session discussion with him on my research study and his insightful advice was extremely useful after which he blessed me with a book.
Prof John Brewer: I met Prof Brewer briefly and remembered he had a plan of meeting me for a proposed project, but that proposed meeting did not materialize due to the pandemic. Certainly, the Covid-19 pandemic had many things to answer for.
QUB Graduate School: The QUB Graduate School is a school indeed. The Graduate School trains and equips graduate students as strategic thinkers, innovators, communicators, leaders and future-ready professionals. for the marketplace. I am pleased to let you know that I am an alumnus of the Develop Your Leadership programme coordinated by the Graduate School.
What were the key challenges you faced?
Challenges are parts and parcel of life and every success-pursuit possesses its corresponding challenges. It is actually difficult to explain my challenges during my PhD study period unless you are in my shoes. Nevertheless, the period of the pandemic and its associated regulations caused me serious mental health challenges. Can you imagine undertaking a PhD study during the Covid-19 pandemic? It was a traumatic time for me. However, I was able to manage it and I can confidently state that my doctoral thesis was regarded by 3 external examiners as an absolute first-class work, even though it was produced during the extraordinary difficult circumstances of the Covid-19 pandemic and I was not surprised when I got the notice of a special award to that effect.
How did you overcome these challenges?
Although I suffered serious mental health challenges such as depression and so on during the period of my research study, nevertheless I strove to reach the end successfully. The thesis that emerged was an exceptional piece of work that consequently attracted a special international award prize, having passed through rigorous independent examinations and an oral/viva examination in the presence of examiners located in Africa, Asia, and Europe.
I done a number of things to pull-through this process:
Prayers - God granted me insights, wisdom and special understanding to become a success
I listened to motivational messages to strengthen my spirit and mind
I connected with like-minded people who can motivate me to achieve my goals
I connected with a church in Belfast
I sought advice from mentors and advisors
I expressed my health concerns to my friends who are medical practitioners
I always remain positive challenges notwithstanding
I don't give up and do not lose focus
I also built good relationship with right individuals and developed value-adding alliances with colleagues.
When did you complete your studies?
I completed my studies and graduated during the April and May 2022 Graduation Session of the University of Pretoria, South Africa with a Doctor of Philosophy degree in International Relations. I received an 'Academic Honourary Colours' award which was presented to me by the Student Community of the University of Pretoria, represented by the Student Representative Council (SRC) of the University.
What are you doing now?
I am busy with 7 conference papers to be presented at international conferences and workshops holding in France, the United States, Greece, Romania, Portugal, Slovakia and Italy.
I have periodic mentorship/advisory online sessions with research Masters and Doctoral candidates and the impacts have been wonderful. I am so pleased to serve this community of students with the knowledge and insights I have acquired during my worldwide postgraduate studies in Northern Ireland, the UK, Nigeria, South Africa, Germany and Italy.
I am also initiating an online Network of African Scholars with a special focus on European and EU Studies.
What are your plans for the future?
As a triangular professional - I possess a dynamic capacity to function as a Researcher, Lecturer and an Administrative Officer - wherever opportunity opens worldwide.
To contact Dr Dickson Ajisafe, email him at ajisafedickson@yahoo.com.