Institute Fellows admitted to the Royal Irish Academy
Academics from Queen's have been officially admitted to the Royal Irish Academy in recognition of their outstanding academic achievements in the humanities and social sciences.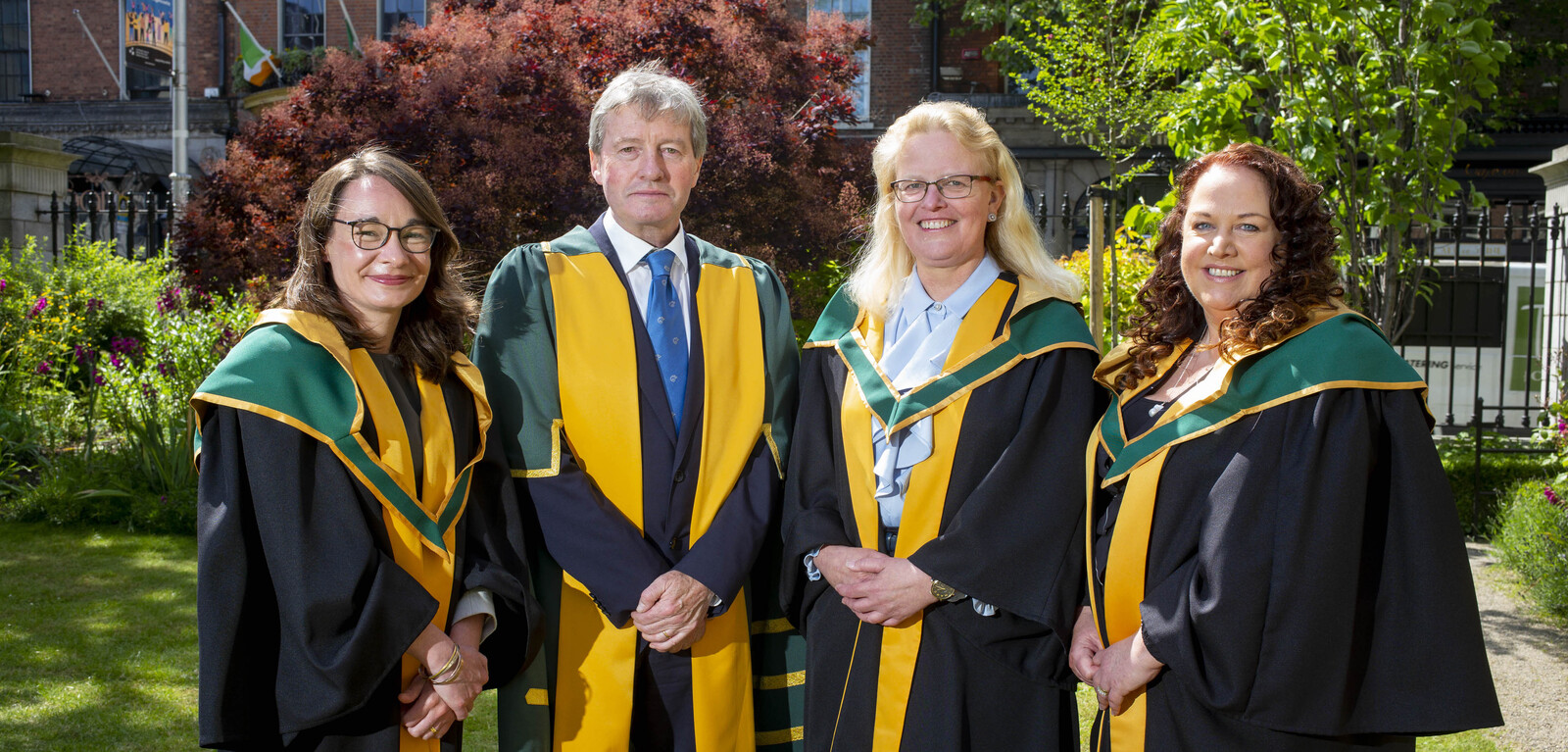 Congratulations to Professor Fiona Magowan (Mitchell Institute Theme Lead: Religion, Arts and Peacebuilding; Professor of Anthropology, HAPP) and Professor Katy Hayward (Mitchell Institute Fellow: The Politics and Security of Institutional Peacebuilding; Professor of Political Sociology, SSESW and Co-Director of the Centre for International Borders Research) on being admitted to the Royal Irish Academy in May. The ceremony took place on 26th May at the Royal Irish Academy in Dublin.
The Royal Irish Academy is an all-island independent forum of peer-elected experts. Membership of the Academy is the highest academic honour in Ireland. The academic body promotes study and excellence in the sciences, humanities, and social sciences, as well as to public service and has been honouring Ireland's leading contributors to the world of education and learning since its establishment in 1785.
Fiona has been recognised for her research which draws on ethnographic fieldwork across a global range of settings, her research in ethnomusicology, religion, gender, arts, and performance is internationally esteemed.
Professor Magowan commented: "I am greatly honoured to be elected a member of the Royal Irish Academy with its world-leading research in the arts, humanities and social sciences. I look forward to collaborating with Academy colleagues to advance publicly engaged research agendas across the island."
Professor Hayward was awarded a Ewart-Biggs Memorial Prize for her work improving public understanding of the impact of Brexit on the island of Ireland.
Professor Hayward said: "My very first conference paper as a PhD student in UCD was delivered in the Royal Irish Academy. I recall the sense of awe and excitement as I entered its splendid building in Dawson Street; and I still feel the same today!
"But becoming a member is much more than a personal honour. Truth, tradition, and academic independence are essential to the functioning of a good democratic society. The Royal Irish Academy plays an essential role in this regard on the island of Ireland. It will be an enormous privilege to contribute to that."
Mitchell Institute Director, Professor Richard English said:
'I'm delighted to see Professor Magowan and Professor Hayward recognized by the RIA for their pioneering and important work. Many congratulations to them both.'