Blood & Dirt: Encounters with Wilfred Owen
Fran Brearton, Professor of Modern Poetry, School of Arts, English and Languages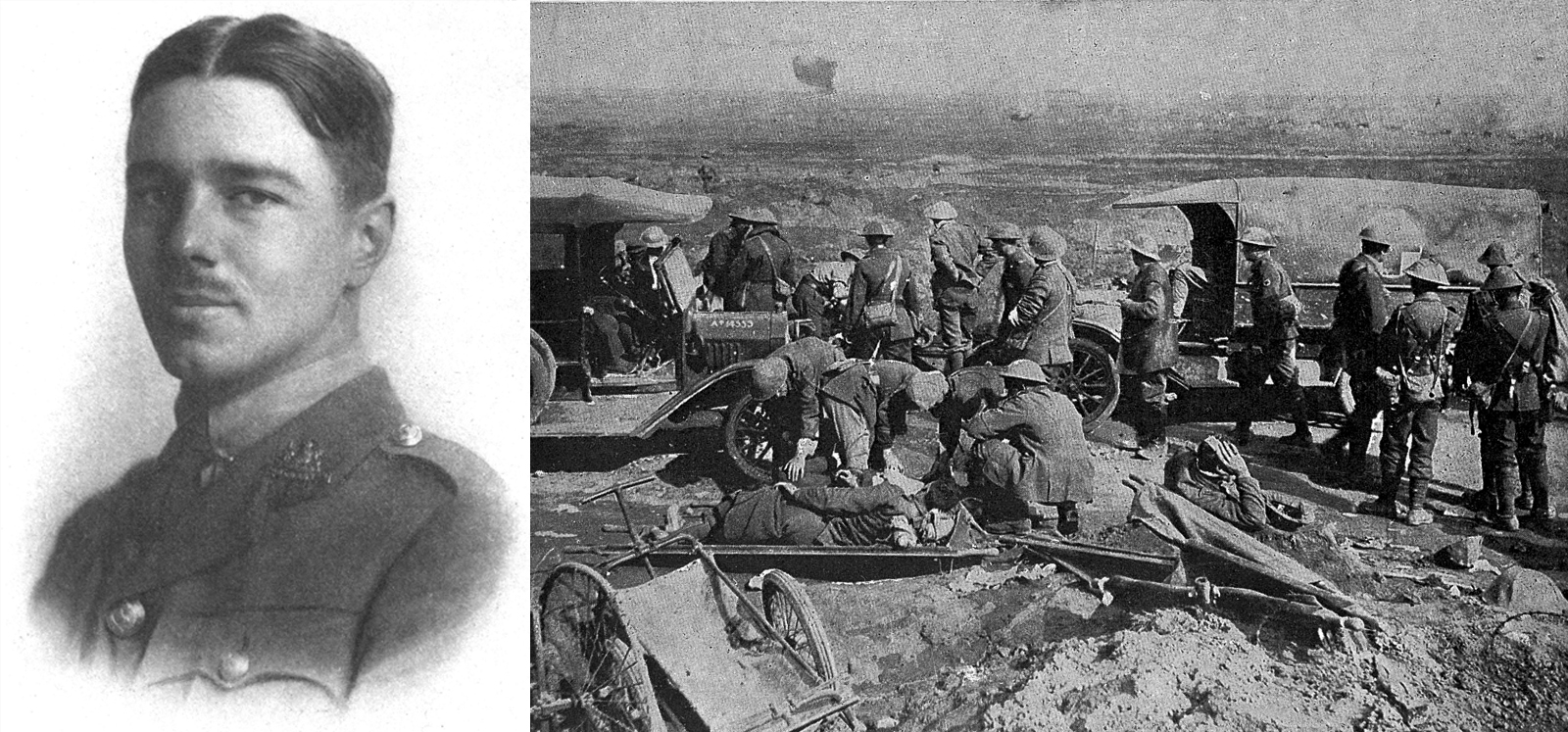 My first encounter with Wilfred Owen's poetry was – as it is for many – at school: 'Dulce et Decorum Est'; 'Anthem for Doomed Youth', 'Exposure', 'Strange Meeting' – all iconic poems embedded in British consciousness, and central to the cultural 'memory' of war. I remember my (inspirational) English teacher's passionate quoting of Owen's 1918 draft preface – 'Above all I am not concerned with Poetry. My subject is War, and the pity of War' – culminating in that famous phrase 'The Poetry is in the pity'. Only many years later did I conclude that the poetry isn't in the pity: rather, as Geoffrey Hill noted, 'the pity must be registered in the poetry'; were it otherwise, it's unlikely his work would still hold so much fascination for new generations of poets and critics. (A session on 'war poetry' with my MA Poetry class last autumn turned out to be the perfect preparation for this particular 'In Our Time'). And while Owen the protest-poet remains, for many, the touchstone for anti-war sentiment, voicing with compassion the suffering of his men, we do well to remember Keith Douglas's later observation about soldiering – that 'here the lover and killer are mingled'. While Owen detailed the horrors of war, he was also the soldier who, in his own words 'lost all [his] earthly faculties and fought like an angel', thereby passing, as he notes, the 'limits' of his own 'Abhorrence'.
Killed at the age of 25, just a week before the Armistice, Owen is perhaps England's most famous modern war poet, and, along with friends Siegfried Sassoon and Robert Graves, one of a group who have coloured in profound ways our understanding of the First World War – the journey from innocence to experience; the ultimate futility of war; the wilful ignorance of the people at home (especially the women!); even the focus on one particular theatre of war (the western front), the images of which become a synecdoche for the 'Great War' as a whole. They have done so, at times, to the understandable dismay of historians and literary critics, whose views of the war in terms of its military strategy, global theatres, political import, and cultural legacy are not to be found in the lyric poems of a small group of middle- to upper-class educated and unmarried white British men – all volunteers, all officers (Isaac Rosenberg is the notable exception here), all deeply embedded in a sometimes homoerotic male literary coterie.
Owen began as the partial outsider (grammar school not public school) who came to those friendships only in 1917, but who became, posthumously, the central figure among the 'war poets'. His poems, published first by Sassoon in 1920, again by Edmund Blunden in 1931, and in a definitive edition by Jon Stallworthy in the 1980s, have proven far more influential and enduring than those of the 'peers' he was so delighted to find: 'I go out of this year a Poet', he wrote to his mother in 1917, 'as which I did not enter it. I am held peer by the Georgians; I am a poet's poet.'
Loved by poets, and influential on the expansive genre of war poetry over the last 100 years, Owen's presence reverberates in Irish poetry too, and my own critical engagement with Owen, and with other Great War poets, has always been in that archipelagic context.
Louis MacNeice, in 1941, describes Owen, T.S. Eliot and D.H. Lawrence (and 'within narrower limits, Robert Graves') as 'the finest [early 20th century] poets in England'. Owen's presence in early Heaney is unmistakeable, albeit mediated through Ted Hughes's own First World War obsession.
In the early years of the Troubles, Michael Longley was not alone in looking to Owen and the Great War generation as exemplars of how the poet works in extremis: 'the poet', Longley wrote in Causeway in 1971, 'is not some sort of super-journalist commenting with unfaltering spontaneity on events immediately after that have happened. Rather, as Wilfred Owen stated over fifty years ago, it is the artist's duty to warn, to be tuned in before anyone else to the implications of a situation.'
That Owen was not beloved by Yeats, however, is part and parcel of Yeats's own hostile attitude towards the Great War ('some blunderer has driven his car on to the wrong side of the road – that is all. If war is necessary, or necessary in our time and place, it is best to forget its suffering as we do the discomfort of fever…') as well as to its trench poets ('passive suffering is not a theme for poetry').
It is in this context that interest in Owen informs a much wider debate both within and outwith Ireland too – about the nature of poetry; its 'use and function'; its relationship with, or dependence on, conflict; whether, as W.H. Auden put it in his elegy for Yeats, poetry indeed 'makes nothing happen'.
Heaney makes every excuse for those elements in Owen he dislikes, notably his 'excessively vehement adjectives and nouns': 'His poems have the potency of human testimony, of martyr's relics, so that any intrusion of the aesthetic can feel like impropriety'.
Yeats, on the other hand, describing Owen as 'all blood, dirt and sucked sugar-stick', says that 'There is every excuse for him, but none for those who like him'.
For both Heaney and Yeats, it is Owen's most famous poem, 'Dulce et Decorum Est', that generates unease, although both do him less than justice. Yet none of the ink spilled by historians, poets or critics voicing such unease has ever displaced Owen in terms of his centrality to cultural memory of the First World War.
Like it or not, Owen both informs western memory of conflict, and becomes something of a litmus test for how conflict can or should inform poetry. It's unlikely the aesthetic and political differences brought into focus by his work will ever be reconciled; but perhaps this is one of the few contexts – vive la différence – where there is something to be said for keeping the wound green.
Fran was one of the guests featuring on the Radio 4 "In Our Time" episode focusing on the war poet, alongside Jane Potter, Reader in The School of Arts at Oxford Brookes University Potter and Guy Cuthbertson, Professor of British Literature and Culture at Liverpool Hope University, facilitated by Melvyn Bragg.
The featured images (Wildred Owen and World War One) has been used courtesy of a Creative Commons license.
Professor Fran Brearton
Professor Brearton is a Fellow of the Mitchell Institute and her research interests are primarily in British and Irish Poetry of the 20th and 21st centuries, and in the literature and culture of the First World War, literary modernism, and war writing throughout the 20th century.