Boston College Exchange Visit – April 2023
Dr Cheryl Lawther, Mitchell Institute Fellow (Legacy) and Reader, School of Law, Queen's University Belfast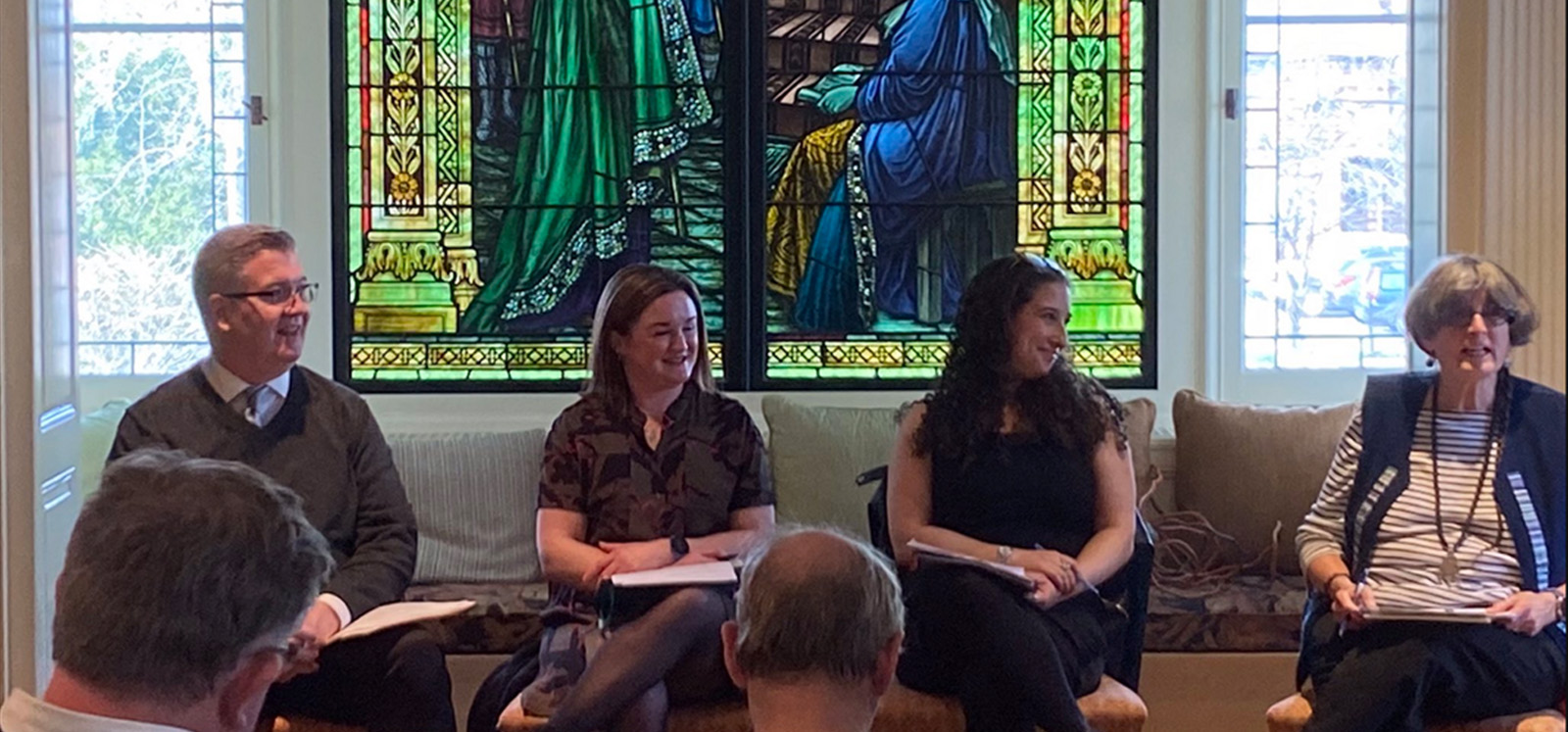 Queen's University Belfast has a long-standing relationship with Irish Studies at Boston College. Funded by the 2022-23 QUB-Boston College Irish Studies Exchange Award, I was fortunate to spend a week in Boston College in April 2023.
The objective of my visit was to share work from my upcoming monograph 'Constructing Victimhood in Transitional Justice: Beyond Innocence and Guilt' (Oxford University Press 2024), utilise the collections in the world-renowned Burns Library and develop research connections.
Arriving in Boston on 8 April and being present on campus during the week of the 25th anniversary of the signing of the Good Friday Agreement and President Biden's visit to Northern Ireland, my stay quickly became more pertinent than I originally imagined.
Formally, I had the opportunity to participate in two high-profile scholarly exchanges. The first was a panel on 'Contemporary Issues in Transitional Justice: Comparative Perspectives'. Chaired by Professor Brinton Lykes and sitting alongside Professor Zinaida Miller from Northeastern University, this seminar brought Irish Studies into conversation with Boston based transitional justice scholars for the first time. Joined by Boston Colleges Professor James Smith, an expert in historical institutional abuse in Ireland, our conversation was wide ranging and showcased the best of interdisciplinary research.
My second undertaking was a guest seminar where I delivered a paper on 'Transitional Justice, Haunting and the Presence of the Past in Northern Ireland'. This paper draws on interviews with victims and survivors of the Northern Ireland conflict and argues that in the absence of a formal process of dealing with the past, three forms of haunting persist – the haunting of lost lives as a result of unanswered questions and a continued politicisation of victimhood; the haunting of landscape – how, via memorials, walking tours and other manifestations of place-memory, the unsettled past persists in the physical world around us; and how intersection between haunting and unresolved trauma has contributed to high levels of conflict-related mental health problems and transgenerational trauma. Framed against the backdrop of the passage of the Northern Ireland Troubles (Legacy and Reconciliation) Bill which looks set to provide a much diluted approach to dealing with the past in Northern Ireland and the 25th anniversary of the Good Friday Agreement, this seminar provoked considerable critical discussion and debate.
In addition to these events, I had the opportunity to engage with Irish Studies students at Boston College, teaching a graduate class on 'Dealing with the Legacy of the Northern Ireland Conflict' and participating in a series of lunches and conversations across campus. The commitment shown by the students and their interest in all things Northern Ireland left me feeling reassured that the future of Irish studies is bright!
I left Boston to return to Queen's and the GFA25 celebration events with a renewed vigour for my work, the importance of interdisciplinary research and the value of international research exchanges. The formal and informal scholarly exchanges, conversations in the corridors with staff and students and opportunities to listen and reflect on other perspectives will continue to inform my work for some time to come.
A final word of thanks goes to my host for the week, the Sullivan Chair in Irish Studies, Professor Guy Beiner. Guy created a warm and welcoming environment for my stay, set-up multiple opportunities for me and was extremely gracious with his time and expertise. I look forward to strengthening the connections between our institutions in the years to come.