Mitchell Institute Sabbatical Fellowship Scheme 2023-24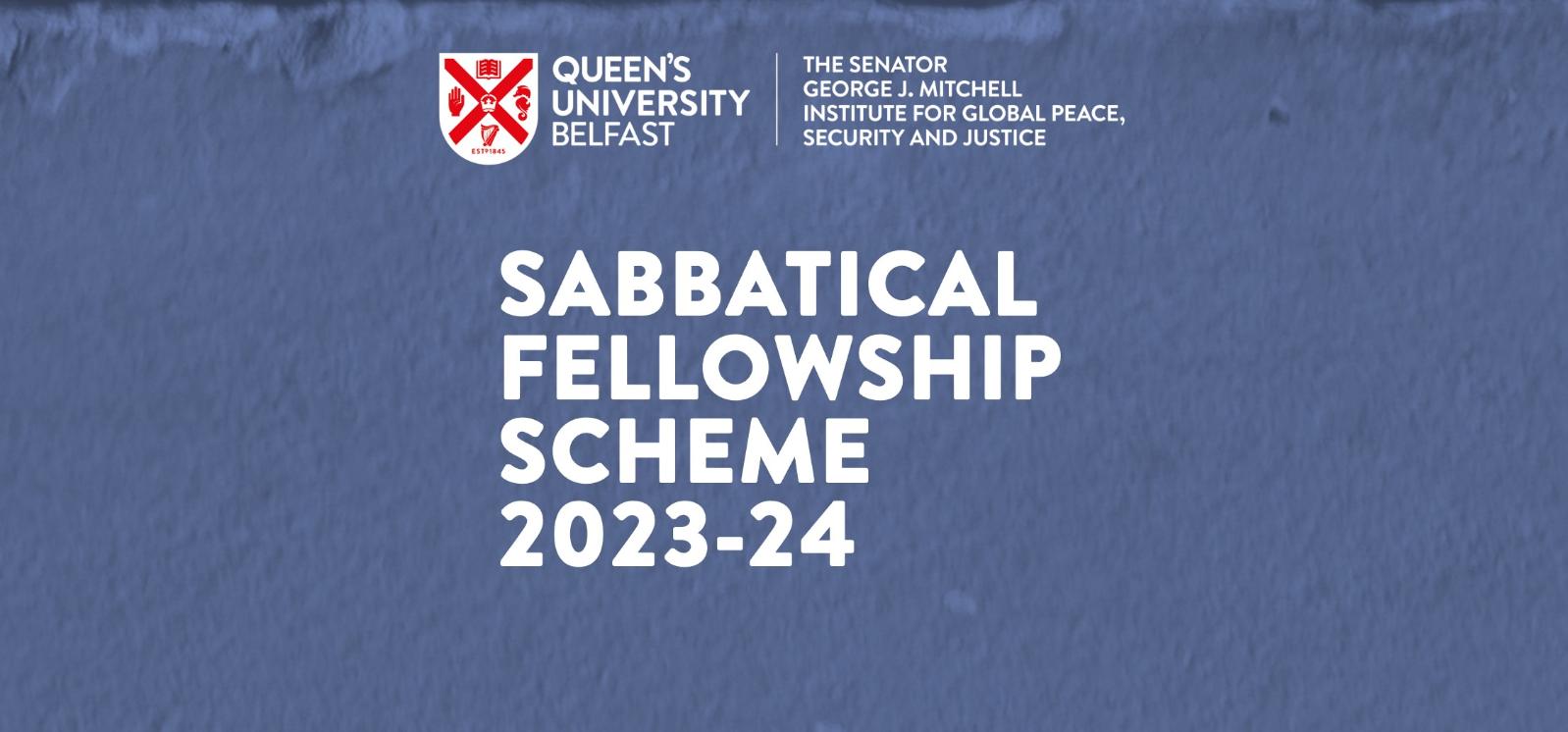 The Mitchell Institute is pleased to announce the Sabbatical Fellowship Scheme for 2023-24. This Scheme is open to all QUB academic staff who have already been awarded Sabbatical Leave by their School during 2023-24.
For the duration of their Fellowship - up to a maximum of one semester - the three successful applicants will be provided with office space at the Institute; they will receive £4,000 to support research activities (as agreed with the Director); and they will present their research in a Mitchell Institute Lecture or Workshop during their period at the Institute.
How to Apply
Applications should include:
A one-page outline of the proposed research to be conducted during the applicant's semester at the Institute (in line with what has been proposed to the applicant's School), including:

The case for its originality and importance
Details of the work to be produced (e.g. planned publications)
Clarification of alignment between the proposed research and the work of the Institute
Details of the applicant's involvement with the Institute to date (if any)
A CV of no more than two pages
An indication of which 2023-24 semester they would like to spend at the Institute
Confirmation that they have been awarded Sabbatical Leave from their School prior to the application deadline
Applications, marked 'Sabbatical Fellowship Scheme 2023-24', should be emailed to Dr Wendy-Louise Smith at w.smith@qub.ac.uk by 28 April 2023.
Decisions will be announced by 31 May 2023.
Sabbatical Fellows 2022-23
Dr Peter McLoughlin and Dr Lauren Dempster were the first Institute Sabbatical Fellows. They found the experience very beneficial, especially the financial support and dedicated office space and support at the Institute. Peter used the funding to conduct research in the archives in Dublin and London for his forthcoming book. Lauren used the funding to travel to Australia to attend conferences and strengthen collaboration with internationally renowned colleagues. They also presented at dedicated Research Workshops on each of their research areas.
Reflecting on her experience, Lauren said:
"I was a Sabbatical Fellow in the Institute in Semester 1 of the 2022-23 academic year. Having spent my Post-doctoral years in the Institute, I was delighted to have the opportunity to be based there once again. I found the experience to be hugely valuable for several key reasons.
First, I found having a separate space outside of my Law School office very useful for focusing on my planned Sabbatical activities. As a result, my time in the Institute was really productive. I am currently working on a monograph, co-authored with my colleague Dr Rachel Killean (University of Sydney) on the relationship between environmental harm and Transitional Justice, and made good progress on drafting several chapters during my time at the Institute.
Second, and relatedly, I was able to use the funding that came with the Fellowship to travel to Australia to advance this work, and I am grateful to Richard for approving this. As a Visiting Fellow at the University of Sydney's School of Law, I was able to work with Rachel on our monograph - having time in-person to develop our ideas was invaluable. During this trip we received useful feedback that we will be incorporating into our manuscript through delivering presentations at the 8th Annual Australian International Criminal Law Workshop in Sydney and at the Australia and New Zealand Society of Criminology Conference in Darwin.
Third, while at the Institute I had the opportunity to present on another work in progress - an article I am authoring with Mitchell Institute Theme Lead (Rights and Social Justice) Prof Kieran McEvoy, on the relationship between embarrassment, non-state armed groups, and the transition from conflict. As always with Mitchell Institute workshops, we received helpful and thought-provoking feedback from the audience.
Finally, the Institute is such a valuable part of QUB and as an interdisciplinary researcher, I valued being part of this community. It was great to meet Peter and learn about his research, and Richard, along with Wendy-Louise, Brett, Louise and Valerie, who made me feel really welcome."
Reflecting on his experience, Peter said:
"Being a Fellow at the Mitchell Institute for the duration of my sabbatical had been wonderful, and was very sad to leave. Obviously, the funding that comes with this position had been hugely beneficial, allowing me to spend a number of weeks working in archives in Dublin and London to conduct research for my book on Irish-American and the Northern Ireland problem.
However, I also found working in the Institute itself to be great help. As well as the fantastic colleagues, the PhDs working here have been a huge inspiration – a reminder of what focused research is about after becoming so used to juggling teaching and admin commitments in a normal term.
As mundane as it sounds, having an office dedicated to research has also helped. Though only a few doors done from my HAPP office, it felt very different from that space – which is always messy, and has all the reminders of the usual teaching and admin demands. Having a office in the Institute made for far more productive writing. As a result, I was able to send completed chapters to OUP, and now hope for a positive response (fingers crossed) which would help spur me through the remaining chapters and editing process. The latter is always hardest for me, but I'm hoping that what I'm forced to cut will allow me to produce some new articles, none of which I could have done without the Fellowship.
I also received very useful feedback during my Fellowship, not least when by presenting one of my chapters at the Institute in November – thanks to all who attended. When the book is finished, I certainly hope to come back to speak about the project as a whole.
Being optimistic, perhaps we'll also have our challenges with the Protocol sorted by then, so I can write a nice final chapter about President Biden visiting to celebrate the 25th anniversary of the Good Friday/Belfast Agreement. It would certainly be a good way to recognise the role of the Institute's patron, Senator Mitchell, in helping to negotiate that accord. Here's hoping.
Meantime, many thanks to Richard and other academic colleagues at the Institute, and the brilliant admin staff – Wendy-Louise, Brett, Louise and Valerie. I will miss you all."