Institute for Health Sciences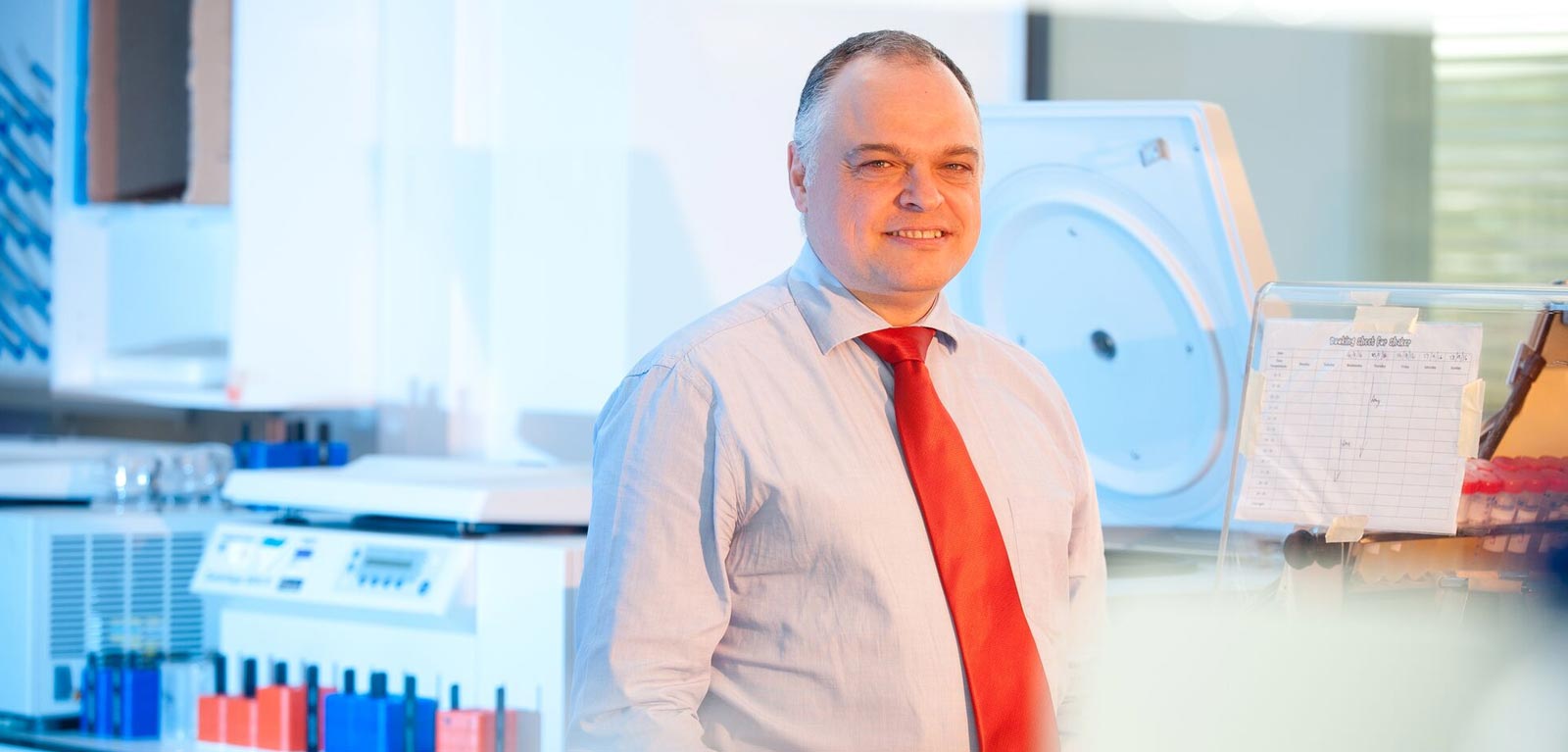 LEADING THE WAY IN THE MICROBE-BODY ARMS RACE
In September 2016, more than 100 international delegates, along with senior officials from funding agencies of 11 European countries and the European Commission, gathered at Queen's for a unique conference.
Its subject: the world's most deadly infectious diseases and the latest findings to shape future treatments.
The conference marked the closing of the four-year INBIONET – Infection Biology Training Network – funded by the Marie Curie Initial Training Network Scheme and coordinated by Queen's, but it also signalled the beginning of the new EU agenda on infectious diseases for the next five years.
WORLDWIDE RECOGNITION
The conference was hosted by Professor Jose Bengoechea, Director of the Centre for Experimental Medicine (CEM) at Queen's, one of the three leading research centres which make up the University's Global Research Institute for Health Sciences. His research into combatting the multidrug resistant microbe Klebsiella pneumoniae – one of the hospital superbugs – is recognised worldwide.
Jose says, 'We're focusing on one group of microbes that cause respiratory infections that affect one per cent of the population every year. We've seen headlines that tell us that by 2050 one person will die every three seconds in the world because of antimicrobial resistance. We call this the microbe-body arms race.'
His laboratory has uncovered the foundation for new therapy with the potential to save thousands of lives in the UK. Jose says, 'The approach we established was – instead of trying to identify new drugs or new antibiotics, let's try to help our body and our defences do their job. We started by asking basic questions – why our lungs are not capable of clearing infection, what the microbe is doing to prevent that.
'We now have a much clearer picture of how the microbe is counteracting our defences. Our idea for the next five years is to keep going with the fundamental questions but at the same time we're moving forward with this basic science knowledge to a clinical phase and we hope to run the first trials.'
A COMMITMENT TO MICROBIOLOGY
Jose's commitment to this field began when he was a student at the University of Navarra in Spain. 'I was interested in microbiology. I wanted to find out why the microbes were infecting us.'
After finishing his PhD, he moved as a postdoc to Turku in Finland to be trained in molecular microbiology. His first independent position was at the University Hospital in Palma Majorca and when the Spanish Research Council set up a new centre there on respiratory diseases he became director of one of the Infection and Immunity research programmes.
He came to Queen's in 2013 and became Director of CEM three years later. 'What attracted me was the environment, the quality of the research, the ambition of the University.'
CONTINUED AMBITION
That ambition continues in the new Centre, the £32m Wellcome-Wolfson building which opened in 2015. It houses 50 research groups committed to translational impact on respiratory disease, eye disease and infectious diseases and addressing global issues such as diabetes, asthma, acute respiratory distress syndrome, cystic fibrosis and antimicrobial resistance.
Jose says, 'We're not going to cure everything, we're not going to investigate everything. We have world-class expertise in these particular world health problems so it makes sense to focus on that.
'The new building is magnificent but what is more important is what happens within it. It's about the people and how they take on the ambition and the ideas. It's a challenging role for me as Director but my attitude is – we are a community. We do things together.

'This is a multidisciplinary centre. With so much expertise from so many different areas we can answer the big questions about these diseases and we can do it here in Belfast. We can really develop our global ambition and I think the Queen's Global Research Institutes are the perfect framework for that.'
---
Find out more about the research taking place at the Institute for Health Sciences and the Centre for Experimental Medicine (CEM)
2 February, 2017
Dr Cecilia O'Kane is a respiratory physician and researcher whose work is inspired by the voices of her patients.