Institute for Health Sciences
THE CELLS THAT MAY ANSWER QUESTIONS ON LUNG DISEASE
Dr Cecilia O'Kane is a respiratory physician and researcher whose work is inspired by the voices of her patients.
'They were coming to the clinic,' she explains, 'some of them with incurable conditions, and asking – Doctor, is there anything we can get involved in? We want to be part of the answer to this. That has been a real spur to me.'
A Queen's graduate, Cecilia undertook specialist training in respiratory medicine, followed by a PhD in tuberculosis at Imperial College London. Now a Clinical Senior Lecturer based within the Centre for Experimental Medicine, she says, 'I wouldn't have foreseen myself in academia at all until that time but I really enjoyed the process of research, asking questions and trying to answer them with a view to developing new treatments.'
RETURN TO BELFAST
She returned to Belfast to finish her clinical training but she says, 'I really wanted to continue asking those questions. For people who live with chronic ill health, there are patients' groups who build up a sense of community, who are really very focused on understanding their condition better. They're volunteering to take part in studies and so it made me wonder – is there anything else they could take part in?
'That felt like a big deficit for me but it was also really inspiring and a real motivation. Here was something our patients wanted to do, here was a way to really help them but we needed to focus on delivering that.'
She applied for a Clinician Scientist Fellowship from the Department of Health, looking at structural lung remodelling in patients with chronic inflammation, particularly cystic fibrosis.
'That allowed me a five-year period of protected research time so I was able to focus on developing a programme. Around the same time, a colleague was building a group in intensive care research and together we began looking at different mechanisms of lung inflammation and lung damage. That led to a wider group around critical care and respiratory research, working right through from the lab to clinical trials.'
ORBSEN THERAPEUTICS COLLABORATION
Cecilia has now developed research in collaboration with Orbsen Therapeutics, a biomedical company in Galway, into a new treatment for patients with acute respiratory distress syndrome (ARDS), a condition that affects over 20,000 people in the UK each year. It is looking at the use of mesenchymal stromal cells (MSCs) which can reduce inflammation, fight infection and improve repair of injured tissue.
But what is novel about this research is that it will be using cells taken from the umbilical cord. 'It has lots of MSCs and because they come from baby tissue they are young and healthy. They are also very powerful and so we are planning a clinical trial with intensive care patients.
'These cells can teach your own immune cells to take up bacteria better, they can teach tissue to heal and they have direct anti-inflammatory effects. That's a unique set of properties. No tablet or medication we might give can do all of those things at the one time.

'A treatment that reduced death and longterm disability from ARDS would have major healthcare impact. The MSC story in intensive care is very exciting and it may give us important information about how MSCs work and open up the potential for further use.'
She says, 'For Queen's, respiratory medicine is a key area, one of the pillars of the Institute for Health Sciences, and the environment at the Centre for Experimental Medicine allows you to really work as a team.
'You can't do these things on your own. You need lots of people with different backgrounds and skillsets but all with a common interest. The synergy you can achieve by working together is a very powerful strength.'
---
Find out more about the research taking place at the Institute for Health Sciences and the Centre for Experimental Medicine (CEM)
2 February, 2017
Dr Andriana Margariti had a choice of which lab to go to during the final semester of her Masters in biomedical science (haematology) at Kingston University. 'But as soon as I saw that one of the projects was stem cells, that was it.'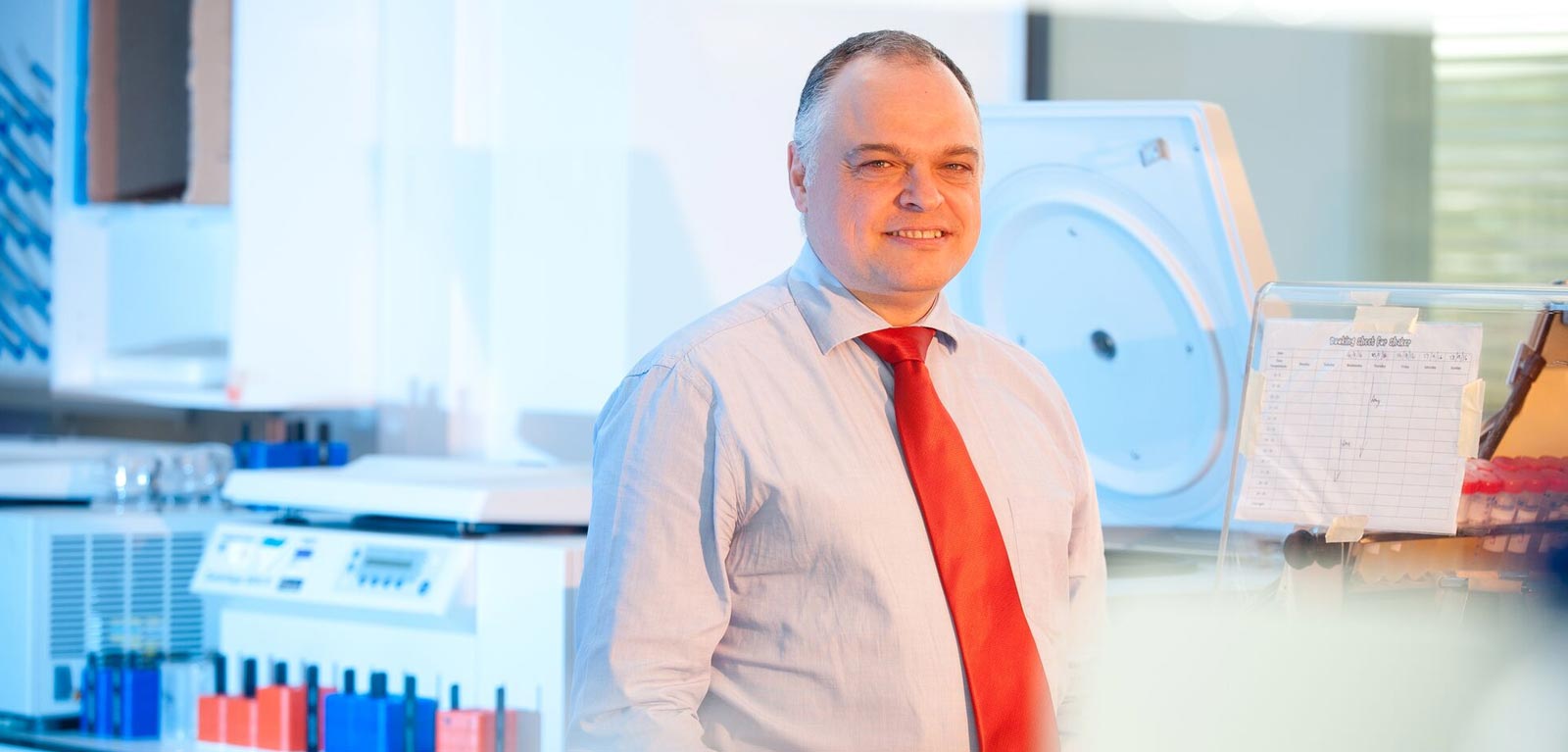 2 February, 2017
In September 2016, more than 100 international delegates, along with senior officials from funding agencies of 11 European countries and the European Commission, gathered at Queen's for a unique conference.