The Ormeau Parklet
Since June 2020, Dr Rachel O'Grady and Dr Agustina Martire have been working as partners of the Ormeau Parklet, a collaborative project to deliver a prototype of pavement expansion that supports social distancing and improves quality of public space.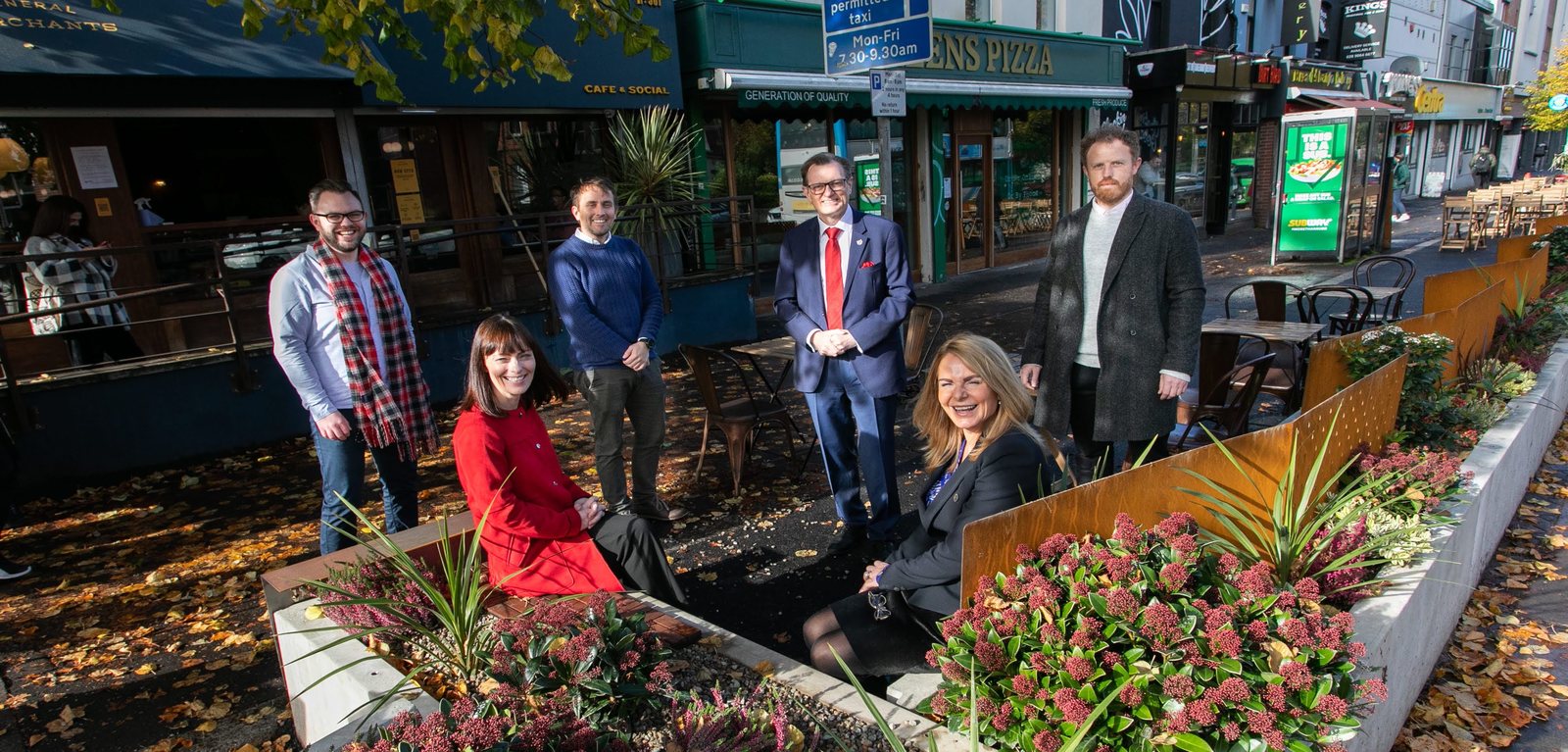 The project is more than a technical prototype: it tests a new model through which urban design can be implemented via cross-sectoral partnership in Northern Ireland. The partners include Belfast City Council, Department for Infrastructure, Belfast Buildings Trust and local architecture practices. This innovative and ambitious method of partnership has been fruitful, delivering the city's first "Parklet", generating an enormous amount of public interest in urban design and widespread support for further, similar projects.
Dr O'Grady and Dr Martire have been involved in the Ormeau Parklet since its inception. They teamed up as a grassroots initiative with Belfast Buildings Trust, OGU Architects and MMAS Architects to initiate a small scale intervention that would deal with some of the challenges of the pandemic and the ongoing need for quality public spaces in the city: this resulted in the transformation of parking spaces on Ormeau Road, Belfast into extended pavements to support social distancing. This is supported by long established research by both academics, who investigate and work with public spaces and people-led places in Belfast and beyond. Dr O'Grady co-designed and led the research behind the Built: East Pavilion at C.S. Lewis Square in east Belfast: an investigation into the role temporary architecture can play in the city's public spaces.Dr Martire runs the StreetSpace project, which works in collaboration with academia, government and local communities to analyse streets and fulfil their potential to be people-centred, accessible and inclusive public places.
As each city continues to put together strategies for keeping people safe during this pandemic, consideration has turned to the impact of public health requirements on urban space. Engaging decision-makers and stakeholders in trialling temporary urban solutions is key to a successful recovery but effective engagement is difficult for both local authorities and designers. At this moment in time, Dr O'Grady and Dr Martire were uniquely placed to partner with the architects, BBT, DfI, BCC, IMTAC, local businesses and stakeholders in order to bring refined methods of urban engagement into a trial prototype project with rigorous impact assessment.
The project looks past short-term safety towards improving the quality of the public realm. It is hoped that this holistic example will be followed by others. The role of Queen's University Belfast has been key to building trust with members of the public in order for the project to take place, which has highlighted to other partners that the university can play a unique role in urban consultation:
"I like that it's a trial. It helped overcome some of my concerns to know that there's a study going on around it" - Carol, local resident and participant in the community planting event
Dr O'Grady, Dr Martire and students from the StreetSpace project are now in the process of measuring the impact of the parklet and analysing the feedback from the public to assess its success. This is a pilot project that could be rolled out in other parts of Northern Ireland and the research on its impact is instrumental in the potential future of such projects. Some testimonials from the businesses and public support the prototype:
"It will definitely give more people the confidence to come out and has really helped with some of the issues around social distancing already. I was apprehensive about it all at first, but really think it's been a great outcome. I think it's great altogether!" Allison, local resident
"The Parklet is totally the kind of concept that we need in Belfast. Let's be optimistic about it. I think it's a great idea, and even better that it's a trial. There's been a lot of change talked about on the Ormeau Road in the last few months. It's great that these guys have put their heads together and got on with things. It hasn't all been easy, but it's good to see
support for business recovery when times are so challenging for everyone." Joe, Manager at local eatery "I am delighted that my Department is able to support this initiative and I'd like to commend the Belfast Buildings Trust, my officials and all the partners on the amazing job they have done to develop and deliver this innovative collaborative project" Minister Nichola Mallon, Department for Infrastructure.
The Parklet's Instagram https://www.instagram.com/ormeauparklet/
Agustina's StreetSpace Research: https://www.streetspaceresearch.com/about
Built: East Pavilion: https://www.ribaj.com/culture/the-built-east-pavilion-belfast-ogu-architects-donald-mccrory-hugh-pearman
The Ormeau Parklet covers all areas recognised in the Engaged Research Action Plan. Dissemination in terms of a built project that is exposed to many different sorts of publics; Dialogue, in the process of development, design, procurement, building and impact of this parklet and future possible parklets; Consultation, as a trial, the parklet is a consultation in and of itself, and this is carried out through strict ethically approved quantitative and qualitative methodologies; Collaboration and Partnership are the very base of this project, each one of the stakeholders involved in this project is essential in its delivery, and the Parklet would not be possible without the participation and support of each one of them.