Driving engineering-led solutions to economic and social challenges.
Our world-leading researchers focus on sustaining a pipeline of world-leading basic science that delivers impact through commercialisation and knowledge exchange.
We work with partners across the University, regionally, and beyond, to transform a dependency on traditional manufacturing into a knowledge-based, data-driven economy. Influenced by the UN Sustainable Development Goals, we have eight core research topics.
CORE RESEARCH TOPICS
| | |
| --- | --- |
| | The Centre for Secure Information Technologies (CSIT) is home to the UK's largest cyber-security research cluster, and its work protects the online activity of billions of internet users around the world. It has developed breakthrough innovations, including anti-counterfeit technology to prevent internet fraud; and new processors to deliver filtered internet to homes and businesses, stripping out viruses and malware. |
| | We are investigating advancements in Artificial Intelligence and the computational challenges relevant to the big data phenomena. Our researchers are using core machine learning and data science to get insight and prediction from data in heterogeneous forms from billions of sources. Combined with expertise in emerging large scale and edge architectures, we are working to provide this generation with AI at Scale, helping to break through current limitations in medicine, security, sustainability and commerce. |
| | Developing innovative and crucial global transport solutions, Queen's is a world-leading research centre for heavy duty hydrogen powertrain technologies - critical in moving towards a net-zero future. We are also coupling advanced simulation methods with new design, material and manufacturing processes to improve the physical, environmental and economic performance of future aircraft systems. |
| | Developing novel turbomachinery, after-treatment, power systems, biofuel and waste management technologies for improved environmental performance of next generation engineering products. Investigation of resources, conversion processes and impacts of alternative energy technologies and integrated renewable energy systems. |
| | |
| --- | --- |
| | Our manufacturing research focus is on developing methods for advanced automation, materials processing and product life cycle technologies for long-term manufacturing economic and environmental sustainability. The research integrates new material, process and machining technologies for a wide range of industrial sectors, including aerospace and automotive. |
| | Technological and societal changes are transforming the nature of infrastructure. Our research priorities are guided by global challenges and a need to meet sustainable development in our built and natural environment. We look at future sustainable cities which are agile and future ready (e.g. for near zero energy autonomous vehicles), technological innovation for digital transformation of civil engineering, and affordable, reliable and environmentally sustainable marine renewable energy. |
| | We are world leaders in ionic liquids – liquid salts that act as a clean alternative to more polluting solvents, as they do not release fumes. Our work is helping the UK chemical industry move to greener and more profitable production. Our research, strongly rooted in ionic liquids, extends beyond to other advanced liquid and amorphous materials, such as ionogels, deep eutectic solvents and zwitterionic salts. Our research is interdisciplinary, with the focus on addressing the most urgent technological challenges of our times. |
| | Exploring the design, analysis, manufacture, physical and virtual testing of advanced damage tolerant, multifunctional and nano-enhanced composite materials and structures. Development of new materials, products and processes for the medical devices and drug delivery industries. |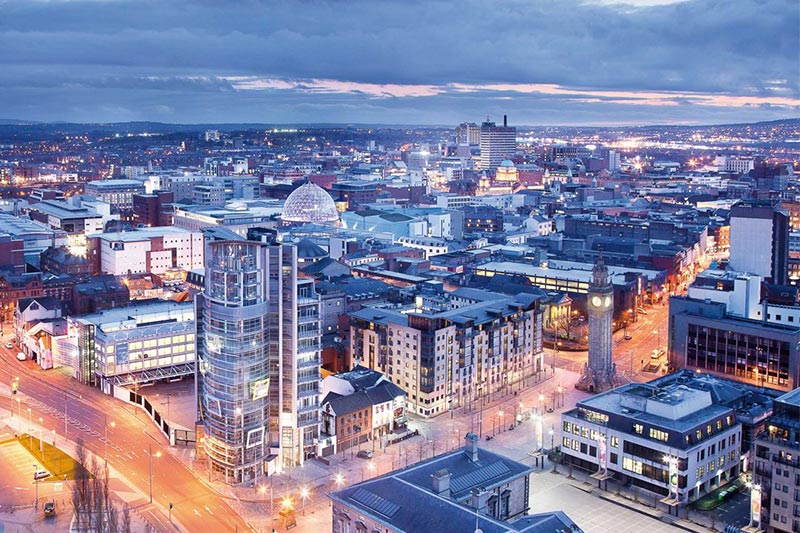 Working in partnership across industry to deliver global impact
For two successive years (2019, 2020), Queen's has been ranked first in the UK for commercialising academic research (Octopus Ventures).
Our large scale engagement with industry, is evidenced by the contribution of nearly half of the University's 133 Knowledge Transfer Partnerships (KTPs), and has added an estimated gross value of £55M to the economy. Currently 1954 employees are employed in 37 active spin out companies and four of our spin-out companies have secured over £76M in venture capital investment.
Our research is funded by Invest NI's Competence Centre, EPSRC, INTERREG VA Programme, the UK Government and other high-quality funding.
Our Centre for Secure Information Technology has played a major role in establishing the region's world-recognised status in cybersecurity. It is a founding partner in the Global EPIC3 world-wide network of 24 cybersecurity research and innovation ecosystems, in the London-based Cybersecurity Innovation Centre (LORCA), and has helped in creating 1,600 jobs across 40 Northern Irish companies.
International Collaborations
We are a founding member of two major international collaborations and have collaborated widely across the globe.
The UK-Jiangsu 20+20 World Class University Consortium (involving 20+ Chinese and 20 UK universities) focused on advanced manufacturing, environmental engineering and healthcare and; the UK-China University Consortium on Engineering Education and Research (involving 6 UK partners) focused on areas of energy and intelligent manufacturing.
We have engaged in over 15 US-Ireland tri-nation collaborations, engaging with Universities such as Alabama at Birmingham, Central Florida, Georgia Tech., Minnesota, New York, North Carolina State University, Purdue, Rice, University of Texas at Dallas, Utah, Virginia Tech, University College Cork, Trinity College Dublin, and University College Dublin.
Other collaborations include LowCoPreCon with the University of Malaya and Monash University Malaysia and iGIVE with the Harbin Institute of Technology and State Grid Electric Power Research Institute in China.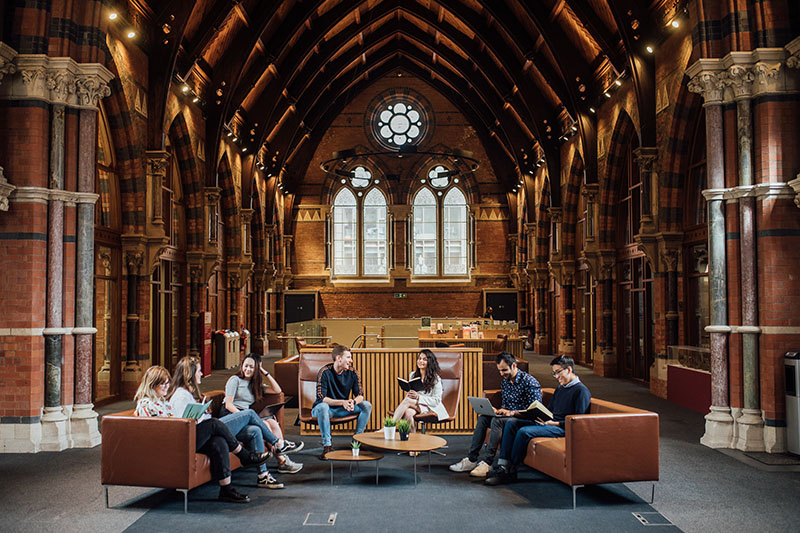 Support and Development
There is a vibrant and highly supportive research culture across the University with 300 academics and researchers working in this field.
We have adopted a Postdoctoral Development Centre model which provides discipline-specific advice and guidance, promotes a positive culture, and facilitates a community for all researchers. Part of our £1M Global Challenge Research Fund (GCRF) has been ring-fenced for ECRs to allow funding of pilot projects and/or networking events with collaborators in development assistance countries.
The Queen's Fellowship Academy provides professional and career development for research fellows in the early-stage of their careers with research interests that align with current research strengths at Queen's.
Our Graduate School is a vibrant hub for intellectual development, exchange and collaboration, supporting postgraduates to be thinkers, communicators, innovators and leaders who are future ready.
Research Infrastructure and Facilities
We invest millions in the development of our research facilities to ensure that our staff, students and collaborators have the very best equipment.
We have established and implemented a number of major initiatives including a £50M R&D Engineering Centre of Excellence for Biomedical Applications (with Randox Laboratories), a £33M 'Strength in Places' project (with Artemis Technologies), a £10M 'phase 2' Innovation and Knowledge Centre, a €9.3M Bryden Centre for marine and bio-energy research, and a £5M cross-disciplinary William Wright Technology Centre in transport technology.
The establishment of the £5M Tier-2 Northern Ireland High Performance Computing Centre to support data analytics reflects the institution's joint strength with Ulster University in data analytics, which in terms of research power was ranked by the Alan Turing Institute as 6th in the UK.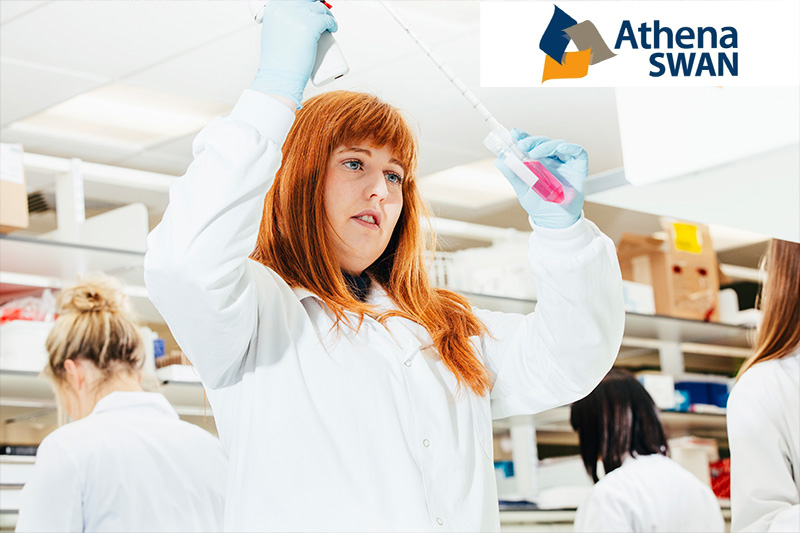 Promoting Equality and Diversity
The Schools of Electronics, Electrical Engineering and Computer Science, Mechanical and Aerospace Engineering and Chemistry and Chemical Engineering hold Silver SWAN awards.
This achievement represents one of the strongest engineering returns in the UK. This Award requires all staff to complete an e-learning equality and diversity training programme ("Think difference, Act differently").
Since 2018, we have led the EPSRC-funded SENSE Network partnership on 'Inclusion Matters' with the universities of Warwick and Glasgow. The mission is to improve Schools through connecting people to support collegiality, equality and inclusion, understand the attitudes of academics towards gender equality initiatives and build training tools aimed at improving their perception in engineering and physical sciences.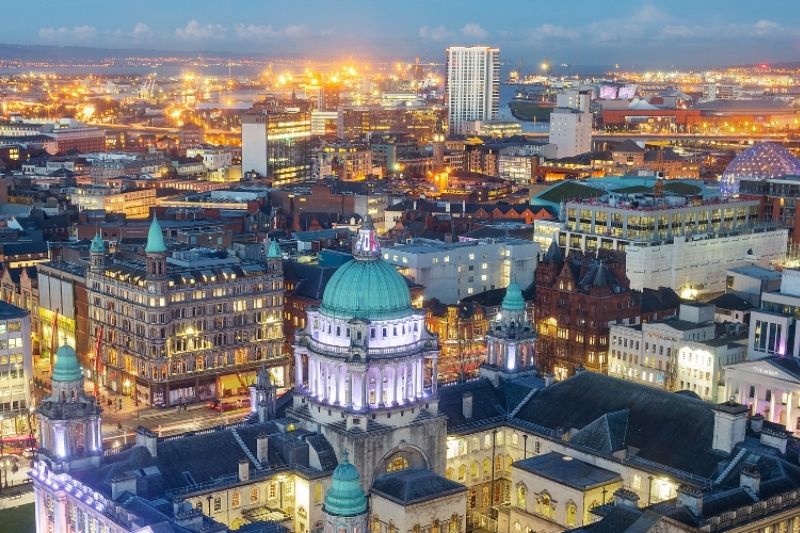 Looking to the future
Queen's is a key partner in the Belfast Region City Deal, a £1 billion investment, brining regional government, industry and universities together to develop Northern Ireland's economy and society. We are leading two of the five projects, namely the creation of a Global Innovation Institute (GII) and an Advanced Manufacturing Innovation Centre (AMIC).
GII is a £53.4m project which aims to catalyse digital innovation in key sectors within the Belfast region through creating challenge-led solutions for the data-driven economy; and by providing domain-specific expertise across the One Health spectrum.
AMIC, a £87M project, will be the springboard for innovation in manufacturing in Northern Ireland, primarily focused on working with companies based in advanced manufacturing and materials engineering.
These activities will drive digital innovation and sector growth, supporting Northern Ireland businesses, and create a transformational £190m proposition for new R&D facilities in AI and data analytics.
Innovations in Engineering for a changing world:
Infrastructure for a changing environment: Major research will be undertaken with the aim to develop smart and resilient natural and built infrastructure solutions for our changing environment in order to drastically reduce carbon emissions, whilst also adapting to extreme weather events resulting from climate change. Solutions explored will be in advanced low carbon materials, full implementation of the circular economy, effective restoration of peatlands and the development of clean marine renewables.
Creating a productive and resilient society: Resilience will be ensured by the transition to low-carbon heat and by developing future transport solutions. The activities will build upon the research and development strengths of the Northern Ireland Advanced Composites and Engineering Centre, the Northern Ireland Technology Centre, the Polymer Processing Research Centre, the William Wright Technology Centre, the Queen's University Ionic Liquids Laboratory and associated Pioneer Research Programmes.
Improved health: In healthcare, we will continue to build on our strong interdisciplinary ties to devise innovative healthcare solutions, such as with the School of Pharmacy through MATCH and on the responsive work to Covid such as the software development in the successful rollout of track and trace and the asymptomatic testing in Northern Ireland. We will enhance this activity through the Health Innovation Research Alliance Northern Ireland, established to drive and support ambitious growth in Northern Ireland's Life & Health Sciences sector.