Public attitudes to minority ethnic communities
Dr Paula Devine sets out an overview of research undertaken by ARK into attitudes towards migrant and minority ethnic communities in Northern Ireland.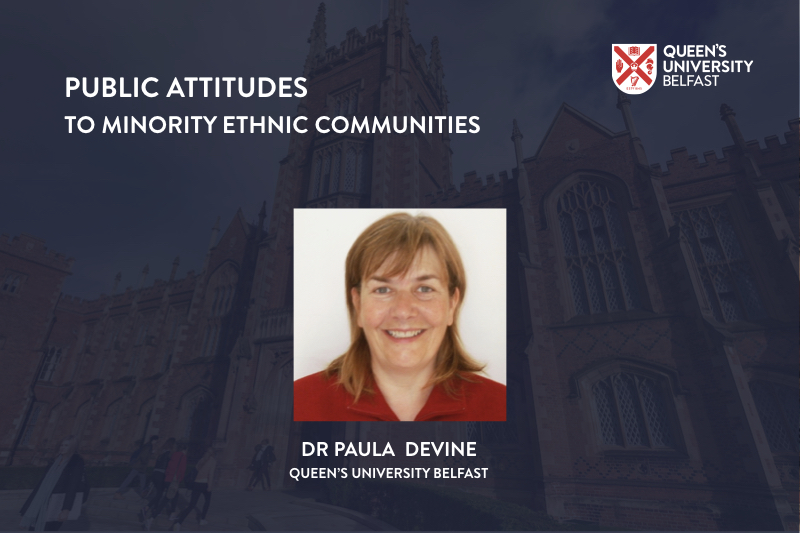 Public attitudes surveys are an important indicator of opinion and behaviour. Importantly, attitudes can shape policy, and vice versa.
ARK (a joint initiative between Queen's University and Ulster University) has run a suite of three annual cross-sectional surveys which record public attitudes to key social policy issues. Where possible, questions are repeated over time, thus providing an important record of how attitudes have changed or not over time.
The Northern Ireland Life and Times (NILT) began in 1998, and asks the views of a representative sample of 1,200 adults living across Northern Ireland (www.ark.ac.uk/nilt).
The Young Life and Times (YLT) survey began in 2003, and focuses on the lives of 16 year olds (www.ark.ac.uk/ylt)
The Kids' Life and Times survey began in 2008, and records the attitudes of 10-11 year olds (www.ark.ac.uk/klt)
Topics include perceptions of racial prejudice (at individual and societal level), friendship patterns, acceptance of people other communities in a range of scenarios, attitudes to migrant workers, asylum seekers and refugees. Each year, tables of results for each survey are made available on the survey websites, along with relevant publications. A comprehensive list of survey questions and resources related to attitudes towards minority ethnic communities is available on the ARK site here.
Analysis of the 2019 survey data showed that 16% of YLT respondents said that they were 'very' or 'a little' prejudiced against people from minority ethnic communities, indicating that prejudice against other communities is evident in young people. This is important, given that attitudes shape our behaviour. In 2019, 45% of YLT respondents said that they have personally witnessed racist bullying or harassment in their school. While 29% of YLT respondents socialise or play sport with people from a different ethnic background to themselves, 33% did this sometimes, and 34% did so rarely or never.
There is public awareness that racial prejudice exists in Northern Ireland (NI). In 2016, 39% of NILT respondents thought that there was 'a lot', and a further 47% thought that there was 'a little'. More recently, in 2019, 30% of NILT respondents thought that there is more racial prejudice in Northern Ireland now compared to 5 years ago, 33% think it is about the same, and 24% think it is less now. However, the proportion of people describing themselves as 'very prejudiced' (4%) or 'a little prejudiced' (25%) is much lower than the proportion saying that they are 'not prejudiced at all' (69%).
A consistent pattern within the NILT data over the past 15 years is that there is a hierarchy of acceptance of different groups depending upon the level of personal contact involved (social distance). While most respondents would be willing to accept someone as a tourist or a local resident, they are less accepting in terms of friendship or relative by marriage. Importantly, there is a hierarchy of acceptance according to background. Thus, acceptance is higher in relation to Eastern Europeans, followed by Muslims. Acceptance is lowest in relation to Irish Travellers.
In 2019, 65% of NILT respondents thought that it is the duty of NI to provide protection to refugees who are escaping persecution in their home country. However, a much lower proportion (39%) thought that Northern Ireland welcomes refugees.
Attitudes towards different groups can be shaped by many factors, including knowledge of culture. NILT data suggests a lack of knowledge: in 2019, 37% disagreed with the statement 'I personally know quite a bit about the culture of some minority ethnic communities living in NI'.
For more information about these surveys visit the ARK website here.
Dr Paula Devine
School of Social Sciences, Education and Social Work
Media
Recommended reference for this page:
Devine, P. 2021. Public attitudes to minority ethnic communities. Blog post for Queens on Ethnic Minorities in Northern Ireland