The Transition To Clean Transport: A Code Red For Humanity
The sixth report from the Intergovernmental Panel on Climate Change (IPCC) has called climate change a 'code red for humanity'. It states that climate change has been driven by human actions, such as burning fossil fuels and deforestation. The report says that unless we take quick action, we are going to exceed 1.5 degrees Celsius, which would have a devastating impact on the world.
---
The transition to clean transport
Professor Juliana Early of the School of Mechanical and Aerospace Engineering at Queen's carries out research on clean propulsion technologies and clean transportation systems and will be taking part in events at COP26.
On 3 November at 11am she is part of an in-person panel discussion at the Science Show Theatre in the Green Zone exhibition area, which will be broadcast through the COP26 YouTube channel. She will be joining expert panellists from Translink, Wrightbus, Energia Group and Department for Infrastructure to discuss the need for strategic leadership and collaboration for driving transformative change to net zero in public transport.
On 10 November Professor Early will be participating in the UK Research and Innovation (UKRI) COP26 Exhibition in the Green Zone in Glasgow.
She recently spoke about the importance of shifting to clean transport.
Here are some of the key points she raised:
1. More people than ever are opting for electric cars, but significant infrastructure is needed to support a mass transfer
There has been an increase in the uptake of electric vehicles in the UK, with over 250,000 electric vehicles now on the road. This progress has been driven by government policy, changing consumer attitudes and a wider range of more affordable electric vehicles on the market.
However, investment into infrastructure is needed to support the mass transfer to electric vehicles. It's estimated that 1.7 million public chargers will be needed by 2030, which would cost around £17 billion.

2. We need to focus investment and research into public transport
Public transport systems need to be reimagined if they are to be as clean and efficient as possible. There are significant challenges to be faced due to the range of vehicles involved and a whole new infrastructure will need to be put in place.
A joined up planning process is required if we are to make public transport more clean and efficient. This would involve a significant amount of stakeholders including operators, manufacturers, energy supply networks, public health professionals, social policy transition analysts and more.

3. More research and investment is needed into heavy goods transportation
Although heavy duty vehicles will be subject to the same emissions policies as cars, they have not received the same amount of investment to transfer to clean technologies. It is estimated that research and investment into the heavy-duty sector is about ten years behind that of the car sector.

4. New technologies will allow us to shift towards the Internet of Vehicles
We have an opportunity to make sure transport is smart and not just clean. An 'Internet of Vehicles' is a kind of social network of vehicles where they interact and share information to improve efficiency, service quality and overall quality of living. One way of doing this is embedding sensors into vehicles like buses that could monitor degradation of critical infrastructure, such as roads.
Queen's research into clean transport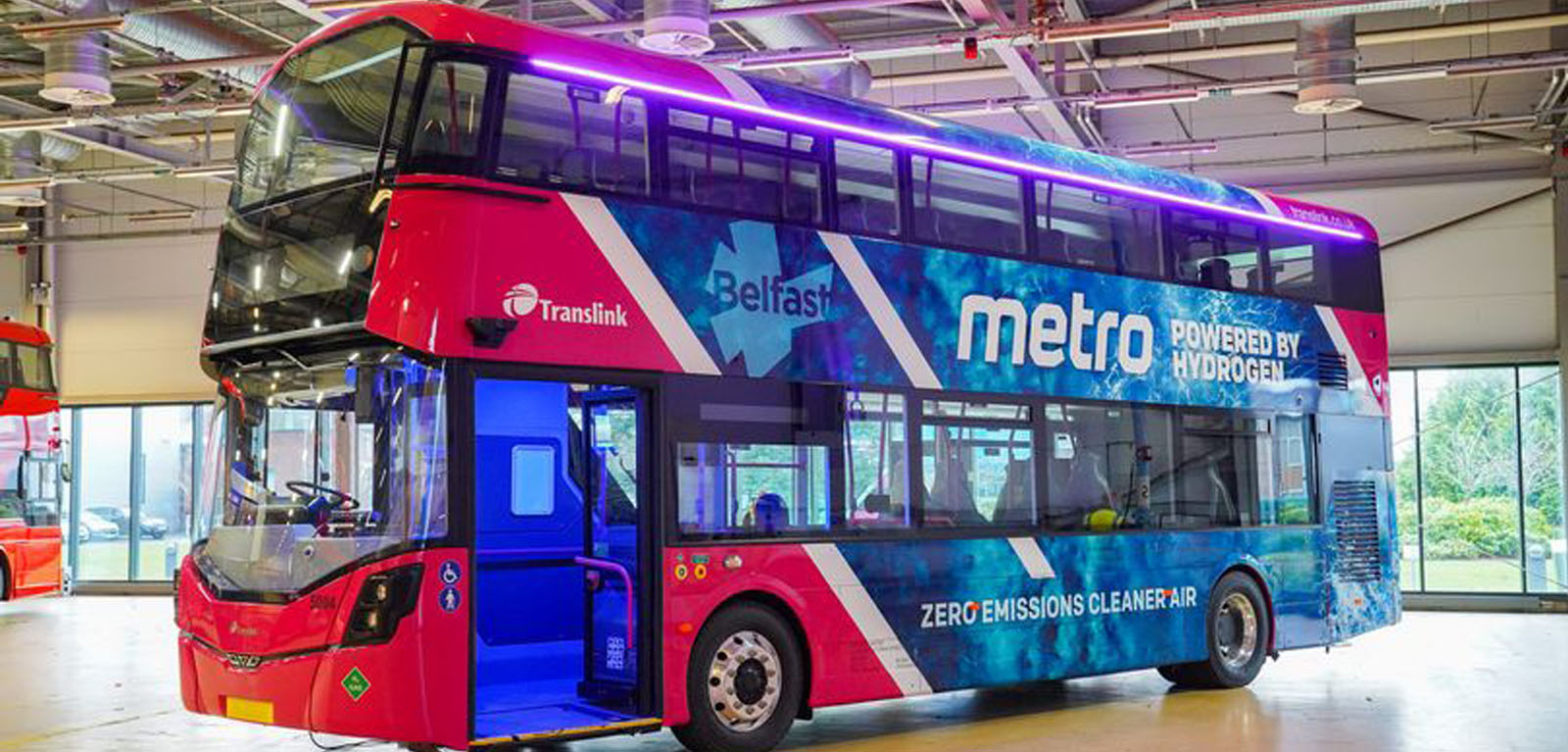 Future transport
Queen's is a world-leading research centre for heavy duty hydrogen powertrain technologies - critical in moving towards a net-zero future.
However, we work across all aspects of transport technologies, coupling advanced simulation methods with new design, material and manufacturing processes to improve the physical, environmental and economic performance of vehicles including future aircraft systems and advanced maritime vehicles.
Developing the next generation of hydrogen buses
If the UK bus sector moved to zero emission technologies, there is the potential to prevent the release of 3.2 million tonnes of CO2 and avoid nearly 4,000 million litres of diesel imports over the next ten years. The adoption of hydrogen technologies is crucial to this and we are working with industry experts on an £11.2m project to develop the next generation of hydrogen buses.
Clean energy
Queen's is developing novel turbomachinery, after-treatment, power systems, biofuel and waste management technologies to improve the environmental performance of next generation engineering products. We are also carry out investigations into resources, conversion processes and the impact of alternative energy technologies and integrated renewable energy systems.
---
Addressing Global Challenges
Excellence in research and innovation, and making a positive global impact, are central to what we do at Queen's University Belfast. Find out more.