Short Story Competition 2021
The Seamus Heaney Centre at Queen's
Short Story Competition 2021
Open to Students at High Schools in India
WRITING COMPETITION FOR SCHOOLS
English Studies at Queen's has an extraordinary heritage, as represented by its globally esteemed writers, such as Nobel Laureate Seamus Heaney and T.S. Eliot Prize recipients Paul Muldoon and Ciaran Carson, among others.
Situated in the heart of literary Belfast, it ranks among the top 100 English departments world-wide (QS World University Rankings 2021).
We are pleased to announce the winners of our short story competition, as follows:
First Prize:
'Fingerprints', by Gyanepsaa Singh (Hiranandani Upscale School)
Runners-up:
The Seamus Heaney Centre at Queen's is therefore pleased to launch an inaugural short story writing competition for high school students from India, with prizes as follows -
Overall Winner - £200 Cash Prize and a Trophy to be retained by their school.
The winning student will have the opportunity to have their work showcased through Jaipur Literary Festival.
Two runners up - £50 cash prize each.
*All students, whose entries are submitted by their schools, will receive a printed copy of 100 Poems by Seamus Heaney.
Deadline for short story submission: Friday 15 October 2021, 5pm BST
Schools to submit students' entries (maximum two entries/school) by this date.
SEAMUS HEANEY
Seamus Heaney received the Nobel Prize in Literature in 1995 and his first volume of work Death of a Naturalist (1966) is among his best-known works and is recognised as one of the principal contributors to poetry during his lifetime.
Seamus Heaney studied and subsequently lectured in English Language and Literature at Queen's University Belfast. After attending Queen's, he began to publish poetry.
ABOUT QUEEN'S UNIVERSITY
Queen's University Belfast is one of the leading universities in the UK and Ireland with a distinguished heritage and history.
Founded in 1845 as Queen's College Belfast, we became an independent university in 1908. Today, we are ranked 200 in the world (Times Higher Education World University Rankings 2021), and a member of the Russell Group of UK research intensive universities, combining excellence in research and education with a student-centred ethos.
COMPETITION DETAILS
The competition is open to students in years 11 and 12 who attend high schools in India.
Students are invited to submit a piece of creative writing in the form of a short story (between 1,500-2,000 words) – any theme.
*Students' entries must be submitted by their school and these are limited to TWO entries per school.
Please view the video opposite to find out more details about the competition
TIPs ON WRITING SHORT STORIES
Discover helpful tips and writing techniques from our esteemed panel of experts:
Louise Kennedy, Ciaran Carson Writing Fellow
Michael Shannon, Development Producer for BBC Northern Ireland
Kelly McCaughrain, Children's Writing Fellow
Professor Glenn Patterson, Director of the Seamus Heaney Centre at Queen's
Please view the video opposite to hear more from our panel.
JUDGING PANEL

Judges

Professor Glenn Patterson (Director of Seamus Heaney Centre)

Glenn has written three works of non-fiction including Backstop Land (2019), and ten novels, most recently Where Are We Now? (2020). With Colin Carberrry, he co-wrote the film Good Vibrations, for which the pair were nominated for Outstanding Debut at the 2014 BAFTA Film awards. He has written plays for Radio 3 and Radio 4, and with composer Neil Martin, he wrote Long Story Short: The Belfast Opera in 2016.

Kelly McCaughrain (Seamus Heaney Centre Children's Writing Fellow)

Kelly McCaughrain is a Young Adult writer from Belfast. She studied Creative Writing at Queen's and mentors young writers at Fighting Words. Her first novel, Flying Tips for Flightless Birds, was nominated for the Carnegie Medal, and won the Children's Books Ireland Eilis Dillon Award, Children's Choice Award and Book of the Year Award 2019, and also won the Northern Ireland Book Award 2019.

Louise Kennedy (Ciaran Carson Writing & the City Fellow)

Louise Kennedy is a prose writer, and one of the inaugural Ciaran Carson Writing and the City Fellows at Queen's. Her publication record includes fiction in journals such as The Tangerine, The Stinging Fly, Banshee and Winter Papers, food writing for The Guardian and Irish Times, short scripts for RTE Radio 1 and a commission for BBC Radio 4 Short Works. Her stories have won prizes and she was short-listed for Sunday Times Audible Short Story Award in both 2019 and 2020.

Workshop Contributors

Michael Shannon – BBC Producer

Lucy Caldwell (b. 1981, Belfast) is the multi–award winning author of three novels, several stage plays and radio dramas and, most recently, two collections of short stories: Multitudes (Faber, 2016) and Intimacies (forthcoming, Faber, 2020). She is also the editor of Being Various: New Irish Short Stories(Faber, 2019). She was elected a Fellow of the Royal Society of Literature in 2018.

TIMELINE AND HOW TO APPLY

Timeline

Deadline for submissions to Seamus Heaney Centre at Queen's – Friday 15 October 2021, 5pm BST (maximum of two entries/school).
The winners will be announced on Friday 17 December 2021.

How to Apply

Final submissions (maximum of two entries/school) to be emailed to: askahss@qub.ac.uk

See terms and conditions for full details.

Email submissions by 5pm BST on Friday 15 October 2021.

TERMS AND CONDITIONS

The Competition is free to enter

Please include the following information in each submission:

Student's full name
Student's date of birth
Student's Year Group
Teacher's contact email address
Student's school (name and address)
All entries must be typed or word-processed and written in English.

Amendments, corrections, and substitutions cannot be made to entries after they have been submitted. No correspondence or discussion about amendments, corrections or substitutions, will be entered into.

By entering the Competition, the entrant understands and agrees that they are bound by the Rules. QUB reserves the right to disqualify any entry if it has reasonable grounds to believe that the entrant has breached any of these Rules.

All entries must be the entrant's own original work.

QUB will only process students' personal information as set out here.

QUB accepts no responsibility for any entries that are incomplete, illegible, corrupted, lost, damaged, delayed or fail to reach it during the term of the promotion. QUB accepts no liability for entrants' failure to gain access to this Promotion due to technical difficulties.

QUB reserves the right to change any aspect of the Rules at such notice. Such changes will be posted on the University's Competition website as soon as is practicable.

QUB reserves the right to change the panel of judges without notice.

The judges reserve the right not to award the prizes, if, in their opinion, such action is justified for any reason.

Copyright and Permissions

The entrant will retain the copyright ownership of the short story they submit to the Competition.

However, by submitting the piece to the Competition, the entrant is deemed to grant to QUB a non-exclusive worldwide licence over the short story on a continuous basis and agrees that QUB may reproduce it, in full or abridged form, in or on: (a) printed QUB publications and journals;

(b) QUB websites, online resources and other electronic forms; (c) public displays, including exhibitions and murals in QUB buildings and elsewhere; and (d) any other media. There will be no time limit on use of the entrant's submission by QUB.

The overall winner and runners-up agree to provide a short bio and high resolution photo within 7 days of having been notified they are finalists.

The entrant agrees that the QUB has the right to use their full name and school for the purpose of identifying them as the author of their entry.

QUB will make all reasonable efforts to contact the winners. If a winner cannot be contacted or is not available, or has not claimed the prize within 21 of days of being contacted by QUB, QUB reserves the right to offer the prize to the next eligible entrant selected from the entries.

QUB does not accept any responsibility if winners are not able to take up their prize.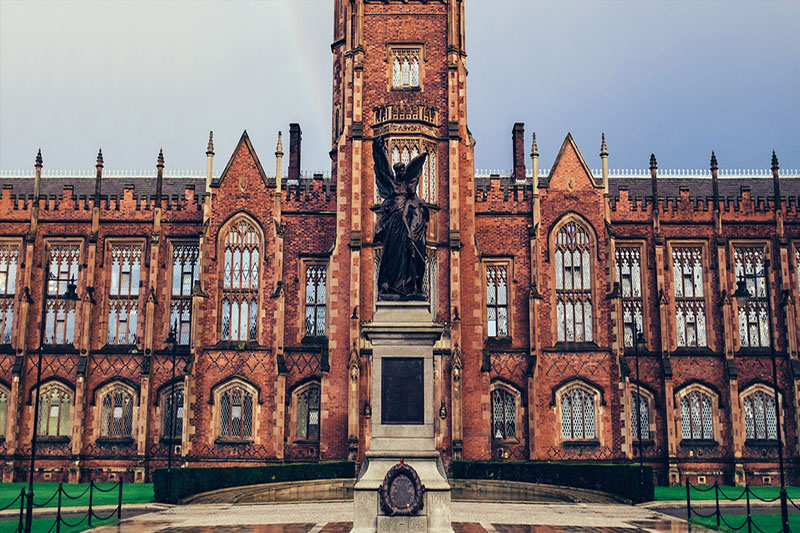 CONTACT DETAILS
If you have any questions or queries about the writing competition or Queen's, please contact us:
Email: askahss@qub.ac.uk