SUMMER SCHOOL (Arts, Humanities and Social Sciences)
APPLICATIONS HAVE NOW CLOSED.
Explore the buzzing Belfast scene with our unique Summer School - an engaging, high energy residential programme that's designed to stimulate and inspire.
Join us for a host of relevant cultural tours, social activities, and taster workshops with academics on significant themes such as sustainability, human rights, reconciliation, Brexit, global economy, and the arts.
• Open to Year 12 students from England, Scotland, Wales and Isle of Man.
• Apply online by 26 April 2022. Limited spaces.
• Cost: £250 (subsidised and all-inclusive).
ENGAGE. EXPLORE. EXPERIENCE.
Take the opportunity to explore a vibrant city and experience student life at our beautiful Russell Group University.
Engage in stimulating conversations and gain life-long insights across five key areas:
Arts, English & Languages | History, Anthropology, Philosophy & Politics | Law | Management (Business) | Social Sciences, Education & Social Work.
Taste the university experience and explore engaging subject themes
Enjoy a packed daily programme of interesting and engaging activities
Meet other students with similar interests from across Great Britain
Our subsidised cost includes accommodation, meals and all trips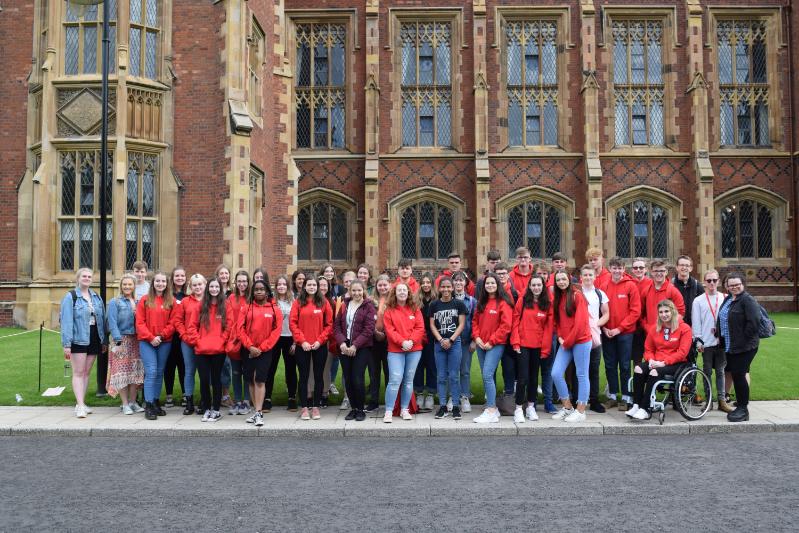 Important information for you
Accommodation: This is a residential programme and you will stay at Queen's 'Elms Village' student accommodation.
Costs: The cost of Summer School is £250, which includes tuition, accommodation, meals and trips. You will need to arrange and pay for your individual travel to/from Belfast.
Scholarships: Two scholarships are available to the best applicants. These include the £250 fee plus £50 towards travel costs.
Application closing date: Tuesday 26 April 2022
*Students will be notified if their application has been successful no later than two weeks after the application closing date.