Building for the Future
.
Architecture at an undergraduate level here at Queen's takes as its mantra the phrase 'Creativity with Purpose'.
As part of the Russell Group, Queen's is simply one of the best places to study Architecture in the UK. In 2014-2015, Queen's Architecture was ranked 1st in the UK for Student Satisfaction in The Sunday Times League Table and ranked 5th out of 45 Schools of Architecture in The Guardian League Table.
Supportive Academic Staff
Supported by a diverse group of staff and external tutors engaged in international, award-winning research and practice, over 75% of our students regularly graduate with a 1st Class or 2.1 degree. All students, many of whom come from outside the UK, receive a high degree of personal tuition in a strong studio culture in which every student has dedicated personal studio space.
A Wealth of Career Options
Our established reputation - generated over 50 years - means that our graduates are often placed with leading employers from around the world. They are those who will be leaders in their fields, creatively rethinking the past, present and particularly the future of our shared built environment.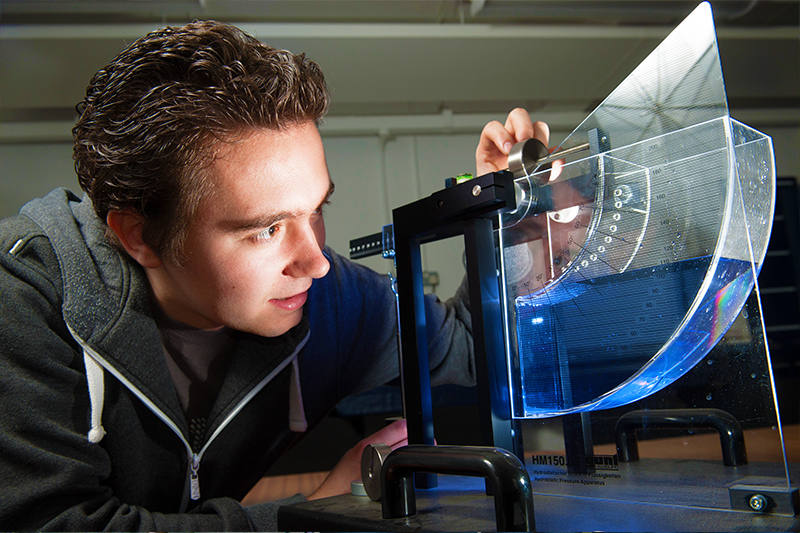 Students on this RIBA-recognised BSc have access to a well-equipped workshop and dedicated studio space throughout the length of their studies.
Would you like to receive more information on this course?
Register your details using the simple form below and we'll aim to respond to you personally within 24 hours.
Rather not? You can contact our recruitment team directly
Email askEPS@qub.ac.uk
Why choose Queen's
Ranked 200 in the world
(Times Higher Education World University Rankings 2021)
Competitive Fees
Queen's offers lower tuition fees than many other similarly well-regarded UK universities. (Natwest Student Living Index 2017).
Safe and affordable
Belfast offers the lowest cost of living in the UK and is the safest region in the UK. (Mercer 2016, British Crime Surveys, 2015/16).
Your Path to Being an Architect
Completion of the BSc Architecture constitutes Part I of the RIBA/ARB criteria leading to eligibility to sit Part II (MArch) and III, the Professional Examination and registration as an architect in the UK.
Career Options
Our Architecture graduates have ended up designing skyscrapers in Hong Kong and the Middle East, emergency housing for refugees in Africa, film sets for Hollywood productions and computer games, as well as working as urban planners worldwide, teaching in universities or becoming artists and photographers.
Industry-Focused
The focus of Architecture at Queen's is to investigate and develop the relationships between critical practice, design and research through the making of unique and challenging architectural propositions.
Student Experience
The programme is an active participant in Erasmus with links to established schools of architecture in Europe. Study trips - often to mainland European cities outside of Belfast - form part of the fabric of this course.