THE CORE SCIENCE
Chemistry is an essential science that underpins many areas of scientific endeavour, touches all aspects of daily life and is of growing importance in the future knowledge-based economy. At Queen's, Chemistry is taught in the School of Chemistry and Chemical Engineering - the only one of its kind in the UK - which is ranked in the top 10 for both subject areas for 2016.
Our Chemistry course options focus on the discovery of new pharmaceuticals and materials for tomorrow's world.
Our Chemical Engineering course options focus on the processes that make the products that modern society depends on.
We'd love to talk to you - register your interest using the simple form below and we'll be in touch: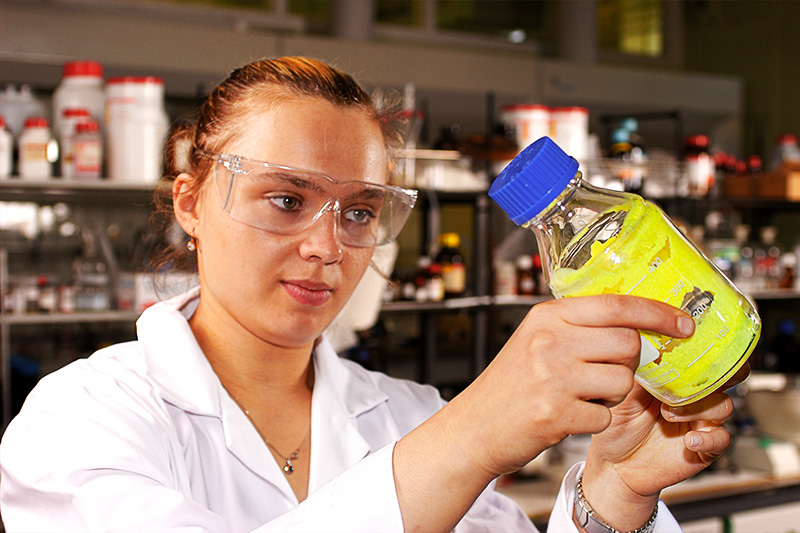 UG CHEMISTRY COURSES
With recent multimillion pound investments, and the appointment of many young and energetic academic staff, the School now offers excellent modular courses in Chemistry and Medicinal Chemistry.
All courses are recognised by both the RSC and the Institute of Chemistry in Ireland. The MSci in Chemistry is fully accredited by the RSC leading to professional membership of the RSC.
UG CHEMICAL ENGINEERING COURSES
Variety is the essence of a Chemical Engineering career: variety of product, variety of employment options and variety of location.
Chemical Engineering offers a wide range of employment options - from design, research and specialist engineering to manufacturing, marketing and management. It provides new and exciting opportunities for individual enterprise and career flexibility.
Undergraduate scholarships and funding options
We have several awards to assist undergraduate students with their studies here at Queen's. Scholarships, bursaries and grants are awarded to undergraduate students based on a range of factors including current and future academic achievement and need. Find out more >>
Why Queen's University?
The UK's ninth oldest university, Queen's is a member of the Russell Group of 24 leading UK research-intensive institutions. Queen's is also in the top 140 in the world for graduate prospects (QS Graduate Employability Rankings 2020) with almost 2200 international students from 59 different countries.
Over 96% of Queen's graduates are in employment or further study 6 months after graduation (HESA Destination of Leavers from Higher Education Survey, 2016/17).
Take a virtual tour of our campus: https://www.qub.ac.uk/virtual-tour/
Why Belfast?
Belfast is one of Europe's most friendly and fashionable regional capitals. Described by Lonely Planet as a 'must-see visitor destination', Belfast and the Causeway Coast were named the Number 1 region in the world to visit in 2018 (Lonely Planet 2017) and named the best UK city in The Guardian and Observer Travel Awards (2016).
In Mercer's 2017 Worldwide Cost of Living survey, Belfast was recognised as having the lowest cost of living in the UK, making it an ideal city in which to live, work and study. Find out more about Life in Belfast.
Thanks for your time - what next?
If you register your interest via the simple form above, a representative from the Faculty Student Recruitment Team will be in touch with you shortly.