Your first step into the world of Advanced Science...
Congratulations on your application to study either Mathematics or Physics to degree level, here in the School of Mathematics and Physics! Each year we invite students who have applied to study our degrees to visit us in person, on the central campus here at Queen's University Belfast.
As you are considering both Mathematics and Physics, in your visit you will get the opportunity to discuss your application and the different areas with academic staff, and talk to current students about studying at Queen's. You will be given a tour of the world-class facilities we have to offer, including the Maths and Physics teaching centre where many of our undergraduate classes take place.
In the morning you will learn about our physics degrees, and talk with current students and staff. After lunch, you will visit the Mathematics department to learn more about degrees in this subject and the range of studies that will be available to you.
Your parents/guardians are also very welcome to visit with you. They will be able to learn about the structure and content of your degree, will be given a tour of campus, and will have the opportunity to talk to senior members of staff.
Please note that spaces are limited on each UCAS day. Therefore to ensure your preferred date please confirm your attendance with us using the form below. The deadline for registration is midnight on the Sunday before your visit.
| Available Dates: | Time and Location: |
| --- | --- |
| Wednesday 26th February, 2020 | 10.30am-4.15pm, Main Physics Building |
| Wednesday 11th March, 2020 | 10.30am-4.15pm, Main Physics Building |
Please arrive at the Physics Department between 10:00am-10:30am. The event will start at 10:30pm, and finish by 4:15pm. Refreshments will be served throughout the day, and there will be a light lunch overlooking Botanic Gardens at 1:00-1:45pm.
You will also have the opportunity on the day to view the University accommodation at Queen's Elms at 4:30pm, this is a 10 minute walk or 5 minute drive from the main campus.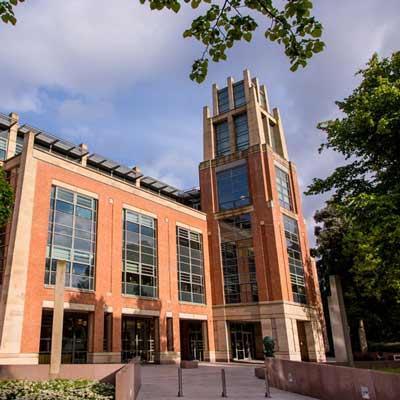 Event details
What to expect
Why Queen's
Meet the academics on your course of choice and view the state-of the art learning facilities.
Course details
Find out more about your Undergraduate Degree including course content, hours of study, assessment methods and career opportunities.
Employability
Learn more about the range of study abroad and employability opportunities.
Skills development
Speak with current students about their personal experiences and gain a real insight into what student life at Queen's could be like for you.