POSTGRADUATE APPLICANTS MINI-FAIR
Exciting times ahead...
Thank you for applying to study at Queen's University Belfast – Faculty of Engineering and Physical Sciences– you have applied for one of the following Postgraduate Masters Programmes:
Data Analytics

Materials Science

Psychological Sciences

Clinical Health Psychology

Applied Developmental Psychology

Mechanical Engineering with Management/with Professional Placement

Cyber Security/ with Professional Placement

Electronics/ with Professional Placement

Architecture (MArch)

Software Development Conversion

Pharmaceutical Analysis/ with Professional Industrial Placement

Planning and Development

City Planning and Design

Environmental Engineering

Construction Project Management/ with Professional Industrial Placement

Building Information Modelling Project Management

Future Urbanism
Advanced Architectural Design
We would be delighted if you could join us for our Applicant's Mini Fair on Thursday 6th May. The international sessions will begin at 12.00 PM BST and academic sessions will begin at 12.30 PM BST.
CLICK HERE TO REGISTER AND RECEIVE YOUR LINK
Choosing the right Postgraduate Programme and University is a major decision in your life and we are here to help you reach your full potential and to support you every step of the way. In order to help you make your informed decision with confidence and to answer any additional queries that you may have, our forthcoming applicant event is scheduled for:


THURSDAY 6TH MAY 2021 (12.00 PM - 14.30 PM BST)
ONLINE
We understand that undertaking postgraduate studies is a huge investment in many ways. No matter where you are at in the application process, this event is going to offer you an opportunity to:
Meet and hear from the academic course director of your course of choice,
Speak with current students about their personal experiences and gain a real insight into what postgraduate life at QUB could be like for you,
Ask direct questions during any of the talks you attend
Understand the employment opportunities and industry links that will become available to you
Understand the teaching and assessment methods on your course
Understand the structure of your course and modular breakdown
Understand our application process and put forward any queries you have.
Provide you with an insight into life in Belfast and our campus culture.
Please note, this event is open to all applicants and this invitation does not constitute or infer an offer to study at Queen's University Belfast. If your application is confirmed as unsuccessful before the event, you do not need to attend.
PLEASE REGISTER YOUR INTEREST USING THE SIMPLE FORM BELOW
(YOU MAY NEED TO SCROLL DOWN TO FIND THE SUBMIT BUTTON)
Image Gallery (1029342)
Image Gallery (1029341)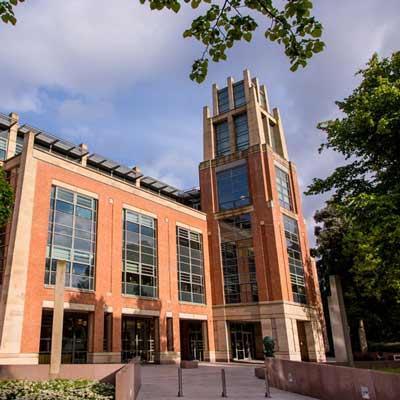 Image Gallery (1029340)
Image Gallery (1029339)
Why Queen's University?
The UK's ninth oldest university, Queen's is a member of the Russell Group of 24 leading UK research-intensive institutions and is ranked 8th in the UK for its world-class research output (REF 2014). It is also in the top one per cent of global universities.
Why Belfast?
Belfast is one of Europe's most friendly and fashionable regional capitals. Northern Ireland was described by the Lloyds Bank Happiness Index, 2020 as 'the happiest place to live in the UK'
In NatWest Student Living Index 2020, Belfast was recognised as having the lowest student rent in the UK, making it an ideal city in which to live, work and study.
Thanks for your time - what next?
If you have registered your interest in attending this event, we'll be in touch with more information as soon as possible. In the meantime, if you have any questions, please contact us at askeps@qub.ac.uk