Offering a style of living reflecting the transition from home to university life.

Our safe, modern accommodation also offers support, help and guidance on settling into student life in Belfast as well as the all-important space to live and enjoy undergraduate life to the full.
BELFAST CITY CENTRE ACCOMMODATION
LIVE IN THE HEART OF THE CITY
We've recently opened brand new student accommodation in the heart of Belfast city centre.

Conveniently located in the centre of Belfast and just 15 minutes from Queen's main campus, you can be neighbours with the famous Crown bar and the majestic Grand Opera House.

All our new apartments include modern shower rooms, a desk with lamp, use of a full kitchen, dining table and chairs, television and high-speed internet. You will also have free off-peak membership of Queen's Sport.
Student accommodation in Belfast
Queen's Accommodation: Elms BT9
Our dedicated accommodation for first-year undergraduate students, Elms BT9 gives you a safe, secure new home in Belfast and great opportunities to make new friends from all over the world
Elm's has a chilled-out community atmosphere and is just a 10-minute walk from the main campus and Students' Union on the leafy Malone Road. The Treehouse social space is at the heart of Elms BT9 and includes a coffee bar open each evening, study space, a shop, a laundry and an ATM.
Queen's Accommodation: Elms BT9
University is about more than academic achievement – it offers excellent opportunities to become involved in new activities. The Residential Life Team organises weekly programme of social events and outings.
Events are held in the Treehouse and other venues across campus and are open to all students at Queen's. Trips are arranged to visitor attractions all over Northern Ireland as well as regular events within Belfast, like weekend markets, Belfast Giants games and shopping trips.
Key benefits
• 24-hour security
• 24-hour reception at Elms BT9
• Support from the Residential Life Team
• Guest policy
• Luggage storage facilities
• Convenience shop, ATM, laundry, computers and printers/photocopiers at the Treehouse in Elms BT9
• Secure postal arrangements
• Specific accommodation lifestyles of no alcohol, quiet living or single sex
What you get for your money
Our all-inclusive residential fees include:
• All utility bills (electricity, heating and hot water)
• High speed wired and wireless internet throughout all accommodation
• Free off-peak membership of Queen's Sport
• Contents insurance
• Maintenance service
• TV licence for communal areas
• Weekly clean of public spaces and corridors
Queen's Accommodation: Willow Walk
Willow Walk is purpose-built student accommodation and is located on the fringe of Elms BT9.
An enclosed development, the accommodation offers a mix of studio, one, two, three, and four-bedroom apartments, each with their own front door. The apartments are modern and spacious and face onto a landscaped garden and there is a common room, luggage and bicycle stores and a BBQ area.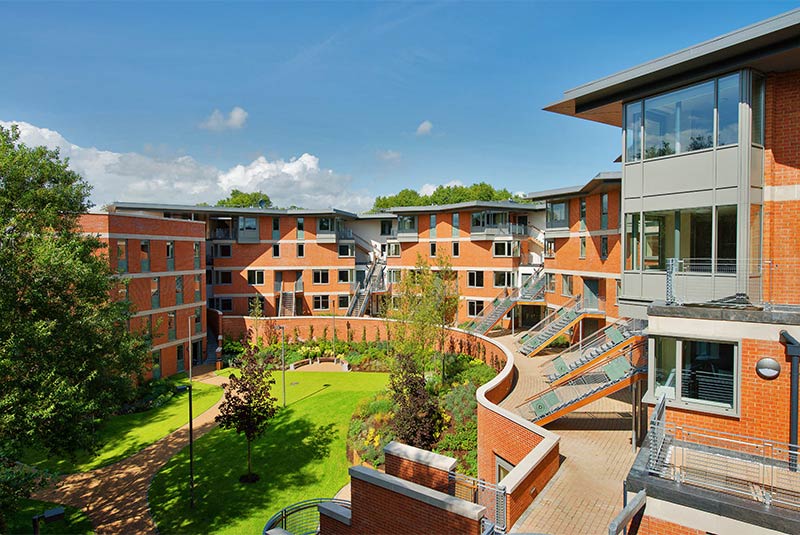 "In Belfast everything is so close together – within walking distance of my accommodation."
Meg Walton, BSc Business Management, Canterbury
A campus in the heart of Belfast
Queen's University's historic campus is just a 15 minute walk from Belfast's vibrant city centre.
Situated within three designated conservation areas, walking or cycling around the area is a pleasant experience. Numerous shops, cafés and restaurants are nearby, as are Botanic Gardens, the Ulster Museum, the Lyric Theatre, and the Physical Education Centre.