Undergraduate Events (2022/2023)
Our series of live virtual events, on campus events and on demand content, aim to provide you with the knowledge, confidence and skills to make informed choices about your future learning and career. Join us and gain an insight into life at Queen's, along with useful information and advice which will guide you through your journey to University.
Tuesday 14 February 2023, 6pm - 7pm
Applying for Queen's Accommodation
Join this event to find out about our purpose built accommodation, how we offer some of the lowest student costs in the UK and gain in depth information about the benefits of living in Belfast. Discover how our Residential Life Team are able to offer you support and encouragement when you start your journey at Queen's.
---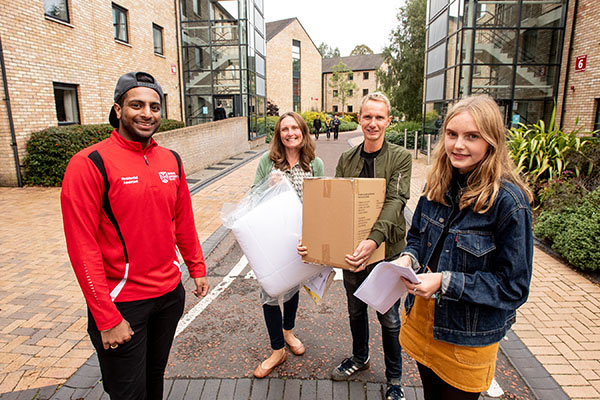 Wednesday 31 May 2023, 6pm - 7pm
Parents/Guardians Offer Holder Evening
We appreciate that the transition to third level education can be a challenging and anxious time for students, teachers and parents/guardians alike. To keep parents/guardians informed of the journey which their son or daughter/dependant is about to embark on, this event aims to provide the opportunity to find out more about Queen's University, and the range of support services available to students including Careers and Employability, Disability and Wellbeing and Study Abroad opportunities. Key information on Student Finance, Queen's Accommodation and Moving to Belfast will also be covered throughout the event.
---
Tuesday 01 August 2023, 6pm - 7pm
Moving to Queen's: A Guide for New Students
We hope your time here at Queen's will be life changing, academically rewarding and some of the most enjoyable times of your life. Join us as we discuss how Queen's learning and research experience is like no other. Find out all you need to know about enrolling and registering with the University as well as top tips on making your start at Queen's the best it can be.
---
Thursday 23 February 2023, 6pm - 9.30pm
Science at Queen's
This event is for parents/guardians and sons/daughters in years 11, 12 and 13 who are interested in Science subjects, including:
Archaeology and Paleoecology
Biological Sciences
Biomedical Science
Chemistry
Geography
Mathematics
Pharmacy
Pharmaceutical Sciences / Biotechnology
Planning
Psychology
Physics
At this event, students will be able to explore the range of science disciplines side by side. They will hear from current students, graduates and academic staff about why they should consider doing a Science based degree. We will also have representatives from a selection of companies available throughout the evening to discuss the many opportunities during study and after graduation.
---
Here to help
Got any questions?
If you have any queries about undergraduate study please contact us: